Celebrating Frank Loesser, Heart And Soul
Celebrating Frank Loesser, Heart And Soul
"Knowing Frank Loesser was a rare and rewarding experience for many reasons," writer Cynthia Lindsay explains, "but the most important was that no matter who and what you were, he made you better.  Whether it was your talent, your humor, your confidence in yourself, you came away from him more creative, funnier, more perceptive about yourself, and lighter in spirit; a prettier woman, a stronger man--in fact, crazy about yourself, because he made you the best of what you were."
Writing a classic Broadway musical is hard enough.  Composer, lyricist, and bookwriter Frank Loesser did so not just once with GUYS & DOLLS, but again with THE MOST HAPPY FELLA--and
again
with HOW TO SUCCEED IN BUSINESS WITHOUT REALLY TRYING.  Loesser's work earned him four Tony Awards, a Pulitzer, a Grammy, an Academy Award, and an iconic place in American musical theatre history.  More than a catchy songwriter, Loesser has beautifully captured the human experience since the mid-20th century, and his music and words touch audience's, minds, hearts, and funny bones to this day.
Brian Stokes Mitchell, Emily Loesser, Jo Sullivan Loesser, Paul McCartney, and Audra McDonald--from broadwayworld.com
June 29, 2010 marks the 100th birthday of this musical theatre legend, but MTI kicked-off the Frank Loesser centennial year festivities a little early by supporting a glorious night of song at The Actors Fund's
Chance and Chemistry: A Centennial Celebration of Frank Loesser.
The evening took place on Monday, October 26at Broadway's Minskoff Theatre.  The event was co-chaired by Sir Paul McCartney and performers included Tony Award winners Hugh Jackman, Audra McDonald, and Brian Stokes Mitchell.
Frank Loesser was more than a talented artist.  His efforts to protect and cultivate the work of his fellow writers are staggering and include coaching Jerry Herman on songwriting, finding Broadway newcomer Stephen Sondheim an attorney, and publishing the works of KISMET's Robert Wright and George Forrest.  Loesser even co-founded a dramatic licensing agency: Music Theatre International.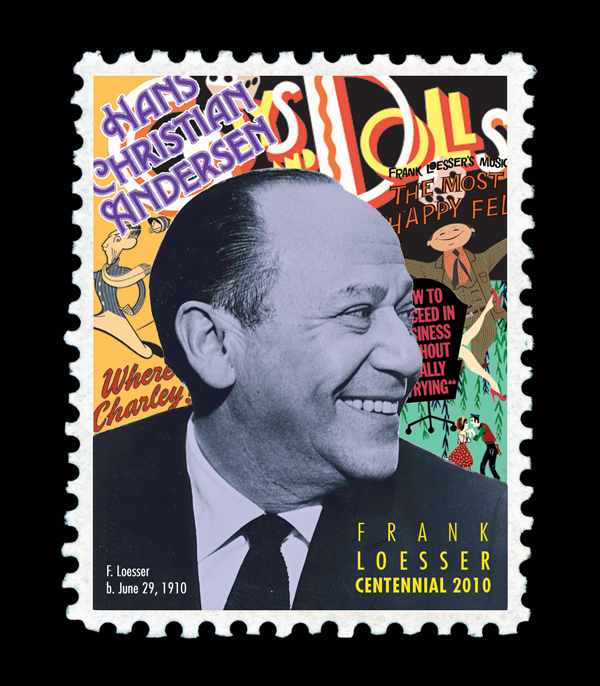 In recognition of his significant contributions to musical theatre--and the company--MTI has created this new Frank Loesser Centennial logo which will soon be made available on T-shirts that can be purchased from our website.  In the coming weeks and months, MTI plans to unveil a contest, a series of articles, and a host of promotions to honor the artist who so honored the theatre.
Want more of Loesser?  MTI suggests the following resources to get acquainted with the composer, lyricist, and bookwriter once described as "Cole Porter without a martini in his hand."
Books
A Most Remarkable Fella
by Susan Loesser
This biography, written by one of his daughters, is a comprehensive and engaging look at Frank Loesser's personal and professional life.
The Complete Lyrics of Frank Loesser
by Robert Kimball and Steve Nelson
Drawing from rare recordings, Frank Loesser's personal files, and Hollywood film studio archives, this book looks at the colloquial lyrics of his five Broadway shows-as well as his numerous Hollywood hits, including the Oscar-winning "Baby, It's Cold Outside."
Frank Loesser
by Thomas L. Riis II
Part of the Yale Broadway Masters Series, Riis' biography addresses the different stages of Loesser's career-from songwriter for hire to Broadway legend-examining the inner workings of Loesser's musicals along the way.
Sing the Songs of Frank Loesser
Think you could tackle some of Broadway and Hollywood's most beloved standards?  Now you can!  With sheet music for 12 of Loesser's classic songs-and an accompanying CD-anyone can put their own stamp on these favorites from the American songbook.
DVDs
Heart & Soul
PBS' characteristically in-depth documentary on the life and career of Frank Loesser.
Albums
Frank Sings LoesserAn Evening with Frank Loesser
Hear Loesser himself perform his work on these two albums.
Loesser By Loesser
Featuring performances of rare songs by Loesser's second wife, Jo, and their family.
Jay Records recordings of
GUYS & DOLLS and THE MOST HAPPY FELLA
Both recordings feature his daughter Emily in leading roles.
GREENWILLOW Original Broadway Cast Recording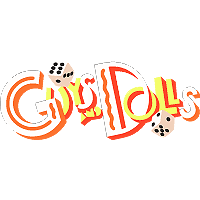 GUYS & DOLLS Recordings:
Original Broadway Cast
1976 Broadway Revival
Selected Highlights (1995 London Studio Cast)
1992 Broadway Revival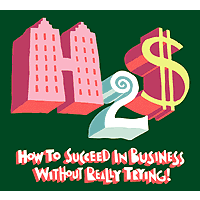 HOW TO SUCCEED IN BUSINESS WITHOUT REALLY TRYING Recordings:
Original Broadway Cast
1995 Broadway Revival
THE MOST HAPPY FELLA Recordings:
Original Broadway Cast
1992 Broadway Revival
2000 Studio Cast
To learn more about Frank Loesser, visit his
official website
. For more information and to license GREENWILLOW, GUYS & DOLLS, HOW TO SUCCEED IN BUSINESS WITHOUT REALLY TRYING, and THE MOST HAPPY FELLA, visit their MTI show pages:
GREENWILLOW
GUYS & DOLLS
HOW TO SUCCEED IN BUSINESS WITHOUT REALLY TRYING
THE MOST HAPPY FELLA
For archival photographs and to share your thoughts about the work of Frank Loesser, check out the following MTI ShowSpace show pages:
GREENWILLOW
GUYS & DOLLS
HOW TO SUCCEED IN BUSINESS WITHOUT REALLY TRYING
THE MOST HAPPY FELLA