Cindy Says: Go Digital with Your Cast and Crew!
Cindy Says: Go Digital with Your Cast and Crew!
My iTheatrics colleagues and I are just finally taking a breath after a jam-packed summer of teacher workshops, the Summer Junior Theatre Academy as well as the random fun projects we all lovingly adopt in the summer.
For many of you, the new school year and new season of productions is about to launch, if it hasn't already! Be proactive and make communication a primary goal as you head into your new school season.
Effective communication between educators and parents is crucial for helping students learn and getting a production on its feet. I hear from many directors that suffer from inbox fatigue trying to keep up with a constant barrage of parent emails. Others struggle to get parents involved in programs at any level.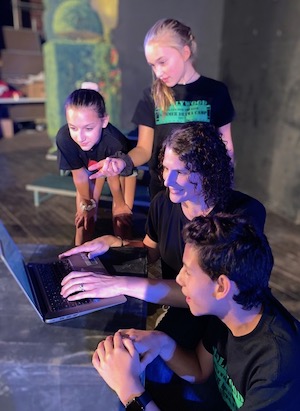 I asked Erin Ayer to share some tips for communication that help facilitate her successful musical theatre program at Amherst Middle School in Western New York. Here are a few of her suggestions to connect cast and crew:
1. Put your cast list in a spreadsheet - use a spreadsheet to track information about each cast member, then access all of the great sorting features for easy cast list posting, ensemble grouping, costume tracking, t-shirt ordering...the sky is the limit!
2. Have a set of templates in Google Drive that you use each year - no need to reinvent the wheel. Keep past versions of letters to parents, audition procedures, costume information, etc. and edit for each production.
3. Use an online calendar that parents can import to their email accounts and devices - no more excuses for missed rehearsals or information.
4. Have a shared folder in Google Drive that your entire production team can access - everyone can view important information and documents as needed.
5. Use new apps to keep your cast, crew and parents informed - Erin's favorite is Remind.
6. Take a step further - If you have the time and feel inspired, start a classroom blog for parents about your show and the rehearsal process with EduBlogs.
The five arts pillars of musical theatre are what make it the "superfood" of the arts: music, language arts, dance, visual arts, and the digital arts. Begin the year with digital skills that connect and simplify your life for the semester to come! CR
Follow the fun @mtishows on Instagram, Facebook, and Twitter.