Cindy Says: The Spotlight is on You
Cindy Says: The Spotlight is on You
It's been one week since I left fifty enthusiastic kids gathered in a beautiful school in Cape Coral, FL. The reason for the trip was a joyous one and what I love to do: one dedicated teacher wanted to bring a new voice as well as musical theatre tools to her kids and staff. Yet by the time I boarded a flight home, my attention was split between constant texts, news updates, FaceTime distress calls from teacher/directors as though we were protagonists in the opening scene of a Sci-Fi film.
You all endured unpredictable experiences. Between hugs and tears from students that never had the reward of applause for their musical and frightening financial forecasts for theatre programs, we all began to delete events from our Google Calendars. What was once a colorful smattering of workshops, pilots, festivals, conferences and kids making musical theatre was becoming an empty stage. Countless individuals navigate this crisis while adjusting to having their kids home from school without structure, childcare, or the capacity to understand why they aren't allowed on the playground anymore. Yes, the world turned upside down.
Our usual sources of guidance and reassurance have been replaced with question marks. One thing has not changed: the incredible students we have the privilege of shaping through arts are our main focus. There is no deliberation where our priority lies. The spotlight is on you to lead: as if you were the director of a musical you have never seen before.
Here are my thoughts for preserving mental health for you and your students using the leadership skills you use on a daily basis. If even one of these connects, we've made the world a better place right now.
• Fear is normal. You help them overcome stage fright with the same tools.
• Each day an unpredictable event occurs. Remember how your rehearsal went on successfully when four of your leads were missing and only two were there for the performance? You handled it.
• Remind students (even remotely): To expect the need to adapt, (remember when you shared your solo with three other performers at the director's decision?), to expect to be out of their comfort zone, (remember when you had to perform the choreography in the front row?), to expect to put others first (that ensemble was incredible when I didn't worry about myself!)

• Connect with your generous educator community. They will smooth out the learning curve to be able to soar with digital platforms to sing, stage, choreograph and share.
• Physically compensate. We will soon weary of looking at screens. Roll your shoulders, perform chest stretches, crouch into a child's pose stretch and breathe!
• Collectively we become more human. No lesson plans necessary for this, the rewards will remain and mature with every child forever.
• Lead with honesty, calmness and consistency. Your students know what to expect from you at the beginning, middle and final performance of your show. They trust the way you work the process - this is truly no different.
You have the dexterity to use your toolbox with hundreds of students and families. As overwhelming as it may seem right now, take your skills and lead our young artists forward one musical at a time.
Stay safe and be well. CR
"What makes us special makes us strong!" "Freak Flag" from Shrek JR.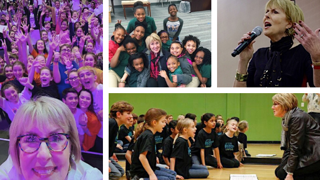 Follow the fun @mtishows on Instagram, Facebook, and Twitter.