Corbin Bleu Celebrates Our MTI Broadway Juniors (with Video)
Corbin Bleu Celebrates Our MTI Broadway Juniors (with Video)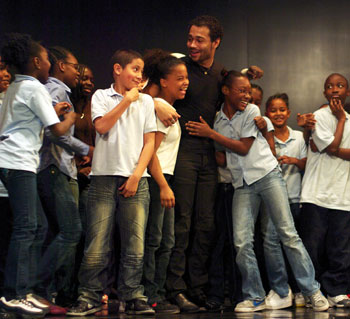 Corbin Bleu with participating students.  See below for video footage.
The Phantom took the day off from his Opera this past Monday, as MTI, The Shubert Foundation, iTheatrics, the New York City Department of Education and ArtsConnection welcomed over 400 middle-school students to perform on the stage of the fabled Majestic Theatre at a celebratory event known as "Student Share".
"Student Share" is the culmination of The Shubert Foundation /
MTI Broadway Junior
program which brings musical theatre into underserved public middle schools.  The event featured the talented students from the 18 public schools currently part of the program, and was hosted by
Disney's High School Musical
and In the Heights
star,
Corbin Bleu.
We put together some "Student Share" video highlights for all of our friends who couldn't be at the Majestic Theatre with us in person.  We hope you are as inspired as we were by the students' performances...BRAVO!
The media also picked up on this theatrical happening, so check out the following coverage of "Student Share" at: