Desert Wind Elementary School: El Paso, TX
Desert Wind Elementary School: El Paso, TX
Desert Wind Elementary School
El Paso, Texas
Reported by: Cynthia Ripley, iTheatrics Senior Education Associate, Resident Master Teacher
September 21, 2012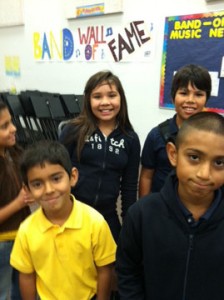 Wow. It took one long trip to get to the Desert Wind School in the desert of El Paso, Texas. This community is just a stone's throw to New Mexico and Juarez, Mexico. Desert Wind is one of the 10 schools that America voted to win our fall 2012 "NBC's 'Smash': Make a Musical" project. As the young, dynamic project leader, Krystal Mata drove me to the school, which seems to rise out of the scorched earth. It was quite obvious that her excitement would radiate to her team and kids. Remote as Desert Wind School was, there was nothing but the most beautiful feeling of vibrancy as I walked past the life size Blue Colt mascot and entered the front door. The students greeted me with such enthusiasm, "Hello, Miss. Can we start, Miss? Are you from New York, Miss? What's a musical, Miss?"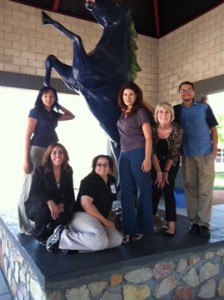 Led by Krystal, the team was comprised of Gabriella Zamora, Matthew Nava, Jessica Ramirez, Sherri Redou and Cody Ritchey. They were eager, gracious, proud and ready to take on whatever it takes to give to their kids, school and community, something they have never come across in their world. There have been no elementary arts at Desert Wind. Sports are all they know. The kids are bilingual and majority of parents do not speak English. Many military families are temporarily stationed here from Ft. Bliss. Many schools in this country face a similar situation.
Then, the teachers told me in soft voices that many, many of these kids travel from their border town, Juarez, Mexico, and live with a relative from Monday to Friday. They return to their parents on the weekend. Desert Wind is their safe haven. These K-8 kids witness atrocities on the weekends that I cannot bring myself to put in print in this blog.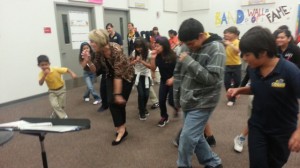 These students have never been to a performance of almost any kind, yet were so eager to explore the craft of musical theater with me. There was such joy in their faces and they were so excited to stage, sing and dance. You and I can do it every day. They will BEGIN to do it every day and for the first time in their lives, thanks to "NBC's 'Smash': Make a Musical"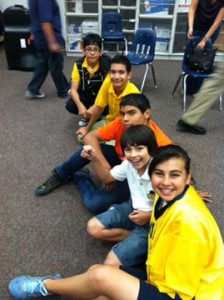 My only regret was that I couldn't take them home with me as I walked out the door! "Thank you, Miss! When are you coming back, Miss? Can we start to rehearse today, Miss?" Many of us don't relish the thought of adding another year to our current age on our birthday. I didn't mind in the least yesterday. I was thankful I've lived long enough to see another situation where the marriage of musical theater and the creative spirit win and yet again, change lives. I'm glad it was a long flight home. I was a mess.
"NBC's 'Smash': Make A Musical" program is administered by iTheatrics under the supervision of Timothy Allen McDonald. For more information, or to apply to become a part of the program, logon to
www.MAKEAMUSICAL.ORG
.