Discover the Exotic World of Dr. Seuss with SEUSSICAL JR.
Discover the Exotic World of Dr. Seuss with SEUSSICAL JR.
Oh, the things you can think if you're willing to try...Think invisible ink!
Or a Gink with a stink! Or a stair to the sky...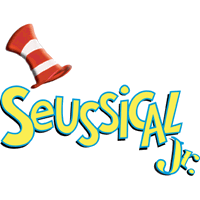 As we celebrate National Teen Read Week, we felt it more than appropriate to spotlight a show with beloved characters that people have been reading about since before they were teenagers. SEUSSICAL JR. is the smash-hit musical based on the works of celebrated author Theodor Geisel, otherwise known as Dr. Seuss.
This spectacular exploration through the world of Whoville and Nool features an astonishingly creative musical, full of heart and imagination - a perfect fit for our MTI Broadway Junior Collection and for your school or theatre company!
SEUSSICAL JR. is driven by a score with many crowd-pleasing musical numbers including "Oh, The Things You Can Think!" and "It's Possible". The show's book, music, and lyrics are handled by the incomparable team of Lynn Ahrens & Stephen Flaherty. Eric Idle co-conceived the show.
The story centers around Horton the Elephant, who finds himself faced with a double challenge--not only must he protect his tiny friend Jojo (and all the invisible Whos) from a world of naysayers and dangers, but he must guard an abandoned egg, left to his care by the irresponsible Mayzie La Bird. Although Horton faces ridicule, danger, kidnapping and a trial, the intrepid Gertrude McFuzz never loses faith in him, the only one who recognizes "his kind and his powerful heart." Ultimately, the powers of friendship, loyalty, family and community are challenged and emerge triumphant, in a story that makes you laugh and cry.
SEUSSICAL has become one of the most performed musicals in America and our JR. adaptation is adored by many. This unique version of the original title has been reduced to a One Act production (running approx. 1 hr 15 minutes), includes musical cuts to make it ideal for younger performers, and features a cast size cut down to about 12 actors (with the option to add MANY more). SEUSSICAL JR. is also a great tool for any cross-curricular program; particularly with your English / Literature / Lib Arts courses.
The ShowKit
In addition to the changes made for students to have an easier time with the production, we are pleased to offer a valuable tool that can allow the Director to have an easier time as well! Known as the MTI Broadway Junior Collection ShowKit,  this comprehensive package of resources is designed to make presenting a show with kids fun and educational. The Kit includes:
-Director's Guide with Curriculum Connections
-Choreography DVD
-Fully orchestrated Accompaniment and Guide Vocal CD
-Student Books
Available Resources
As a title in our MTI Broadway Junior Collection, we are proud to say SEUSSICAL JR. can be paired with many fantastic educational & promotional resources. These exclusive features include:


(Fully Orchestrated) Performance CD


Director's Guide


Libretto/Vocal Student Book


Chorus Book


Student Rehearsal CD





License Your Production!
If you would like more information on
SEUSSICAL JR.
, visit the
official show page.
To check out set & costume rentals, pictures, video, and more...visit the MTI ShowSpace page by clicking
here.