Drink Deep... DRACULA: THE MUSICAL
Drink Deep... DRACULA: THE MUSICAL
I hear the wolves, I see the mist
Cut through the jagged hills
I feel so cold; it's not the wind that chills...

Music by  Frank Wildhorn
Book and Lyrics by  Don Black and Christopher Hampton

Before Bill Compton and Edward Cullen seduced the nation, one vampire reigned supreme: Dracula.  The Transylvanian count has survived over a century of movie adaptations, parodies, and novels, and the 21st century finds him deadlier than ever in Frank Wildhorn, Don Black, and Christopher Hampton's Broadway musical. As usual, Wildhorn's guitar-laden rock-pop score infuses this classic work of literature with a gothic yearning, making Dracula less an agent of pure evil and more a tragic, romantic figure.  Join Jonathan and Mina Harker, Van Helsing, and their stalwart band as they hunt down the insidious Dracula, and experience this enduring thriller for yourself.
DRACULA features a strong selection of versatile characters thus making the musical more accessible to theatre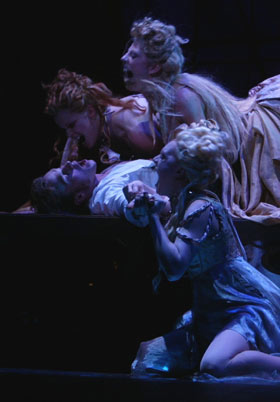 companies across the country. Accompanied by a passionate score and terrifying book, sure to make your audience squeal & squirm, this dark musical is an extravaganza waiting to be produced! This story will examine lust and the will to overcome seduction. DRACULA - the most perfect way to entertain and frighten your audiences - a trick and a treat.
Licensing
Click
here
to license DRACULA.
Community
Click
here
to visit DRACULA on MTI ShowSpace.