Filichia Features: A Little Princess with a Twist
Filichia Features: A Little Princess with a Twist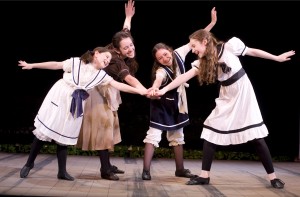 Ella Kahan as Lottie, Nuala Vizard as Becky, Samara Scharf as Ermengarde, and Rebecca Baron as Sara. Photo by R.J. Lerich.

Jason Brantman and Fiona Santos were looking to co-direct a musical for their Broadway Training Center of Westchester (New York). They were both intrigued by the musical version of Frances Hodgson Burnett's A Little Princess. They found Brian Crawley's book and lyrics as well as Andrew Lippa's music excellent. It would be worthy of the talents of their students who range from ten-year-olds to tenth graders.

Brantman and Santos had what they really needed to pull this off: girls. Out of a cast of 19, only three boys are required. Once they saw that Justin Cohen would make a solid Captain Crewe, that Joshua Austrian would be excellent as his colleague Pasko and that Michael McCarthy would be a regal Sultan, they stopped worrying.

All right, there is the role of Mr. Skipwith -- "my father's solicitor," says Captain Crewe's daughter Sara identified just before the character enters. In came diminutive fifth-grader Elizabeth Oakes carrying a briefcase almost as large as she. But the end justified the means: let's let an audience of young kids become accustomed to seeing women high up in the legal profession.

Besides, Oakes had the gravitas. So did the other kids, which is needed for this serious story. With a little help from a pronunciation guide that comes with the script, they said such expressions as "Sai wani lokaci" ("Till another time") and "Kuyai octabi!" ("Let's go!") as if they've been saying them all their lives.

So Brantman and Santos were glad that they said "Kuyai octabi!" to A Little Princess. They found that their audience members easily accepted the Caucasian chorus. Truth to tell, only a few flashbacks and dream sequences involve them.

A Little Princess primarily deals with Sara, whose single-parent father has made a life for them in Senegal. Now that he must do some serious business in Timbuktu, he's sending her to a London boarding school.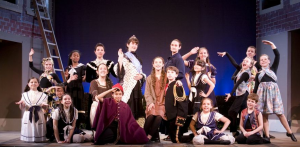 The cast of
A Little Princess
. Photo by R.J. Lerich
Sara was accustomed to running around barefoot, but that won't do at Miss Minchin's Academy for Incipient Women.

(Yes, kids will get to learn the meaning of a new vocabulary word: "incipient" – "in an initial stage; beginning to develop.")

Unshod feet are anathema to headmistress Miss Winifred Minchin, who makes Miss Hannigan look like Miss Congeniality. And how Jennie Gorn relished playing the juicy villain's role!

Minchin's banishing Sara to her room is hardly the only punishment. She's intercepted a letter that Sara's father had written to his daughter, but will give it to the girl only one page at a time to ensure her future good behavior. Eventually she will tear it up and destroy Sara's beloved doll, too.

Sara isn't overly discouraged, and to prove it, she sings how she wants to "Live Out Loud," a song that immediately takes its place with such great heroine songs as Once On This Island's "Waiting for Life to Begin" and The Little Mermaid's "Part of Your World."

After the Broadway Training Center theatergoers heard Rebecca Baron's thrilling rendition, they were so squarely on Sara's side that they would have given her every credit card in their wallets and carried her on their backs to a shoe store. Then, after they heard the lass sing the equally excellent "Let Your Heart Be Your Compass," they would have bought her slippers that would have made Cinderella's look like Hush Puppies.

Miss Minchin's sister Amelia is much nicer, making for a classic good cop-bad cop scenario. But the show has another terror in Lavinia (the smarmy Ileya Williams), Sara's insidious classmate who demands that Becky, a servant, give her all the dirt (if there is any) on Sara. Becky is harassed by Miss Minchin, too, for daring to speak to her "betters" – i.e., the tuition-paying girls. Becky is banished to her bedroom where she must await Minchin's brutal caning.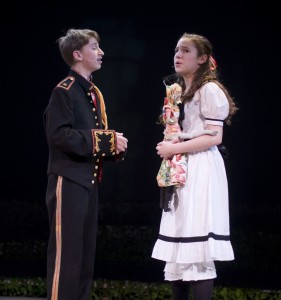 Justin Cohen as Captain Crewe, Rebecca Baron as Sara Crewe. Photo by R.J. Lerich.

Ah, but Crawley smartly has the school's boiler break down and establishes that only Becky knows how to fix it. Nuala Vizard excelled as she came out of banishment, ready to be subservient until a sharp look from Sara told her that here was her chance to win her freedom, become Sara's exclusive maid and get a raise, too. Vizard showed us how Becky caught on that knowledge is both power and an excellent bargaining chip.

It's a fine lesson for young audiences to learn as well. Kids who are think of themselves as superior may find that the people they deem inferior often possess different but distinctive assets that level the playing field. Let your audience be appalled as the Broadway Training Center crowd was when they heard Ella Kahan contend that Becky "has a nice smile, but she's not like the rest of us" and Samara Scharf haughtily opine that "Mother says nothing but grief can come of befriending servants." Rebecca Baron showed Sara's wisdom when stating that only "an accident of birth" separates one girl from another before giving Becky a present. That caused the maid to say "I never had nothing given to me before unless it were a beating."

An aside: a little girl who couldn't have been more than five was sitting next to me. I'd been wondering if her attention was held by what she was seeing. For that matter, was the show beyond her young capabilities?

Well, the lass certainly showed me her mettle after she heard "I never had nothing given to me before unless it were a beating." True, a second had to pass before it registered, but the girl then came out with a generous laugh. This proved that she was thoroughly engaged, intently listening and, more to the point, was able to understand a rather erudite joke. Moral of the story: take your kids to sophisticated shows, and they'll become sophisticated; take them to silly fare, and they'll stay fairly silly.

Back to the plot: Sara and Becky ruminate on what would happen "If the Tables Were Turned." Lippa delivers a real toe-tapper – no, both-feet-tapper, which is appropriate for a song about being in each other's shoes.

Sara tells Becky and the other girls "If my father didn't have any money, I'd need to work." Little does she know that she's commenting on her unexpected future. Minchin learns that Captain Crewe died and claims he was involved in illegalities and left no will. Gorn only barely hid her joy when telling Sara, of whom she'd been jealous all show long, that she was now "an orphan and a beggar." The script's stage direction demands that "Sara does not cry," and Baron managed to show how devastated she was without over-emoting.

If you have someone as strong as Baron, she's going to relish singing "Soldier On," the Act One closer and "Another World," the Act Two opener. Yes, the latter song ends with Sara worrying that she'll live in a garret and work for Minchin the rest of her life, but it's still a powerful piece.

By now, the Broadway Training Center audience was becoming increasingly more excited that each successive song coming its way was melodious and intelligent. That included the children, who gurgled with pleasure over Crawley and Lippa's "Almost Christmas." But how could this not be a favorite with kids given that it deals with all the pleasures – from presents to time off from school – that the holiday brings with it?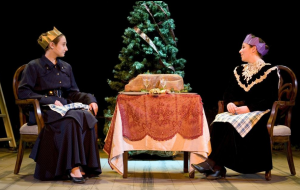 Jennie Gorn as Miss Minchin and Eliana DeLevie-Orey as Miss Amelia. Photo by R.J. Lerich.
Minchin wants Sara's Christmas to be bleak. When Pasko arrives and says "I've come for Sara Crewe; she's a student here?" Minchin says "I've no student here by that name." True, Sara has been demoted to servant, but Minchin hardly told the whole truth and nothing but the truth. A Little Princess allows its young audience to see that a lie of omission is a lie nevertheless.

Another great moment occurs when the meek Amelia finally stands up to her sister. She knows that Minchin's spitefulness towards Sara has stemmed from simple jealousy. Eliana DeLevie-Orey got a titanic burst of applause after asserting (and asserting herself) "You hate Sara simply because she is the girl we wished ourselves to be."

Says Brantman, "Despite seemingly big-budget elements. an educational theater on a small budget can do A Little Princess. Instead of a fireplace where the doll was to be burned, we used extremely realistic battery operated candles. Later, for the magic moments when the doll must reappear, we solved it by hiding an actor in clever places which surprised the audience when she came out. With imagination and love, one can surmount the toughest obstacles. After all, isn't that what the show is about?"

Before it all ends, even Queen Victoria (an august Jamie Rockafellow) gets into the act. That's as close to royalty as we get, for A Little Princess doesn't concern an actual princess. Sara is a commoner and never pretends to be anything else. What she does try to do, however, is act nobly the way princesses are said to act. "If I find myself wanting to be sharp with someone," she says, "I try to think what a princess would say." It's good advice for the kids in the audience – and for the rest of us, too.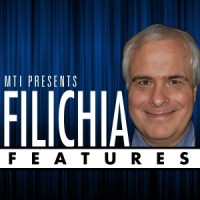 You may e-mail Peter at pfilichia@aol.com. Check out his weekly column each Tuesday at www.masterworksbroadway.com and each Friday at www.kritzerland.com. His new book, Strippers, Showgirls, and Sharks – a Very Opinionated History of the Broadway Musicals That Did Not Win the Tony Award is now available at www.amazon.com.