Filichia Features: A Love Letter to Loving Repeating
Filichia Features: A Love Letter to Loving Repeating
What immediately springs to mind when you hear the term "college musical"?
Is it Good News, the 1927 smash that's concerned with whether or not Tait College will win the most important football game of the season?
Or is it Best Foot Forward, the 1941 hit in which a student infuriates his girlfriend by inviting someone else to the prom?
The college musical used to be a genuine genre, although it probably died in 1946 with the 60-performance flop Toplitzky of Notre Dame. This one too was about winning The Big Game (and not a bio-musical about Quasimodo's successor).
A recent production of Loving Repeating: A Musical of Gertrude Stein at NYU Steinhardt showed a very different kind of college musical. Directed wonderfully by Jessica Bashline and expertly performed by a cast of eight, the piece as conceived and adapted by Frank Galati demonstrated that a college is a cozy home for this maverick musical.
Even if your college only has a black-box theater, you'll find this show an ideal fit. A few chairs, a table and a blanket and you're in business.
It's also in tune with colleges because it starts out at one. At NYU we saw Gertrude Stein (Stephanie Vanalstine) lecturing to seven students who sat with their backs to us. They were paying rapt attention to her, nodding as if they understood; perhaps they did, perhaps they didn't.
Stein (1874-1946) loved to play with words and often made seemingly inscrutable sentences out of them. So Loving Repeating is one of those shows where we don't comprehend every word but we enjoy it anyway. And because Stein loved rhyming and, as the show's title indicates, repeating, her words do lend themselves to music.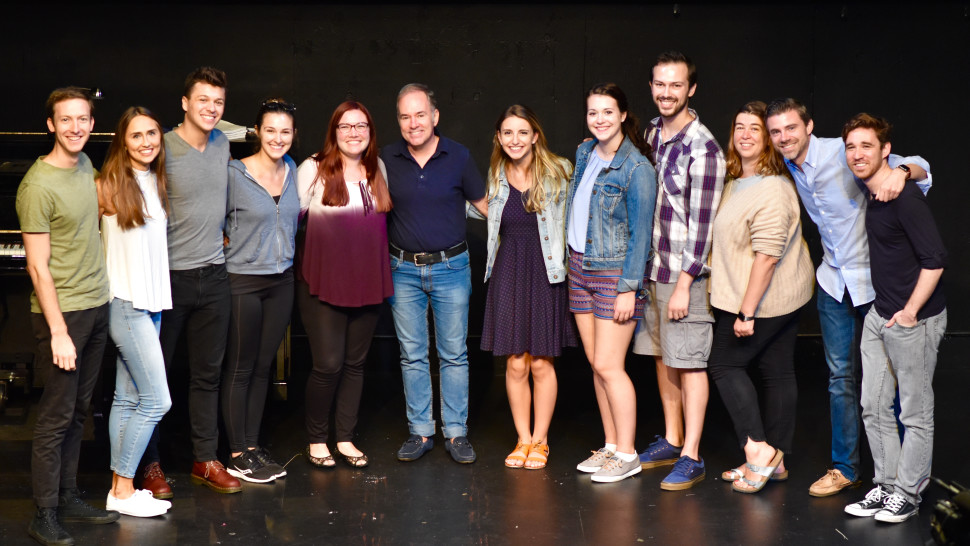 Composer Stephen Flaherty with the cast of Loving Repeating at NYU Steinhardt School (Photo © Ben Ouriel).
It was provided by Stephen Flaherty, writing with his second female collaborator. His first, of course, is the equally estimable Lynn Ahrens, with whom he won a Tony for Ragtime. When he works with her, you're in your rights to ask "Which comes first, the music or the lyrics?" Given that Stein was already dead 14 years before Flaherty was born, we know the answer to that one. (Both, by the way, were born quite close to each other in the Pittsburgh area.)
The look on Vanalstine's face showed that Gertrude's standing in front of students reminded her of her own college days at Radcliffe. She brought us back to those halcyon days and introduced us to her younger self. Young Gertrude (Stephanie Bacastow) entered, sauntered into the classroom, looked around, clearly assessed the students in such a way that suggested she was interviewing candidates for possible friendships - or more.
Costume designer Michelle Humphrey smartly put Gertrude in pants but Young Gertrude in a skirt; that decision shrewdly showed that in Stein's student days, she conformed to the dress code of late 19th century women. She would eventually outgrow the need to fall in line as her Lesbianism came to the fore.
That officially started when Young Gertrude set eyes on Alice Babette Toklas (Mara Friedman). Thus in a moment the show advanced more than a dozen years, for Stein and Toklas actually met in Paris in 1907.
Young Gertrude and Alice sat and talked in a café as a man and woman behind them were tenderly touching. The demeanor of both Bacastow and Friedman showed how Gertrude and Alice yearned to do the same but didn't dare.
Conventions be damned - eventually, anyway. Gertrude and Alice evolved from good friendship to great love. Young Gertrude gave Alice a single flower - the bane of florists who prefer that lovers give (expensive) bouquets. And yet, Bacastow conveyed that in this case, one and only one flower meant "There is one and only one for me -- and that's you."
At a picnic, Alice asked "How often do we need glasses?" Gertrude answered "Not very often" but then had a different response after Alice asked "How often do you need a kiss?"
"Very often," Gertrude stressed.
They need more than a kiss, for that blanket that's been flat on the floor for the picnic is suddenly raised to become a screen from which an occasional leg, hand, foot and piece of clothing emerges.
Alice is usually in the background in any property that dramatizes the couple's life. Flaherty was good enough to give her a big song of her own: "A Cow Coming." Friedman delivered it with such force that William Tecumseh Sherman's siege of Atlanta came to mind.
And men? The musical requires three, and a half-hour into the show, they got a potent number of their own called, fittingly enough, "Men." One young man also got to play future three-time Tony-winner T.S. (Cats) Eliot, with whom Gertrude had a chat.
If there is indeed an afterlife and Gertrude Stein happens to look in on what's going on she'd be thrilled with the heavenly melodies that Galati chose and Flaherty set to melody. She'd love that Loving Repeating is getting repeated performances, too.
You may e-mail Peter at pfilichia@aol.com. Check out his weekly column each Monday at www.broadwayselect.com and Tuesday at www.masterworksbroadway.com . His book, The Great Parade: Broadway's Astonishing, Never-To-Be Forgotten 1963-1964 Season is now available at www.amazon.com.