Filichia Features: A Lucky 13
Filichia Features: A Lucky 13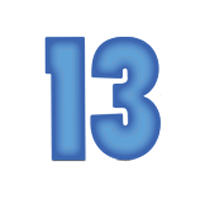 "My name is Evan Goldman" are the first words said by the leading man of 13. Here, at the Thespian Festival in Lincoln, Nebraska, the line is stated unequivocally by Erick Patrick of Olathe South High School in Olathe, Kansas.
A half-century ago, Patrick's saying the line would have been met with sounds of astonishment from the audience. Even a quarter-century ago, some laughter would have greeted the statement. Perhaps even a decade ago some titters would have been heard.

Erick Patrick, you see, is black, and the character of Evan Goldman is clearly Jewish. If there's any doubt about that, it will soon be dispelled by Evan's seventh sentence, when he mentions that he'll soon endure and enjoy "the Jewish Super Bowl."

Translation: his bar mitzvah.

But here at the Lied Center, literally thousands of teenagers in the audience and the adults who've accompanied them make no sound whatsoever. None. They're just watching the show.

It's the most dynamic acceptance of non-traditional casting I've ever seen. Never have I witnessed so many theatergoers take such a ho-hum attitude towards a practice that makes the eyebrows of many first-time audience members (and even some established ones) shoot up so high that they almost reach their hairlines.

There would have been a time when a black kid wouldn't have bothered to audition for the role, but the theatrical world has changed for the better. Throughout the musical, Patrick will show time and time again that he's the right man for the job.

In 2008, 13 didn't last long on Broadway, barely cracking 100 performances. Asking an adult audience to care about the problems that today's youth have may have been too much to expect.

But that Broadway production has turned out to be a loss leader for 13. It's been a big hit for high school directors in forward-thinking towns whose audiences contain substantial numbers of teens. The applause and cheers from the young crowd in Nebraska not only show approval, but also appreciation that 13 tells the truth.

Bookwriters Dan Elish and Robert Horn and composer-lyricist Jason Robert Brown were in dead earnest when writing their musical. Yes, they included plenty of laughs, but the message that being 13 – especially when your parents divorce AND your mother makes you move to a far-away state – is genuinely traumatic.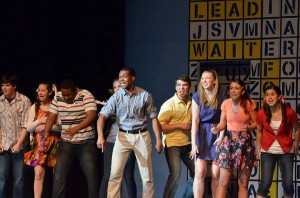 Plenty of kids in this audience – and yours – know the feeling. In this peripatetic world, so many kids are moved around a number of times in their childhood. Quite often the reason is divorce or separation, but a parent's new job or military assignment also means that a kid will leave his friends and neighborhood forever.

So Evan, who's lived a sophisticated life as a city kid at 224 West 92nd Street in Manhattan, is now relegated to (the fictional) Appleton, Indiana. Here he must start friendships from scratch. He wants as many from the in-crowd to be part of his bar mitzvah: Brett, the handsome jock; his two best friends Malcolm and Eddie; and Kendra, the cheerleading captain.

And of course he's inviting Patrice, the first Appleton kid he met and liked, because she's smart and sensitive.

But nobody else in town likes her.

Evan proves that he isn't as honorable as such musical theater heroes as John Adams, Jean Valjean or Tevye. After he invites everyone to the bar mitzvah, he learns that no one will come unless he disinvites Patrice. Sad to say, Evan both rips the invitation out of her hand and rips it in two.

This happens at the end of a song – and the audience in the Lied Center doesn't applaud the number. It's the only one that no one cheers, but Brown's melody and lyrics aren't responsible. Says Luis Muñoz, who's here as director of the extraordinary Texas All-State production of Coram Boy, "What we do best in theater is teach empathy."

Evan gets his second chance with Patrice – and muffs that one, too. While we'd expected that all would be well, we now see him in even deeper trouble. Kids need to hear Patrice's song "What It Means to Be a Friend," for Brown has packed it with important advice.

Still, Evan is a kid – and isn't that prime-time to make mistakes – and to learn from them? We'll see that Brett is no better in the way that he dumps another girl in favor of Kendra. 13 brings to mind a lyric that HAIRPSRAY unwisely dropped from "Mama, I'm a Big Girl Now." Tracy had a very good point when she sang "Ma, you're always telling me to act my age; well, that's what I'm trying to do." When adults tell kids to "act their age," what they really mean is "Act older." In 13, Evan starts out truly acting his age. But before the show ends, he'll learn to become a man long before his bar mitzvah.

The original Broadway production cast Allie Trimm, an attractive girl, as outcast Patrice. Olathe director David Tate Hastings goes for an equally fetching girl in Kenzie Clark. But does this make sense? Granted, some pretty girls are shunned by their peers for one ridiculous reason or another. Usually, however, girls with some degree of attractiveness are welcomed by virtually all their classmates.

So, for purposes of better believability, consider casting Patrice with a girl who is considered conventionally unattractive. Perhaps she's heavy; perhaps her face is not one to be found on magazine covers – or perhaps both. But whatever popularity-killing liability she has, here's a chance to use it in her favor. Give the girl, who usually plays walk-ons, a substantial lead.

One of Patrice's best facets is that she's one of the few who's nice to Archie, whose muscular dystrophy forces him to use crutches. The Broadway production used Aaron Simon Gross, an able-bodied actor (as we learned at the curtain call); here, Hastings employs equally healthy Braden Clark. That both of these actors are handsome makes the tragedy that much sadder.

But if you have a disabled kid in your school that fits Archie's description, seek him out and audition him even if he isn't a member of your drama club. The lad may be thrilled to be invited to participate, and he just may be sing and act well enough to do the job. True, you'll lose the scene in the show when Archie has fantasy of being free of his crutches. What's more, your actor won't get those cheers at the curtain call when he sheds them. Still, giving a kid a chance he wouldn't ordinarily get might well mean the world to him.

I'm reminded of a 2003 production of Working that I saw at Emerson High School in New Jersey. The cast included a blind young student in a wheelchair. When I commended drama club Bill Ullman for including the lad in his cast, he responded, "Are you kidding? We really need his beautiful voice."

Elish, Horn and Brown wrote for 13 characters, but Hastings decided to add Ashley Reece and Brock Webb as ensemble members. Why not add a chorus of 13 if you have enough talented kids on hand? You may never find a contemporary show to which your kids will better relate. They need to hear what this show and any adult will tell them: "One day, I'll make fun of this dramatic life of mine."

But as for now, all of them will feel the pain of being denied R-rated movies, teen matchmaking, Ritalin, Red Bull, bad breath and kicks below the belt. Such words as "skank" and some jabs at the Catholic and Jewish religions won't be new to them, either. Nor will such double entendres as Archie's stating that he'd like to attend to Kendra's "special needs." And while sexual intercourse is too rarefied a goal for these kids, there's plenty of talk about what has been traditionally known as French kissing.

Truth to tell, all the Olathe South High kids are already long in the tooth to play 13 years old. But on the other hand, how many times have we seen kids pretend to be characters that are many years or even decades older – including characters in Grease? At least here in 13 they're pretty close to the age they're supposed to be.

Grease, for that matter, tackled teen life only in retrospect; it went 15 years back in time to nostalgically ask, "Weren't we silly then?" 13 may already be five years old, but it still feels so cutting edge that the script might give you and your cast paper cuts. Take the risk.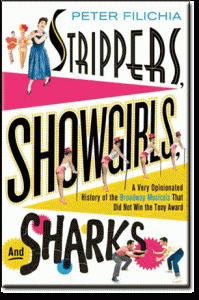 You may e-mail Peter at pfilichia@aol.com. Check out his weekly column each Tuesday at www.masterworksbroadway.com and each Friday at www.kritzerland.com. His new book, Strippers, Showgirls, and Sharks – a Very Opinionated History of the Broadway Musicals That Did Not Win the Tony Award is now available at www.amazon.com.