Filichia Features: Adventure Theatre's Big Hit
Filichia Features: Adventure Theatre's Big Hit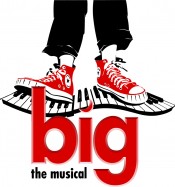 So can the musical version of Big work as a TYA production?

Michael J. Bobbitt, the producing artistic director of the Adventure Theatre in Glen Echo, Maryland, thought so. To be sure, he was well aware of the potential dangers of putting John Weidman's book before his target audience: "ages five and up," as his advertisements stress. After all, the 1996 musical version of the famous 1988 film does have 13-year-old Josh Baskin lose his virginity to Susan Lawrence, who's almost three times his age.

To be fair to Susan, however, she thinks Josh is a contemporary of hers. He certainly appears to be, for after the lad made the wish "I want to be big" to a carnival machine called Zoltar, he awoke the next morning to find that he indeed had been transformed into an adult – physically, at least.

Young theatergoers have always adored that scene in which a suddenly oversized Josh emerged from his bunk bed while clad in his much-too-short pajamas. How they giggled when he jumped up and down as he struggled to get into his suddenly-much-too-small jeans.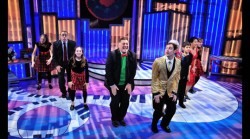 But there's that sophisticated story line, too. Bobbitt had a good deal to lose if he angered kids' parents. Although Adventure Theatre has been in business since 1951 – and operated at 96% capacity last year – many a thriving theater has been sunk by one unfortunate production. Such a demise would not only deprive kids and parents of a fine children's theater, but it would also hurt Glen Echo Park, a former amusement park that's now dedicated to the arts.

Says Jan Konner, "When I was Artist-in Residence at Glen Echo, I saw that during December and January, Adventure Theatre kept the park alive. Despite snow on the ground and icy cold winds swirling around, I would see families heading there. Actually, Adventure is popular all year round and there is a strong following for all the productions."

"Brad Oscar and Dick Scanlan once performed here," Bobbitt says, citing with pride first the star of The Producers and then the power behind Thoroughly Modern Millie. "And," he adds, "Judy Kuhn saw shows here."

So Bobbitt, who's been in charge since 2007, decided that he'd been around long enough for his audience to trust him. Although Big wouldn't be as innocent as his recent productions of A Year With Frog and Toad or You're a Good Man, Charlie Brown, he forged ahead and directed the hour-long TYA version.

Theatergoers have become inured to (and bored by) those pre-show cellphone/hard candy/photo announcements, so directors are  always looking for new ways that will make attendees pay attention. Here, Bobbitt had Zoltar do the honors in a pre-taped sequence shown on a circular screen high above the action. The hearty laughter from the audience suggested that most everyone was watching. Better still: I heard neither cell phone nor cellophane.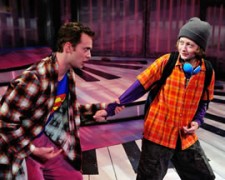 That circular screen dominated the unit set, and proved quite useful. It displayed slides of Englewood, New Jersey, where Josh and his (apparently single) mother lived; a Ferris wheel to suggest the carnival where Josh met Zoltar; and New York's Port Authority Bus Terminal, where Josh and his best friend Billy went to start their search in finding Zoltar's manufacturer.

BIG veterans might have been surprised by the next slide. While in both the film and the musical Josh simply went to F.A.O. Schwarz to play -- and just happened to meet CEO Macmillan of Macmillan Toys there -- here he went straight to that company to get a job. That Macmillan would be on the scene was more logical.

Macmillan was impressed with Josh's sharp perceptions of why certain toys work and others don't, and hired him. Hence, we saw a slide of the Brooklyn Bridge showing that Josh's office had a nice view. Later, Bobbitt put up a panoply of babies when Josh's mother sang her ballad, "Stop, Time," that accurately observed how quickly kids grow up.

It's the most beautiful song in composer David Shire and lyricist Richard Maltby, Jr.'s score. But little kids don't much take to ballads, so I looked around to see if the junior theatergoers would be whooshing out frustrated, when-will-this-be-over breaths. No; some were looking at the baby pictures and feeling all-grown-up by seeing kids younger than they. Bobbitt's choice of slides came through on this one.

He also had a nice idea for "Dancing All the Time," in which Susan reflected on how busy she was as a teen, when she was consumed by all the delightful adolescent activities afforded her. While Susan sang, Bobbitt brought out a younger version of her to express those happy feelings in dance. (In fact, he then brought out yet another young Susan, which seemed superfluous. But at least another kid got some extra stage time. And that's what it's all about, isn't it?)

When Weidman was turning the screenplay into musical, he was intrigued by one issue that the film writers had overlooked. If indeed Josh fell into a great job with a big salary and a boss who loved him -- and got a lovely girlfriend as well -- why would he want to return to pre-adolescence and all its uncertainties? Who'd trade in wealth, power and love for the oppression of parents and teachers?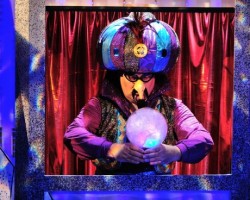 So Weidman added a scene in which Josh met Susan's friends at a dinner party – and was soon over his head when trying to keep up with adult conversation. He didn't have the sophistication to discuss food, drink and culture or the behavior to make the social grade. Josh could fake his way through the work day when he had to test toys, but he couldn't cope or compete between quitting time and hitting the hay. It was a good reason why Josh would want out of his wish.

But kids wouldn't get this concept – which is why the TYA Big completely dispensed with this scene. Says Bobbitt, "Here this issue is that Josh has lost his best friend Billy, who actually says 'I'm your best friend. What's more important than that?' And Josh realizes that."

Okay, but what about the seduction scene? Bobbitt kept it as is. "If there have been any complaints from any parent," he says, "I haven't heard about them." Easy to see why: little kids assume that kissing is the ultimate display of love between a man and a woman. When Josh and Susan walked off, the children had no idea what they'd soon be doing.

"Remember, too," says Bobbitt, "that the original brought in some issues about Susan and her co-worker/boyfriend Paul. Here he's just her colleague." In the first-act finale, in which the Broadway Susan gave Josh quite the erotic kiss, here she gave him a peck and called it a kiss.

Producing Big on a TYA level doesn't mean breaking the bank. Bobbitt accomplished it with six adults and five kids (including using one actor as Zoltar, too). Gregory Maheu had consummate charm as Josh while Janine Sunday's Susan briskly walked the emotional tightrope between loving this manchild and questioning a few of his moves.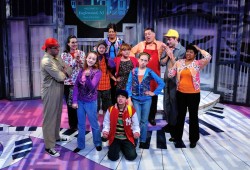 True, a cast of 11 meant a great deal of doubling. Doesn't that confuse kids? "No," insists Bobbitt. "The different body language, voice and costume that each actor brings to the next role makes it all clear. Actually," he says, starting to chuckle at what he's next about to say, "what we find that kids really like are lights and sounds, and Big offers plenty of them."

Indeed. The all-white unit set hid many lights behind white gauze. Because Big includes a Christmas party, the audience was treated to many red and green lights and gave out with a nice ooooh.

Sixteen years have passed since Big's Broadway debut, so some updating was in order. "Fun" – the song in which Josh and Macmillan danced on an oversized piano keyboard – now has a lyric about software. Although Billy once mentioned Seinfeld, he now cited South Park. Most significantly, after Billy and Josh discovered the address of Zoltar's manufacturer and were told to write a letter, Billy brought up the good point: "Why don't we text them or send them an e-mail?" – He's told "They need it in writing." This suggests that Big might work better if set in the '90s before the technological innovations we now take for granted came on the scene.

Finally, all in the cause of TYA decorum, Macmillan sang of Josh's "guts" instead of mentioning the other body parts that are much more often cited as evidence of great courage. Yeah, Big cleans up very well.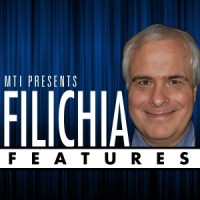 You may e-mail Peter at pfilichia@aol.com. Check out his weekly column each Tuesday at www.masterworksbroadway.com and each Friday at www.kritzerland.com. His newest book, Broadway Musical MVPs, 1960-2010: The Most Valuable Players of the Past 50 Seasons, is now available through Applause Books and at www.amazon.com.