Filichia Features: Alan Menken at the Junior Theater Festival
Filichia Features: Alan Menken at the Junior Theater Festival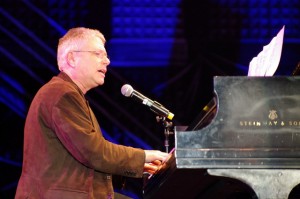 Photo courtesy of Marcus Woollen

While Alan Menken and I were having dinner the night before Junior Theater Festival '13 was to begin, he said to me, "You know, when I was a kid, what I really wanted to be was a rock star."

"You'll feel like a rock start tomorrow night," I confidently told the composer.

But that was an easy prediction. As I reported last week, when Menken came onto the stage to accept his Broadway Junior Award, the cheers were so loud that a throat spray manufacturer would have made a fortune the following day here in Atlanta.

"Al-an! Al-an! Al-an!" came the chant in the same rhythm usually reserved for players in ballparks, stadia and arenas. How often does a diminutive, somewhat gray-haired sexagenarian get such a greeting from tweens and teens?

Menken has earned it, of course. If he'd just written the music for Little Shop of Horrors, he'd be a hero to these kids. But that show, which finished its run as the third-longest in off-Broadway history, was just a tune-up for what was to come: The Little Mermaid, Beauty and the Beast, Newsies and Aladdin were only four of the 16 stage musicals and 19 movies that he mentioned in his Junior Theater Festival bio.

Faye Menken Schneier, Alan's sister, has often told me that their mother kept insisting throughout their childhood that her son was a musical genius. "But," he said to me over that dinner, "my father greatly feared that I'd wind up a shoe salesman."

Actually, Menken has helped the livelihood shoe salesman everywhere. Think of all the new shoes that people have needed after they've worn out their soles from dancing to Menken's music -- or from the walks they took (at least to their cars) to buy videos and audios that feature his work.

But if a visitor from another galaxy had been in attendance, he would have inferred that Menken was a legend when he started playing a medley. The audience gave him the ultimate compliment a composer can get: only two or three notes into a vamp were enough to make audience members applaud to show that they recognized the tune.

Menken started with "Be Our Guest," segued into the title song of Little Shop of Horrors and then into "Be a Dentist." At dinner, Menken had told me that his father and three other relatives were actually dentists, and that it took them a good long time before they cottoned to the song. Perhaps when Dr. Norman Menken, D.D.S. first heard it, he wished that his son had become a shoe salesman?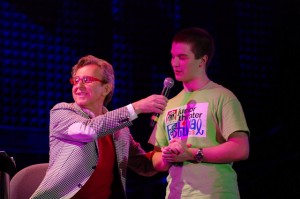 Tom Schumacher, Disney Theatrical Group.

As the medley continued, the audience displayed a good deal of shoulder-shaking and swaying to the up-tempo hits, and hands on hearts for the tender ballads. By the time Menken had reached "A Whole New World," many in the audience just had to let their final inhibitions go and sing along. And when he got to the title song of Beauty and the Beast, one hearty masculine voice in the audience exclaimed "Yeah!" with the same level of excitement and appreciation that greets a double-play when the opposing team had loaded the bases with only one out.

Menken was interviewed by the producer and president of Disney Theatrical Group, one Thomas Schumacher. By the way, do you know what "Schumacher" means in German? That's right: Menken has never made any money as a shoe salesman, but he's made a lot of money for a man whose name translates to "shoemaker."

A bigger irony: Schumacher later told me that when he was just starting out, he was a shoe salesman. (He certainly isn't one now.)

Menken revealed that picking the right moment to musicalize in any stage show or film is the really hard part. Finding the style and tone comes next. Once all those barriers have been overcome, he said, the actual writing of the melody is easy. (Of course it is, Alan – when you've got your talent.)

Kids from the audience had a chance to ask questions. One simply asked what his favorite shows were. ("A Chorus Line, Sweeney Todd, West Side Story, The Lion King -- and Wicked," he suddenly added, which got the audience to "oooooh" much louder than it had for the previous four.

One girl, who said she'd been recently cast as Audrey II – meaning the plant – asked Menken if he had any advice on the gender switch "Just go with it," he said calmly. Then a lad asked, "What was the hardest song for you to write?"

Menken didn't need much time to come up with "Beauty and the Beast." He said that after struggling with it, he made the demo, sent it to Angela Lansbury – who'd be the film's Mrs. Potts – and she wasn't much impressed. Before he could get too discouraged, however, his lyricist Howard Ashman sent Lansbury his demo, in which he sung it in the character's voice, and that made all the difference to Lansbury.

And then there was the boy who asked Menken if he'd ever taken a song he'd already dropped from one project and recycled it into another. "No," Menken insisted. "Every show has its own DNA, so a song that's right for one show wouldn't be right for another."

There were times when Menken began to sing one of his songs to illustrate a certain point. Whenever it was a song that had been dropped from the finished product, he could remember every word. And yet, when he sang a far more famous song that had been included in the film or stage show, he occasionally faltered and said to the audience, "You're going to have to help me here with this one."

Of course, most everyone was at the ready to fill in the gaps.

That's interesting, isn't it? You hear about parents who tend to neglect their kids who are on an even keel and seem to need no help; instead, they give extra consideration to their children who aren't doing as well. That seems to be the case with Menken's "musical children," too.

At the end of the session, Menken summed up his career by saying, "You put your work out there, and what comes back comes back." Plenty has, thanks to talent, taste and sheer hard work.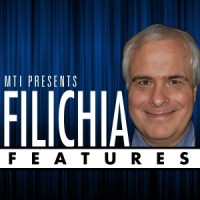 Read all of Peter's articles.

You may e-mail Peter at pfilichia@aol.com. Check out his weekly column each Tuesday at www.masterworksbroadway.com and each Friday at www.kritzerland.com.

His upcoming book, Strippers, Showgirls, and Sharks – a Very Opinionated History of the Broadway Musicals That Did Not Win the Tony Award is now available for pre-order at www.amazon.com.