Filichia Features: Baayork Lee and the National Asian Artists Project
Filichia Features: Baayork Lee and the National Asian Artists Project
Here's a trivia question for you. Which smash-hit, record-setting, much-awarded household-name musical has a character named Connie Edna May Sue MacKenzie?
Need another hint? She was born on Groundhog Day in Greenville, North Carolina.
The most rabid musical theater enthusiasts may be scratching their heads for an answer – even those who saw and adored A Chorus Line multiple times.
"Connie MacKenzie" is the character who plays the Connie Wong track in the legendary musical when a qualified young Asian woman can't be found.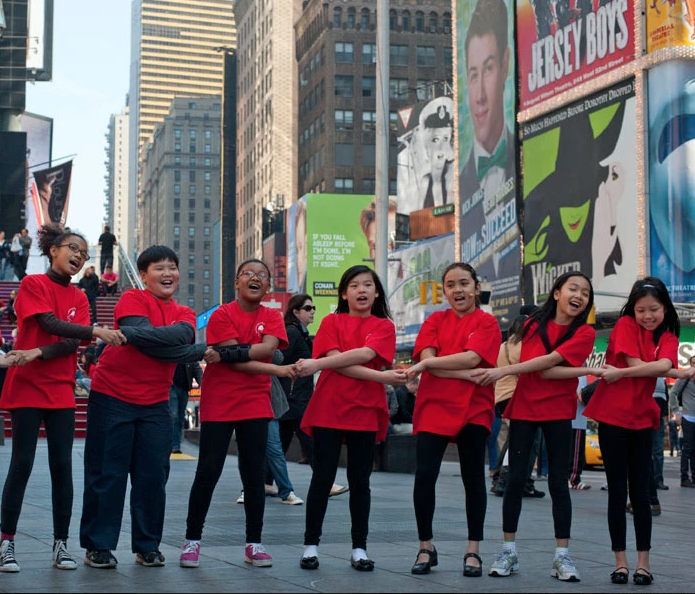 P.S. 124 Students performing in Times Square for Musicals in our Schools Week (Photot by Eric Bondoc).
This situation is anathema to Baayork Lee, who not only originated the role but also was an integral ingredient in its creation. In "Hello, Twelve, Hello, Thirteen, Hello, Love," Connie Wong says that she's four-foot-ten. That figure wasn't arbitrarily chosen; Lee is four-foot-ten, and the story of her teen life is an important component in the show's famous montage.
When Chorus Line opened, Lee gave many interviews in which she stated that her greatest thrill was creating a musical theater role for an Asian-American woman, for, needless to say, there weren't many others. Aside from The King and I and Flower Drum Song -- Miss Saigon wasn't yet written -- how many roles existed for Asian-American singers and dancers?
Not many still, as Lee can attest. She started on Broadway when she was five as one of the Siamese children in The King and I. At the ripe old age of eight, she was collecting unemployment. ("My mother used to pick me up so I could reach the desk and sign the forms.") There was no Broadway return for four years, until Flower Drum Song came along.
"And," she says, "I found myself wondering what happened to these Asian-Americans when the show closed."
Lee was luckier than many, for she was hired for eight more Broadway musicals. The culmination was A Chorus Line where she also served as dance captain and assistant to the two choreographers.
Such a career was the envy of many, but Lee wasn't happy to be the token Asian-American. What could she do, she wondered, as years went by and Broadway made no concerted effort to change the situation.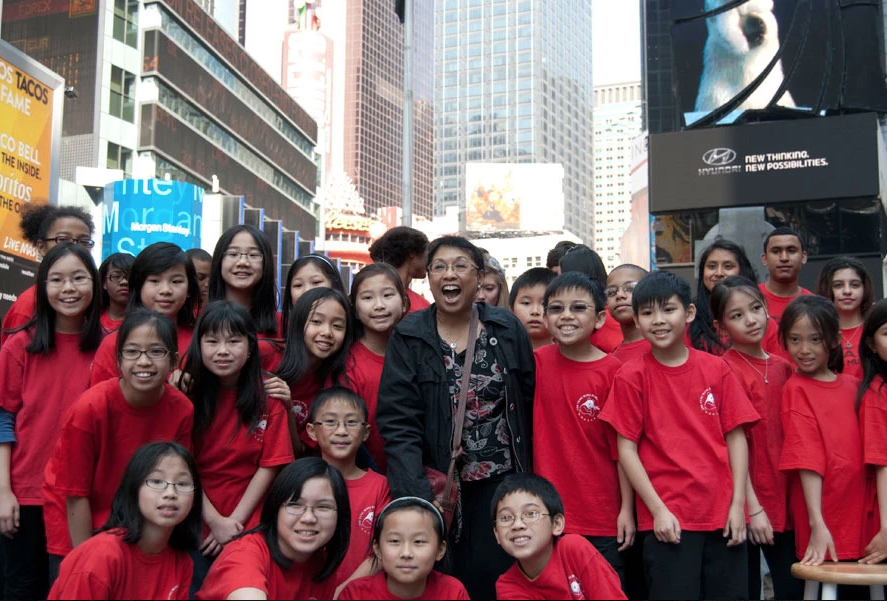 P.S. 124 Students and Baayork Lee in Times Square for Musicals in our Schools Week (Photot by Eric Bondoc).
Lee had another theatrical disappointment. "Whenever I was performing," she says, "before the show I'd peek through the curtain and scan the audience. I'd see few Asian-Americans there, if any at all."
The winds of change started to blow when Lee was asked to direct The King and I in Atlanta in 2004. She needed kids to play Siamese children, found 14 at Asian-American-centric P.S. 124 and fell in love with them as quickly as Mrs. Anna did with Chulalongkorn and his siblings.
After the tour, Lee didn't want the love to end. She, Steven Eng and Nina Zoie Lam conceived The National Asian Artists Project which would give awareness of musical theater to students. Perhaps it would lead to Asian-Americans becoming performers, but the real goal was to develop audiences.
Freddie Gershon, the chairman and CEO of Music Theatre International, told Lee "You find a school, and I'll sponsor you for two years." Indeed he did when Lee returned to P.S. 124 and started a Theatre Club.
"It wasn't easy," says Lee, "because this school is consumed by chess. Walk along the hallways and you'll see kids playing non-stop. They compete with high schoolers and win. So musical theater was not on their radar."
(Not even the musical Chess.)
"Our first impulse was to get the girls ballet slippers and tights," Lee says. "Then we decided that this club was an after-school program that wouldn't place a financial burden on parents. No special shoes or clothes from Capezio. We just wanted kids to participate."
And they did, thanks to a little help from school principal Alice Hom. In January, The Theatre Club attended its seventh Junior Theater Festival in Atlanta. In its first year, the students did a Guys and Dolls medley and got a standing ovation. Says Lee, "The kids didn't even understand that it meant the audience really liked them."
The Theatre Club has been performing ever since. Says Lee, "In New York, we've done Dolly, Carousel, Oklahoma! and Oliver!" – proving that what's good for the Mackenzie is good for Messrs. Vandergelder, Snow, Carnes and Bumble.
Many kids now attend Broadway. Says Lee, "I go into the classroom and ask 'Who saw Matilda? Who saw The Lion King?' and hands go up. We're going to see more and more Asian-Americans come to the theater. I originally said to Freddie, 'We're going to change the community' -- and I think we have."
You may e-mail Peter at pfilichia@aol.com. Check out his weekly column each Monday at www.broadwayselect.com and Tuesday at www.masterworksbroadway.com. His book, The Great Parade: Broadway's Astonishing, Never-To-Be Forgotten 1963-1964 Season is now available at www.amazon.com.