Filichia Features: Billy Elliot Comes to Kansas
Filichia Features: Billy Elliot Comes to Kansas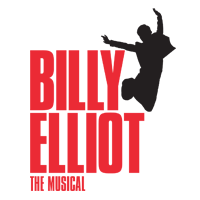 Perhaps you've been debating whether or not to stage Billy Elliot at your theater.

After all, how will a British musical set almost a third of a century ago in Northeast England play in your neck of the woods? Can your average theatergoer whose home is probably comfortably heated with gas or oil possibly empathize with a coal-miners' strike?

(And what about Michael? More on him later.)

Well, Music Theatre Wichita and director Steven Minning recently mounted a Billy Elliot that had about 2,000 Kansans per performance attentively attuned to Lee Hall's story. There were plenty of theatergoers leaning forward in their seats to learn more about a working-class lad who discovers ballet to the horror of his father and older brother.

The audience appreciatively and enthusiastically applauded every one of the songs that Hall wrote with Elton John. That Wichita's performers delivered them wonderfully was not of course irrelevant to the production's success.

Perhaps some theatergoers had a problem understanding thick English accents, but at the three performances I attended, I didn't see anyone turning to a seatmate to ask "What did he say?"

Instead, they were involved in seeing Billy Elliot take his first steps in his newly chosen career.

Most probably could relate to a young kid who wants to forge his own way on a path his family can't begin to understand. Can any occupation be more distant to two career miners than ballet dancer?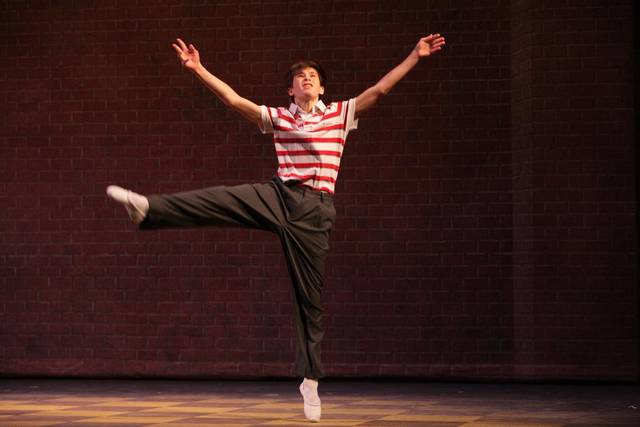 Mitchell Tobin as the titular character in Music There Wichita's production of Billy Elliot. (Photo courtesy of Christopher Clark)
So not only is father pitted vs. son but Billy's older brother Tony is even less understanding of the kid's goals. While many a male can relate to that situation, here's betting that plenty of Wichita women remembered their own adolescent battles with their parents. Some teens may well have even had an unsettling set-to with their folks minutes before they entered the Century II Performing Arts and Convention Center.

Many directors may shy away from Billy Elliot because it does require a teen boy who can at least show he's on the road to becoming a ballerina. Music Theatre Wichita was lucky to get the extraordinary Mitchell Tobin, who'd already played the part in professional tours.

(Note that on Broadway, three young performers alternated performances as Billy. Tobin did the entire week's run of seven performances, including FIVE - count 'em, FIVE - over a forty-nine hour weekend. In the three I saw, he was as indefatigable as he was accomplished.)

But where can you find a Billy? Try a local ballet class. There could be a lad there who might welcome the opportunity to sing and act as well as dance.

He must "dance" a little around a boxing ring, too, as he tries to avoid his opponent. Yes, Billy's Dad has insisted that his son take lessons in pugilism at the local town hall. Can you guess that Billy is soon down for the count, flat on his back, with his teacher, one "Big Davey," angered enough to shout "You're a disgrace to your father!"

Ah, such a line has been said millions of times over the centuries to boys who haven't been able to achieve in sports. But someday, Billy Elliot, your entire family will consider you far from a disgrace and will be bragging about you.

The town hall has a tight schedule; following "Big Davey" is Mrs. Wilkinson and her ballet class for tweens. If you have a surfeit of girls -- Wichita had a bevy of adorable ones - they can play the struggling student ballerinas, which means they needn't be the least bit proficient.

Mrs. Wilkinson is a great role (and was played superbly in Wichita by Janet Dickinson). Although over time she's become jaded because of the lack of talent she routinely gets, we'll see that all she needs is one promising student to reinvigorate her. That's Billy, who didn't even intend to be part of the lesson, but finds himself gravitating toward it. In the toe-tapping "Shine," Billy does.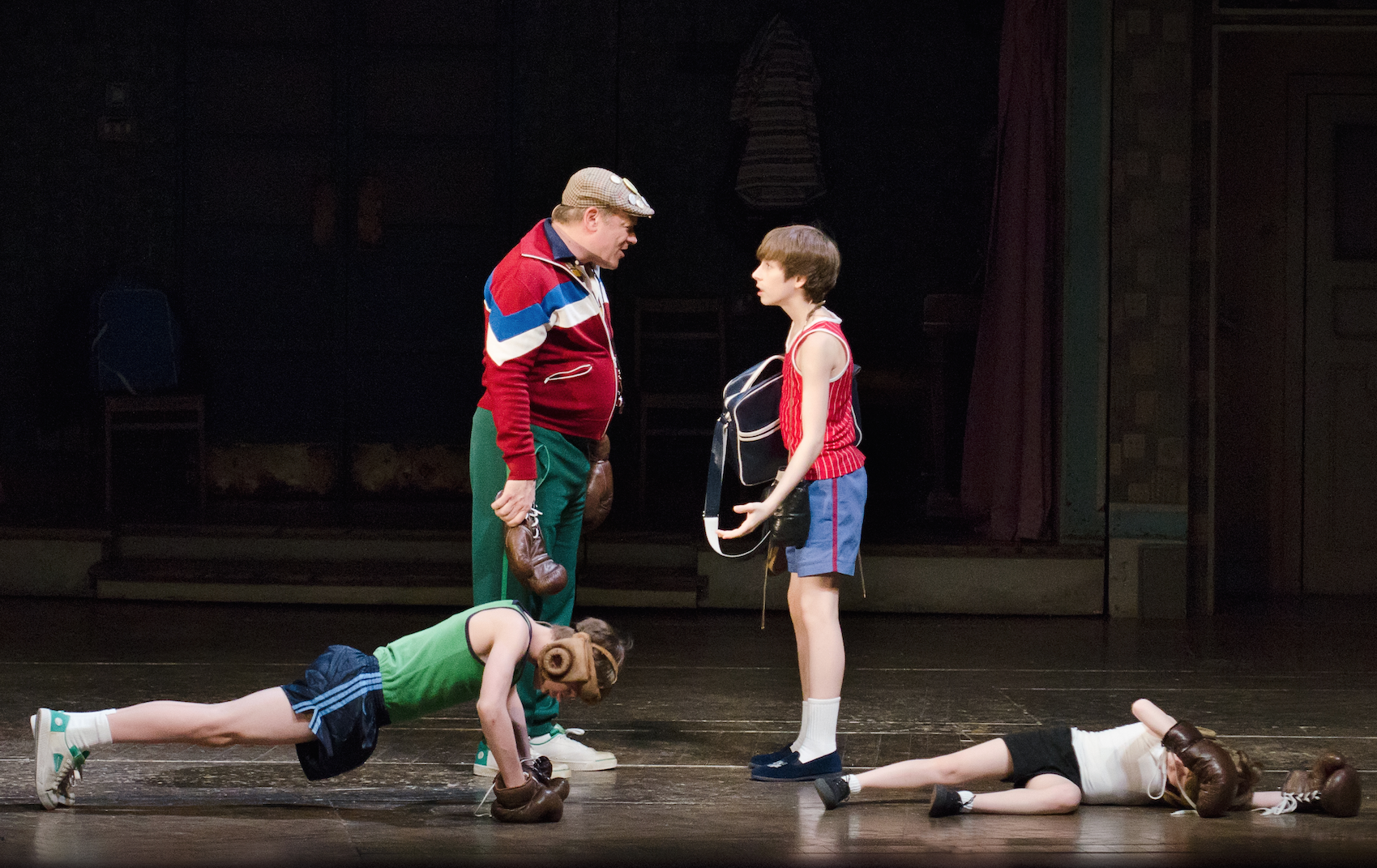 Patrick Wetzel as Mr. Braithwaite and Kylend Hetherington as Billy in the National Tour of Billy Elliot The Musical. (Photo by Kyle Froman).

Although Mrs. Wilkinson hasn't achieved many of her dreams, she still adheres to Eleanor Roosevelt's insistence that "No one can make you feel inferior without your consent." True, at the end of the show she tells Billy that she's "second-rate," but her real intention is to let him know that he's now entering the big leagues. Throughout the show, Mrs. Wilkinson demonstrates that she's closer to first-rate than she thinks.

One important point that Billy Elliot strongly makes is that a kid who likes ballet shouldn't automatically be considered gay. Billy certainly has his chance with his best friend Michael, who becomes increasingly flirtatious as the show progresses. But even Michael's advances don't throw Billy as much as seeing his pal in drag.

After Michael convinces Billy to don a dress, they raucously sing "Expressing Yourself." Here choreographer Alison Levenberg wisely had Tobin a beat behind to stress that Billy was uncomfortable in girl's clothing. Ah, but soon Billy's native ability to dance trumped his embarrassment, which gave Tobin the chance to do some extraordinary footwork.

Only the most self-assured (and talented) boy will be able to play the gay, cross-dressing Michael. Kudos to Evan Lennon for expertly showing that Michael, despite being young, knows a salient fact of life: people take their cue from you. If you blithely act as if there's nothing wrong with your behavior, everyone will have a harder time believing that there indeed is. Lennon and Tobin were so endearing and had such fun that the Wichita theatergoers weren't unnerved by what these kids' sexuality or relationship might be. They just enjoyed seeing young kids conquer the number and the stage.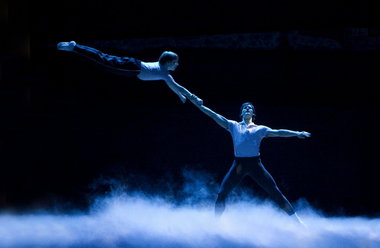 Tommy Batchelor and Sam Pergande in the Chicago production of Billy Elliot The Musical. (Photo by Joan Marcus).

Many musicals have moments of great joy followed by great sorrow, but few do as often as Billy Elliot. It actually seems as if joy and sorrow take turns, for no sooner has there been an exuberant number than some doleful incident occurs. Here, after "Expressing Yourself," Billy shows Mrs. Wilkinson a letter that his mother wrote him when she knew she was dying. Yes, Billy still does have a grandmother at home (hilariously played here by Patti Perkins), but she's increasingly retreating into her own little world, so Mrs. Wilkinson must become Billy's surrogate mother. (Teachers, do this show so audiences can see how many important roles you play in your students' lives.)

More sorrows afflict the striking miners. We see them defiantly singing "Solidarity forever!" at the top of Act One, but by Act Two, they realize that "forever" is coming to an end. The destitute strikers' fate broke the hearts of many in Wichita.

There's also a surreal scene (beautifully rendered by Levenberg) in which the warring policemen and militant strikers come between the girls and Billy during their rehearsal. No, they aren't really there, but their metaphorically invading the space underlines that the outside world and its massive problems are never far away. That the policemen and miners remove their helmets and switch them is also a way of saying that these blue-collar workers aren't that far apart and share many of the same concerns.

The most potent moment for me, however, came when a ballet executive told Dad "A child can only succeed with 100% cooperation from his family." How true! In my long career, I've conducted literally thousands of interviews and the question I've often asked is "Were your parents supportive of you? I don't necessarily mean financially, but I do mean emotionally."

And -- seriously - I have found that those who were lucky enough to have parents staunchly behind them and constantly saying "You can do it!" reach far greater success than those who had folks who incessantly told them "You'll never make it." Kids need to believe that they can achieve, and parents are the first and most important people who can provide that validation.

What's wonderful is that Billy eventually gets it. His father does come around and even abandons the strike to get the money that will bring Billy to the next step. Dad does love his son more than he was able to let on, and he will be a major factor in Billy's eventual success. Make sure you are too in your child's life.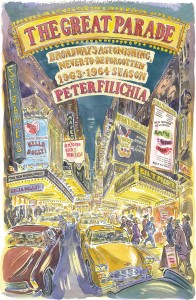 You may e-mail Peter at pfilichia@aol.com. Check out his weekly column each Monday at www.broadwayselect.com, Tuesday at www.masterworksbroadway.com and Friday at www.kritzerland.com. His bookThe Great Parade: Broadway's Astonishing, Never-To-Be Forgotten 1963-1964 Season is now available at www.amazon.com.