Filichia Features: Catch Me If You Can Can Indeed Succeed
Filichia Features: Catch Me If You Can Can Indeed Succeed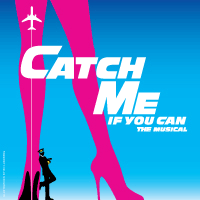 You could, of course, do Catch Me If You Can the way it was done on Broadway. Take Troupe 4982 from Bradford High School in Kenosha, Wisconsin, which brought its production to the Thespian Festival in Lincoln in June. Through a production that pretty much replicated what director Jack O'Brien, choreographer Jerry Mitchell and set designer David Rockwell did at the Neil Simon Theatre in 2011, it earned huzzahs.

Six musicians sat in an on-stage bandstand behind anti-hero Frank Abagnale, Jr. He was 16 going on 17, but had nothing in common with Liesl von Trapp, for he started assuming other identities and forging checks to the tune of nearly $2 million. These activities certainly infuriated his Javert: Interim Second Assistant Special F.B.I. Agent Carl Hanratty. That Colin Robertson's Frank and Joey Belotti's Carl astonished in their roles certainly helped, too.

But you can also do Catch Me If You Can in a new way as Wayne Bryan recently did at his Music Theatre Wichita. Marc Shaiman, who wrote CATCH ME's catchy music, and Scott Wittman, with whom he collaborated on the deft lyrics, attended and were both impressed by Bryan's innovations. His improvements made the show a smash for the seven performances that nearly 15,000 theatergoers attended.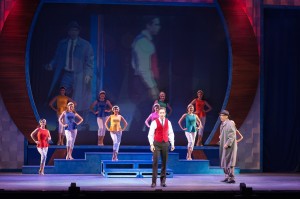 (Photos by Jerry Fritchman)
Yes, that many. In a city of 385,000, one out of every 25 Wichitans pays between $24 and $62 per show at one of the nation's most successful musical theaters. How many others can boast a 108-page four-color program that displays ads from no fewer than 97 different companies?

Bryan's being producing artistic director for 27 seasons is one reason for the theater's success, but his imagination may be a bigger one. His first idea for Catch Me was to put the orchestra in the pit and not in an elaborate center stage bandstand.

Big deal, you say. But wait – the show's original concept had the band on stage. The first scene has Hanratty catching Abagnale at the airport, where the kid tries to talk his way out of his jam even as Hanratty points to the many on-lookers and says, "You are not putting on a show for these people."

And just as some people are said to escape pain by forcing their minds to take them out of their bodies, Frank will now avoid reality by seeing his life as a TV program. "A show!" Frank replies, looking out at us and smiling as a little bell rings prior to a long-held violin note.

At MTW, the audience laughed with affection. Even longtime subscribers have seen many more action movies and reality shows than musicals, so they still view musical theater as, well, artificial. As a result, they actually like when a reason or even an excuse is given for people to burst into song and dance out of the blue.

Frank sings that the show we'll see will be "Live in Living Color," which allows for an elaborate production number. And because Frank's actual exploits took place through the '60s, the number involves plenty of singers, dancers and choreography that replicates that TV era.

However, the variety shows that had their bands on stage – such as Lawrence Welk – had individual singers or small groups enter, stand at the mike, sing and exit. The ones that involved big production numbers – Perry Como, Garry Moore – mostly kept their orchestras off-stage.

So did Bryan. And because he had 27 dancers (to Broadway's 19), he needed to give them even more breathing room. An on-stage orchestra would take up too much valuable stage real estate, so his 16 musicians were relegated to down below.

If Frank sees his life as a TV show, Bryan reasoned, we should see some TV. So he put a giant mock-TV screen on the back wall and used it all night long. Right away we saw the original "NBC Peacock" logo that proclaimed that the upcoming program would indeed be in living color.

Most the time, the slide projections told us where we were: the exterior of New Rochelle High School, where Frank engineered his first official scam; the interior of the Los Angeles hotel room where he came face-to-face with Hanratty and managed to dupe him.

A slide was especially helpful when Terrence McNally's dialogue mentioned that Frank's parents had met in Montrichard. Say what? To help the audience with the unfamiliar word, Bryan showed a map of France with the word "Montrichard" super-enlarged.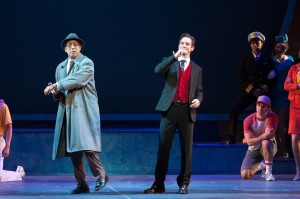 He also wisely used logos from actual TV series of the '60s to comment on the action. The first time we were taken to Hanratty's workplace, the black-and-white title card of The F.B.I., a 1965-74 series, was shown. So was Ben Casey's, to cite a 1961-66 series, when Frank mentioned the show when he was pretending to be a doctor.

Projected magazine ads included one in which Santa Claus plugged Camel cigarettes -- not to be confused with one that stated "LS/MFT." Don't know the acronym? Once upon a time every American knew that those five letters meant "Lucky Strike Means Fine Tobacco." Bryan's technical work could change the meaning "Lotta Slides Made Fabulous Theater."

So did the video. Each time a character had a big number, the TV screen showed gigantic close-ups of the performer's face. This had to be a boon for those in the last row the balcony, which is almost always in use at Music Theatre Wichita.

To add to the color motif, set designer Robert Andrew Kovach's white panels offered recessed lighting with a different hue accenting every scene. Red and green highlighted the scene set at Christmas – which included an artificial tree – a perfect metaphor for the phoniness that Mr. and Mrs. Abagnale had.

Make certain that your Frank, Jr. has (as Skyler Adams certainly had) a convincing naïveté at first so that we can blame his parents for corrupting his innocence. The lad sees Dad bribe a low-level employee with a necklace, so he soon tries the same gambit and succeeds. With a father who has no regard for honesty in business or taxes -- and a mother who's shown to cheat on her husband and tries to bribe her son to keep quiet -- Frank had a head start on a dishonest lifestyle.

These parental failings don't excuse him, of course, but they do to a degree explain why he turned out as he did. Add to that a divorce, which many studies still say hurts kids. Frank was certainly one of them.

Still, how can we care for a criminal? What helps is the deep love that Junior has for Senior and vice versa. Never mind that Frank, Sr. is full of more hot air than you'll find in a Wichita summer; Frank, Jr. loves him blindly – ""the smartest man I know" -- and considers him "Frank Sinatra, Jesus Christ and JFK all rolled into one."

Would that more fathers and sons could share such a love! Frank more than once explained his actions with "I just wanted to get him back on his feet." No, not "just" – pretending to be a pilot, flying around the world and having the company of pretty flight attendants was fun, too -- but some of the chicanery came from a genuine need to improve his father's life.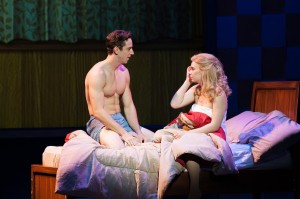 Shaiman's music is a marvelous '60s time capsule. Frank, Sr. and Hanratty were born in the big-band era, so when the two do "Little Boy, Be a Man," they swing in that fashion. In "Butter outta Cream," both Franks replicate the Frank-and-Dino sound. And because, Hanratty is a cop, that allows him a bluesy noir song in "The Man inside the Clues." Frank's mother gets a Henry Mancini feeling in "Don't Be a Stranger" done as an homage to Kay Thompson's famous '50s act with the Williams Brothers. (The lyrics he wrote with Wittman are on point, too, with such not-often-heard words as "cucaracha" and "Steve McQueen" adding flavor.)

The older Frank, Jr. gets and becomes his own man, he finds music with a late '60s sound, such as "Seven Wonders," his duet with Brenda Strong, the love of his life. She gets a power country waltz (yes, Shaiman ensures that there is such a thing) in "Fly, Fly Away" and, oh, did Carolyn Anne Miller score with that one.

Brenda's family comes from New Orleans, which allowed Shaiman to go to Dixieland in "(Our) Family Tree." The script establishes that the Strongs enjoy their weekly chance to Sing Along with Mitch, a 1961-64 TV show that Bryan also celebrated with slides. Mitch Miller and his gang of singers and dancers were shown in four slides that included subtitles of lyrics, as Sing Along actually did.

Then the screen lifted and the ensemble that had just been shown on screen came to life, performing with gusto right down to a hand-shimmering finish. It was only one of eight mammoth production numbers that choreographer Linda Goodrich had to accomplish, and accomplish them she did.

Don't you love a choreographer who listens to lyrics? In "Don't Break the Rules," Hanratty's demand for law and order from his staff, mentions "The Wild, Wild West," so Goodrich had them take off their fedoras and swirl them around in the way cowboys do with their hats. Here's hoping that you have someone equally expert on hand.

That goes for the MTW cast, too. Long before Skyler Adams sang his eleven o'clocker "Goodbye," Wichita felt it had said hello to a star. And just as Rose at the end of her turn in Gypsy basks in imaginary applause, so did Frank after he sang "Goodbye" – although he too got plenty of it from the crowd. Most importantly, we must believe that Frank genuinely loves Brenda, and Adams' honest portrayal left us with no doubt.

The show ceases to be in living color once the FBI men enter; they're in black, white and grey. But Thom Sesma didn't make Hanratty a colorless one-dimensional sober-sided stick-in-the-mud who would have made us root for the criminal. Sesma's marvelous portrayal suggested that if Carl were cast in a two-man good cop/bad cop situation, he'd be the good one. The actor was genuinely tender when breaking the news to Brenda that her beau was a con man. At the end, when he was telling Frank that his future after prison needn't be bleak and the kid asked why he of all people would want to help, Sesma's voice broke with feeling when he said "Because I'm the only one who can."

David Hess caught the essence of Frank's father without making him an insufferable blowhard. He made theatergoers first believe he was a good guy before proving them wrong. As Mrs. Abagnale, Paula Leggett Chase explained away her affair with sadness and truthfulness combined when she said, "Frank, one day you'll look at yourself and you won't be who you were."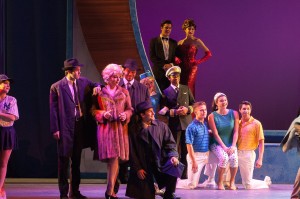 Hanratty has a lyric in his second song: "The Red Sox – they always lose" which made the audience give out with a more-than-expected amount of laughter. When an offhand lyric gets a laugh, you know the crowd is listening. Interesting, too, that Wichita knows that Boston's baseball team has in the last 100 years had a poor track record; after all, the Red Sox don't make the city's sports broadcasts or newspapers because Wichita is not a major league town.

Well, not where baseball is concerned. When it comes to musical theater, however, Wichita certainly is. It made a winner of CATCH ME IF YOU CAN, proving that you can, too.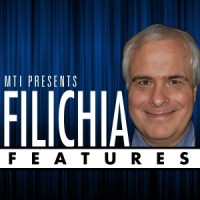 You may e-mail Peter at pfilichia@aol.com. Check out his weekly column each Tuesday at www.masterworksbroadway.com and each Friday at www.kritzerland.com. His new book, Strippers, Showgirls, and Sharks – a Very Opinionated History of the Broadway Musicals That Did Not Win the Tony Award is now available at www.amazon.com.