Filichia Features: Children of Eden Continues to Grow
Filichia Features: Children of Eden Continues to Grow

It's never been produced on Broadway and its London production was short-lived. But these facts haven't kept one theater after another from doing Children of Eden.

Here in Watertown, Massachusetts, The Wellesley Players are staging what is essentially two one-act Biblical musicals with book by John (Les Miserables) Caird and score by Stephen (Godspell and Wicked) Schwartz. The first act has Father (read: God) creating Adam and Eve. Like so many fathers (and mothers, for that matter), He's ultimately disappointed when His kids disobey Him. Parents often send recalcitrant sons or daughters to their rooms; Father instead sends his into the big bad world.

A few centuries later in Act Two, Father will be even more severe. After He's witnessed the human race's follies and sins, He'll drown everyone on the planet -- save Noah, his family and the animal kingdom.

While a production may sound expensive, any theater mounting Children of Eden will save some money on sets. After all, nothing is on stage before Father creates the Garden of Eden. Even afterward, a tree with a bright shiny apples is all that's necessary.

Director Chris Brindley proves that a 20-member ensemble in green shirts and gray pants can aptly serve as scenery. By Act Two, few if any miss or notice that no ark is on the scene.

Caird's book asks the chorus – deemed "Storytellers" -- to do a good deal of describing, so a cast must effectively recite in unison. Here in Watertown, the 20 performers actually sound as if they're speaking in one voice. One can only imagine the tortuous hours Brindley spent in ensuring that every word and lyric could be easily understood. Children of Eden has a song called "In Pursuit of Excellence," which must have been a mantra for Brindley and his cast.

Pulling focus in a show is considered a no-no, but there are times when it's just what the director orders. Here, Athan Mantalos' Father is so charismatic that we can't take out eyes off him – which allows for Adam and Eve to sneak in behind the chorus and lie on the floor while we aren't paying attention to center stage. The chorus splits in two, and voila! Mantalos is endearing when describing them in one of the best lines found in recent musicals: "They were made for each other." Which nobody can deny.

Playing the world's first-ever human beings gives each performer the chance to find his and her inner child, and Ben Oehlkers and Kate McTyre provide the wide-eyed enthusiasm. Needless to say, as time goes on, Adam and Eve must go from youthful innocence to aged experience, which Oehlkers and McTyre accomplish with ease. Many a spouse in the audience nods when Adam chooses Eve instead of Father. Plenty of husbands and wives have done the same, with varying degrees of success.

Schwartz's song "The Naming" offers the other cast members opportunities to play lions and tigers and bears and every other animal under the sun. As good as they are here, they're even better in Act Two when they ape penguins, kangaroos, turtles – and apes. Julie Taymor needed appendages for her animals in The Lion King. Here's proof that you don't. The audience members are so moved and charmed that they applaud in the middle of Schwartz's enchanting bourrée "The Return of the Animals."

And the rest of the score? Schwartz here has come closest to writing a modern opera than any other contemporary songwriter. Still, he's a Broadway baby at heart, so he's peppered the musical with show tunes, too: Eve's insightful "The Spark of Creation," Cain's cri de Coeur "Lost in the Wilderness" (dynamically rendered by Nick Sulfaro), and of course a rousing eleven o'clock number "Ain't It Good," which Angela Richardson does so splendidly that the audience wishes that she'd continue until twelve o'clock.

The original London production in 1991 used one actor to portray The Snake, but the 1997 Paper Mill Playhouse edition employed four. Here Brindley uses seven. (Does he have The Seven Deadly Sins in mind?) Because all go barefoot, we can see that one of the seven Snake performers wears red toenail polish. Although we can surmise that in real life she's a woman who routinely paints her toes, she inadvertently suggests an idea: red is certainly a devilish color, so consider having your snake(s) put on red press-on nails before the scene – ones that can easily be discarded after the Snake exits and the actors return to storytelling.

Then again, everyone in Children of Eden goes barefoot, so the show doesn't tax a theater's shoe and sock budget. One might fear that unclad feet will endure injuries during rehearsals or performances, but only one actor sports a Band-Aid, and that one merely protects his baby toe. Nevertheless, for your production, make certain that your stage is as smooth as, to paraphrase Mrs. Lovett, a baby's bottom.

Brindley doesn't use an idea that Paper Mill director Robert Johanson had. After Cain runs away -- seemingly for good -- Eve is distraught. Will she ever again see her first-born son? Finally he returns, and she hugs him tight, thrilled and relieved that he's alive and well. Johanson did that, too, but he also then had Eve immediately pull back and slap Cain silly, yelling "Where have you been?!" I've seen parents do that, for better or worse. Haven't you?

The Paper Mill production had Adrian Zmed portray both Adam and Noah and Stephanie Mills as both Eve and Mama Noah. Brindley instead follows the lead of original London director John Caird, who had two different pairs of performers starring in each act. You may be well advised to follow Caird and Brindley's lead, for this choice makes fewer demands on your lead actors; they'll have less to learn and will more easily master the material. Scheduling rehearsals will be easier, too; if your Adam can't make it on Tuesday, rehearse Act Two that day.

Children of Eden suggests that if we lived in Eden still, we might have become a little bored by all the non-stop perfection. Given that the show questions God's motives – and firmly comes to the conclusion that the Lord helps those who help themselves -- it's not a show for every community or every community theater. Only you know for sure, after having lived in yours, whether it's right or wrong for your town. Considering the applause and cheers at the final curtain, The Wellesley Players certainly prove that Watertown is amenable to Caird and Schwartz's messages and opinions.

In the end, Children of Eden's greatest strength may be its rainbow casting: male, female, young, old, heavy-set, thin, black, white and any other color all merge into an all-inclusive unit. When rehearsals begin, cast members may well assume that they will have nothing in common with people who don't resemble them in age, color or body type. They'll eventually learn that they share a great many more feelings and opinions than they would have ever imagined. When a show can do that, it's automatically worth producing.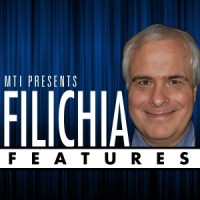 Read all of Filichia's Features!

Visit Peter's Official Website.

Check out Peter's weekly column each Tuesday at www.masterworksbroadway.com and each Friday at www.kritzerland.com.

Peter's newest book, Strippers, Showgirls, and Sharks: A Very Opinionated History of the Broadway Musicals That Did Not Win the Tony Award, is available for pre-order NOW!