Filichia Features: Dr. Arthur Robinson Explains How to Succeed to You
Filichia Features: Dr. Arthur Robinson Explains How to Succeed to You
A year ago this week, I wrote a column entitled "How How to Succeed Came to Be." It detailed the differences between Shepherd Mead's 1952 spoof on self-help books that he wittily entitled How to Succeed in Business Without Really Trying and the smash-hit musical adaptation that followed nine years later.
In his opening night review in the Herald Tribune, Walter Kerr identified it as "the new Abe Burrows-Frank Loesser musical," but a few lines later stated "with acknowledged help from Jack Weinstock and Willie Gilbert."
That implies that Burrows wrote a script and Weinstock and Gilbert then doctored it. What actually happened is that W&G wrote a play version of Mead's book in the early '50s, but found by the late '50s that they couldn't get it on. It eventually wound up in the hands of Cy Feuer and Ernest Martin, the producers of Where's Charley, Guys and Dolls, Can-Can, The Boy Friend and Silk Stockings (and yes-all-right: Whoop-Up). Thus far, they'd only produced musicals and they envisioned W&G's play as a song-and-dance show. And that's how H2$, as it eventually became chummily known, was born.
Feuer and Martin were right. You don't win the Best Musical Tony and the Pulitzer by being wrong. The former award went to Loesser, Burrows, Weinstock and Gilbert, but the latter prize was bestowed only to Loesser and Burrows.
"Actually, Weinstock & Gilbert WERE told they had won the Pulitzer Prize -- only to be told later that Abe Burrows was the only one singled out," wrote Ethel Weinstock Kaiden, the top-billed writer's daughter who wrote to me after she'd read my original article.
Of course I asked her if she had a script of the play that her daddy had co-authored, but alas, she did not. I HAD heard from my friend Donald Tesione that the team had papers at Indiana University, but an Internet search yielded nothing.
Now, a full year after my column, Dr. Arthur Robinson, reference librarian at LaGrange College in Georgia, has come to the rescue. We could entitle his e-mail to me "Everything You Ever Wanted to Know about W&G's H2$ But Had No Idea Whom to Ask."
Library expert that Robinson is, he knew where to look. "The play doesn't show up in Indiana University's online catalog," he reports. "In fact, I don't see any listings of the straight play version in WorldCat, which draws on the online catalogs of all U.S. libraries. W&G's script is in the Lilly Library's card catalog, but apparently all the catalog cards still haven't transferred to their online catalog."
Robinson adds that "It's fascinating to see how much of the musical was already in the straight play -- and how different it was in some ways. Hardly any of the dialogue in W&G's version remains in the musical. Burrows did a complete rewrite."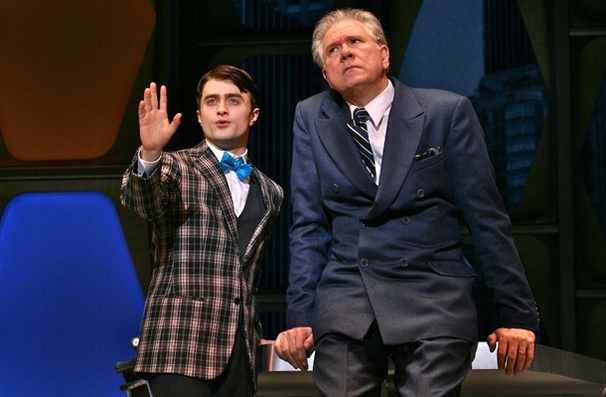 Daniel Radcliffe and John Larroquette in How to Succeed in Business... at the Hirschfeld Theater (Photo by Ari Mintz)
To give credit where credit is due, however, Robinson reports that "Nearly all the characters and most of the plot are from W&G's version." That brings us to a question I had in my original column. I pondered whether the adapters or Loesser gave Bud Frump his name. After all, I surmised, "There's a possibility that the lyricist created it, because he needed a rhyme in the song 'The Company Way': 'FRUMP will play it the CUMP-any way.'"
Robinson answers the question by giving W&G's entire "dramatis personae" – (yes, "dramatis personae" are his words; classy guy, this Dr. Robinson) – and acknowledging that Pierrepont Finch, J.B. Biggley, Hedy, Mr. Gatch and Miss Jones -- all mentioned in passing in Mead – were retained by W&G. But they did add a "J" in front of Pierrepont Finch's name, which Burrows of course appropriated.
But Bud Frump is in the original play, too. Although W&G may have never spent a minute working with Loesser, they do get credit for naming the character that gave him the rhyme.
H2$ savants will recognize the names of executives Messrs. Bratt, Tackaberry and Twimble; now we know that W&G invented them and even gave them the respective first names of Bert, Robert and Herbert; the last two even got middle initials of "N" and "J." Burrows kept the surnames but shed the first ones. W&G more formally named the eventual Wally Womper as Wallace Womper, befitting his CEO-status.
"W&G had Twimble working in the mail room a mere 20 years, not 25," writes Robinson. Wasn't Burrows clever to add the five years? That way he could add a good joke that wouldn't have worked with a mere 20 – when Twimble brags "Last month, I became a quarter-of-a-century man" before Finch asks him how long he's been in the mail room, only to hear "Twenty-five years." People don't say "a fifth-of-a-century" but they often use the time demarcation of "a quarter-of-a-century."
As for the secretaries, W&G gave Smitty a first name – Mildred – and four other secretaries got full names as well: Jane Russo, Anne Tracey, Dotty Hite and Nancy Willady. Lest we attack Burrows for having no respect for secretaries by making them anonymous, Robinson reports that they were treated in a far less lofty fashion by W&G. Besides, Burrows didn't spare two male execs, for both Louis D. Toynbee and Victor C. Cooper lost their names, too.
Robinson noted that "Rosemary Miller became Rosemary Pilkington and Hedy Sinclair became Hedy La Rue." The former's first name also solved another H2$ mystery for me. I'd wondered if Loesser had chosen a three-syllable name to match "J. Pierrepont" for his first-act finale where each name is sung to the same three notes. Nope!
"Although W&G refer to Hedy as 'a dumb blonde,'" tells Robinson, "they made her a bit smarter; she realizes that Finch used her to get rid of Gatch. She's more realistic – but far less funny -- than in Burrows' version. Hedy Sinclair doesn't mangle the English language as Hedy La Rue does with one exception: when she gets nervous in the live Treasure Hunt broadcast, she introduces herself as the 'Wiggley Bucket Girl' instead of the 'Biggley Wicket Girl.'"
Burrows didn't discard two important W&G plot points involving Frump: to have him call his mother every time he'd felt an injustice had been done him and to have him initiate The Treasure Hunt TV game show (and have the company's offices torn to pieces by treasure hunters). Robinson's conclusion? "W&G's general plot is quite similar to the musical and many incidents are identical. Here too Frump sends Hedy to go after Finch, then gets Biggley to catch the two, but Rosemary hides Hedy and kisses Finch when Biggley arrives."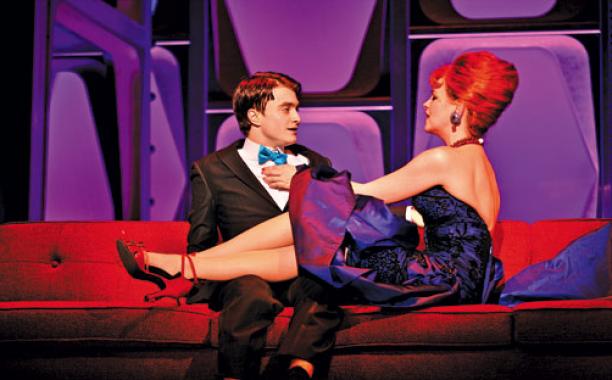 Daniel Radcliffe and Tammy Blanchard in How to Succeed... at the at the Hirschfeld Theater (Photo by Ari Mintz)
And then there were snippets that Burrows retained from W&G who had retained them from Mead in the first place: Finch bumps into Biggley, then tells Bratt he "just happened to run into him." To impress Biggley and make him think he pulled an all-nighter at the office, Finch dumps a bag of cigarette butts and spreads coffee cups around his desk.
But W&G had created a far more nefarious Finch. "He made his home in the office to save on rent," Robinson relates, "and steals some of the comforts of home, including liquor, from Biggley's office. But the big difference is their ending. Instead of having Finch accept responsibility as he does in the musical, here he manages to shift the blame onto Biggley and Frump. Not only that, he informs Wally Womper of Biggley's knitting and hints that Biggley is a secret drinker. He then boasts to Rosemary of what he's done, whereupon she tells him he's a 'shrewd, conniving, ruthless, ambitious phony' and dumps him. The play ends with Finch not only taking over J.B. Biggley's job but also his mistress Hedy. Then in the final moments, a young man comes to see Finch, saying he too is from Old Ivy, which is possibly an echo of the ending of All About Eve."
Thanks, Dr. R. But before we close, let's go back almost a year to when Ethel Weinstock Kaiden wrote to correct my statement that Weinstock was a neurosurgeon. "Dr. Jack Weinstock was a surgeon," she conceded, "but in urology not neurology." When I apologized and told her that "neurosurgeon" had come up many times on the Internet," she replied "The neurosurgeon thing is not YOUR mistake as it has appeared in numerous documents. We never corrected it but instead we used to laugh and say 'They're giving Dr. Jack a fancier specialty.'"
You may e-mail Peter at pfilichia@aol.com. Check out his weekly column each Monday at www.broadwayselect.com and Tuesday at www.masterworksbroadway.com. His book, The Great Parade: Broadway's Astonishing, Never-To-Be Forgotten 1963-1964 Season is now available at www.amazon.com.