Filichia Features: Ever After Has Arrived!
Filichia Features: Ever After Has Arrived!
"The first thing I had to do," says Marcy Heisler, "was to find a way to get rid of all the horses."

Yes, that is the problem for a bookwriter-lyricist when adapting a film in which equine beings literally run rampant. The era that Ever After depicts – 16th century France -- didn't even have as much as a Tin Lizzie on the road. It was either "Get a horse!" or walk.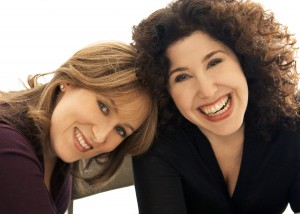 Composer Zina Goldrich and Lyricist Marcy Heisler

In fact, the most shocking scene of the 1998 film takes place after Auguste de Barbarac prepares for a long horseback journey and says goodbye to his beloved eight-year-old daughter Danielle, his new wife Baroness Rodmilla and her two daughters from her previous marriage. After Auguste mounts his steed, he only travels a matter of yards before he falls off as the result of a heart attack.

As he's dying, his last word is "Danielle." Needless to say, Rodmilla was hoping for "Rodmilla." It's one reason why this stepmother comes to resent her new stepdaughter and how that resentment hardens into downright cruelty. Jealousy, pure and simple, is the reason that Rodmilla and her two daughters treat Danielle like – well, Cinderella.

"There are never enough Cinderella stories," says Heisler's writing partner, composer Zina Goldrich. "People don't turn off if you do it in a new way."

The film of Ever After did that, and now Goldrich and Heisler – the team behind Dear Edwina and Junie B. Jones, too -- have endeavored to find new twists in their musical version. It's now at The Paper Mill Playhouse in Millburn, New Jersey with Margo (Rocky) Seibert as Danielle and two-time Tony-winner Christine Ebersole as Rodmilla.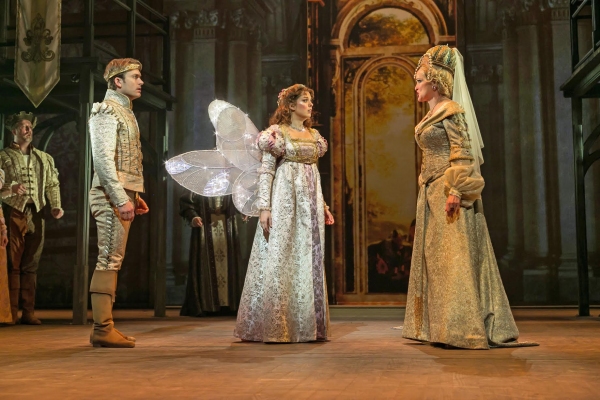 Fred Inkley, James Snyder, Margo Seibert and Christine Ebersole in Ever After at The Paper Mill Playhouse (Photo © Jerry Dalia)

Heisler not only had to find a horseless way around Auguste's heart attack, but also another when Danielle sees a man stealing one of the family's horses. She throws an apple at him, squarely hits her target – and then is aghast to find that he's the Prince.

"What I liked when I saw the movie," says Heisler, "is that soon after Danielle meets Prince Henry she has a political conversation with him about what's wrong with the kingdom. What's also great is that so many people in the story help so many other characters."

That even includes Leonardo da Vinci, played here by Tony-nominee Tony Sheldon. "Some people have observed that Ever After is a fairy tale with no magic in it," says Heisler. "We maintain that Leonardo's brilliance is actually the most special kind of magic you can find in the world."

"Henry is surrounded by 'yes' people," says Goldrich. "Leonardo isn't one of them. It's one reason I was intrigued by the film. Another is that since childhood, I've loved any story about women who were living in and coping with a man's world."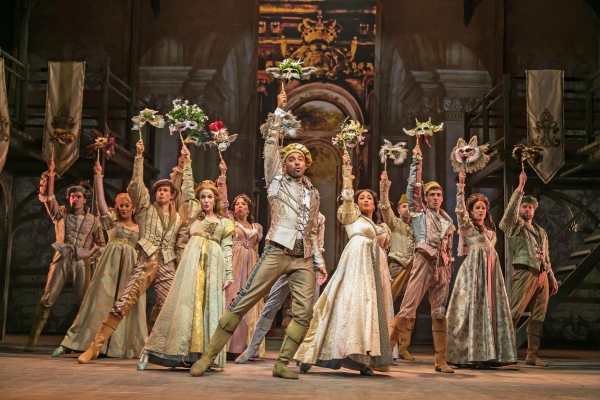 The Company of Ever After at Paper Mill Playhouse (Photo © Jerry Dalia)

And yet, the book that made the greatest impression on Goldrich might well be one she hadn't read: "My mother told me that after she read (Betty Friedan's '60s feminist classic) The Feminine Mystique, she was in tears. When my father came home, she actually asked him 'Did you know that I have rights?'"

Heisler says that her own road to self-respect started when she was a little girl growing up in Deerfield, Illinois and performed with Lyric Opera of Chicago. "Although I was Third Urchin from the Left," she says after giving a nostalgic smile, "I loved that I was treated as an equal colleague. Where else can a kid get so respected?"

With a start like that, no wonder that Heisler continued performing throughout her schooling. "I played Eliza Doolittle," she says, "and got to talk to Julie Andrews about it." That happened in 2012, after she and Goldrich had musicalized a children's book that Andrews had co-written: The Great American Mousical, about mice who love to put on musicals. (Well, who can blame them?) It met with a nice success at The Goodspeed Opera House's Norma Terris Theatre.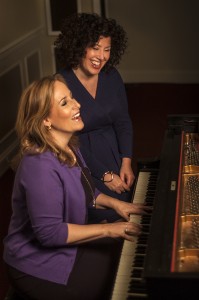 Zina Goldrich and Marcy Heisler (© Joey Stocks)

Goldrich was performing in musical theater at a young age, too. "You didn't see my Golde in Fiddler in camp," she mock-chides Heisler, who says, "I sure would have liked to. Zina and I believe that if we knew each other in elementary school, we would have become fast friends."

The two met a couple of decades ago when Heisler joined the BMI Musical Theatre Workshop. ("Yes," says Goldrich, "Our collaboration is now old enough to drink.") Rookie Heisler just happened to sit next to Goldrich, who'd already been in the program. However, like those people who become friends and only later up the ante to morph into lovers, Goldrich and Heisler were friends for a year before they took the plunge to collaborate. "Until then," says Heisler, "Zina was writing her own lyrics."

But in a way, Heisler composes her own melodies. "I write the lyrics first and when I do, I always have a melody in my head," she says. "After I give them to Zina, I'm always surprised how the melody she comes up with is very much like the one I imagined. Only better," she adds.

Goldrich says "May I brag about Marcy for a minute? Notice that in most Cinderella musicals, you have songs of longing for a man: 'Someday My Prince Will Come.' Marcy instead turned that idea around completely and put Danielle in denial. 'Who Needs Love?' she sings." (As one smart lyric goes: "A knight in shining armor is just one more thing to dust."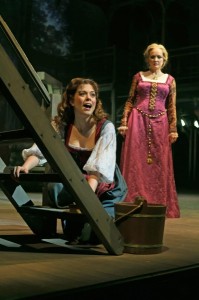 Margo Seibert and Christine Ebersole (Photo © Jerry Dalia)

Lest all this sound too sweet, both women tell of times when they disagree on where a song should be placed. Says Heisler, "What we've learned, however, is that if we argue about it long enough, we realize that there shouldn't be a song there. Only when we both agree on where a song should be does it turn out to be right."

The music of Ever After marches to a different drummer. "I didn't want it to sound like your high school madrigal society," says Goldrich. "I felt it should be big, lusty, melodic, jazzy and quirky. There's a modern feel to the story so I wanted a musical idiom to reflect that. It should hit you emotionally and not just be a history lesson."

Heisler agrees. "The music must express that Danielle is a fiercely independent Cinderella. She's funny and smart in the way I always I aspire to be." Heisler gives a shy grim before she admits "I wasn't afraid to put my own long and winding road for love into the story."

Whether or not Heisler's prince will ever come someday, at least the prints of Ever After posters and programs day have come. Now – will genuine yellow-topped Playbills ever become available? That of course would only happen if the show moved to Broadway. The fact that another Cinderella – by Rodgers and Hammerstein, no less -- played there for close to two solid years and only closed five months ago hasn't undaunted them.

Says Heisler, "My sister, who co-created and writes the TV show The Middle, has the right way of looking at it: 'Eyes on your own paper,' she tells me. 'You have a distinct voice and no one can write a story the way you can. Keep going.'"

Goldrich says, "I believe what Winston Churchill said: 'Never give up. Never give up. Never give up,'" she drones, sounding not unlike the legendary prime minister.

So perhaps Goldrich and Heisler will experience their own Cinderella ending where they and Ever After live happily ever after. Stay tuned.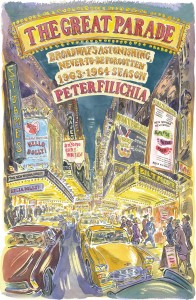 You may e-mail Peter at pfilichia@aol.com. Check out his weekly column each Monday at www.broadwayselect.com, Tuesday at www.masterworksbroadway.com and Friday at www.kritzerland.com. His book The Great Parade: Broadway's Astonishing, Never-To-Be Forgotten 1963-1964 Season is now available at www.amazon.com.