Filichia Features: Fall in Love with All In Love
Filichia Features: Fall in Love with All In Love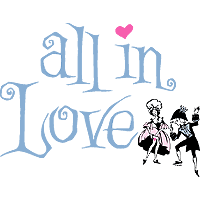 One created "Mission: Impossible."

The other composed the themes to "General Hospital" and "The Marvel Super-Heroes" (meaning Captain America, The Incredible Hulk, The Invincible Iron Man, The Mighty Thor and Prince Namor the Sub-Mariner).

Those credits wouldn't lead anyone to assume that these two writers would pen a musical version of Richard Brinsley Sheridan's "The Rivals." But that's what bookwriter-lyricist Bruce Geller and composer Jacques Urbont indeed did earlier in their careers when they created the 1961 off-Broadway musical All In Love.

Those of you who program Shakespeare festivals of course don't solely rely on the Bard's plays. Thus, you should get to know this show. As you've learned, when you do a musical, your customers love them. So here's an excellent one that has a classical pedigree by way of Sheridan's 1775 hit comedy.

"The Rivals" is still a hit. Ten years ago this week it was finishing its ninth Broadway revival, which is a great compliment to a play that had experienced its London premiere 240 years ago this week.

The surprise is that the original production opened to not-so-hot reviews. So Sheridan ran his quill pen through it and carved out a winner from what he had.

"The Rivals" does have a timeless theme: rich people want to be loved for themselves and not for their fat bank accounts. That's why Jack Absolute pretends to be impoverished when courting high-born Lydia Languish. She in turn wants a poor man because she's bored of wealth.

(We should all feel so bored …)

Lydia's maid Lucy feels quite the opposite – especially when she sees the highborn Sir Lucius. Actually, he's interested in Lydia, too, as is  the silly Bob Acres.

Of course Lydia's mindset is not to the liking of her guardian Mrs. Malaprop. Yes, that's where the term "malapropism" originated, for Mrs. M doesn't mind her p's and q's when speaking. "Illiterate him quite from your memory," she says, unaware that that first word should be "obliterate."

Nevertheless, the plot does wind up with "all in love" with the right people – which brings us to All In Love. The irony is that it fared much better with the critics than "The Rivals" originally did.

"Wonderfully funny … tuneful and original … a grand show" opined The New York Times. "Here is a musical that well deserves a visit," insisted The New York Post. "Overflowing with grace, wit and charm," said The Village Voice critic. "Urbont's score is all anyone could want – tuneful, lively."

"A musical bonbon … brilliantly occurs in this tuneful frolic … a rare mixture of taste, inventive artistry and invention … more tunefulness than Broadway has turned up so far this season," said the Associated Press critic. Mind you, 1961-62 also brought scores from Noel Coward, Jerry Herman and Richard Adler.

Even those reviews paled in comparison to The Morning Telegraph's critic who started by saying "At joyous last – at bountiful last – there is an off-Broadway treasure at hand, a treasure that gleams, pulses, bounces and romps." Of Urbont and Geller he wrote "they have given the new off-Broadway season its most diverting, adult and imaginative show … the kind of sharp, fresh approach that is needed … Put it down quickly in your must-see book … I hope it runs for years."

As for me, whenever I'm asked to name the best scores from off-Broadway, All In Love is one of the first I mention.

Sad to say, Geller died in 1978 at the all-too-young age of 47 after he failed to control the plane he was flying. But Urbont is still with us to say how All In Love happened.

"It actually started because I went to a Jewish cultural camp in the mountains," he says. "There was a girl there I liked named Jeannette Marx, for whom I wrote a song. I didn't see her again until years later, when I wrote some material for a show that was to play the Henry Hudson Theatre which was then on 57th Street. While I was walking near Carnegie Hall, I saw Jeanette, who introduced me to her husband Bruce Geller. Was I surprised when he sang the song I wrote for her! She'd liked it so much that she'd taught it to him! And on the basis of that one song I wrote for Jeanette, Bruce was interested in working with me."

At the time, Geller was writing questions for one of the many quiz shows that were emanating from New York. The two first worked on a Tom Sawyer musical called Livin' The Life (with Dale "Man of La Mancha" Wasserman). While it got to Broadway, it didn't do well. So without Wasserman, they turned to "The Rivals." While 141 performances doesn't sound all that impressive, All In Love was the longest-running off-Broadway musical of the 1961-62 season.

"Well," says Urbont, managing to put a twinkle in his eye, "in one sense we were a Broadway show -- because we were playing at 32nd and Broadway."

Urbont's credits up to that time were pretty peripatetic.

The Sunnyside, Long Island native had acted as a youth, and says he almost originated the role of Henry in "The Skin of Our Teeth." As he rues, "They gave it to Dickie van Patten at the last minute."

Perhaps that was a blessing in disguise, for once Urbont abandoned acting, he could spend more time at the piano. "I even wound up playing many auditions for Fiddler On The Roof," he reports. "And if you look close at the soundtrack album of that Julie Andrews movie 'Star!' you can see a wonderful shot of my earlobe. For years, thanks to Bruce, I also scored 'Mission: Impossible.'"

That's one reason that All In Love's "The Lady Was Made to Be Loved" -- Jack's opinion about Lydia -- showed up as background music on an episode.

It was also one of the songs that the critic of The New York Herald Tribune cited in his statement:"At least four tunes would be an asset to any Broadway musical." The other three included the lilting "Poor," in which Lydia tells her needs to Jack; "A More Than Ordinary Glorious Vocabulary," for Mrs. Malaprop, of course; and "What Can It Be?" Lydia's musing over her feelings about Sir Lucius before coming to the conclusion that it's love.

I'll go to bat for plenty of others. Bob gets a comic gem in "Honour," in which he offers his opinions on duels by citing those who fought and died but whose "honour was saved." Lucius questions the whole idea of marriage in "Why Wives?" Urbont's own favorite is the spritely and elegant "I Found Him," which has Lucy celebrating her victory in getting her man (whom, by the way, she later won't want). As for Bob, he doesn't get Lydia, but he does land – you guessed it – Mrs. Malaprop.

All these years later, Urbont is grateful for the chance to work with Geller. "God bless Bruce," says Urbont. "He was a genius" – which nobody can deny. But as is often the case, geniuses bring out the genius in their collaborators. Listen to the felicitous melodies and lyrics in All In Love and you may very well fall in love and start planning your own production.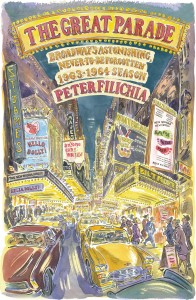 You may e-mail Peter at pfilichia@aol.com. Check out his weekly column each Tuesday at www.masterworksbroadway.com and each Friday at www.kritzerland.com. His upcoming book The Great Parade: Broadway's Astonishing Never-to-Be Forgotten 1963-1964 Season is now available for pre-order.