Filichia Features: Fame Continues to Live Forever
Filichia Features: Fame Continues to Live Forever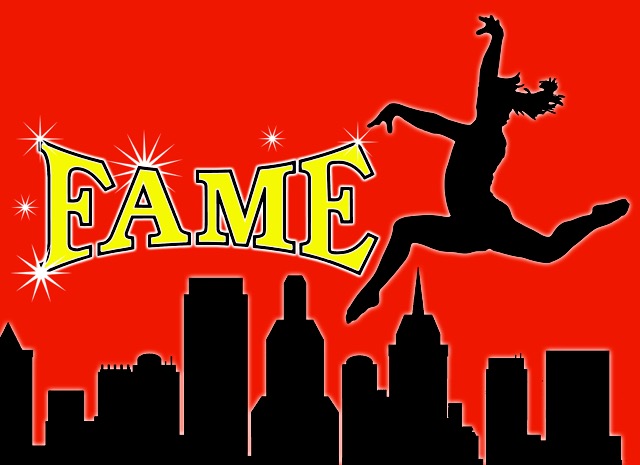 It may very well be the most valuable and enriching musical a school can possibly do.

And although it's been around for decades, you may not be familiar with it.

What's made Fame a too-well-kept secret is that it's never played on Broadway. It did open off-Broadway in 2003, but at an out-of-the-way theater that's never had a hit.

Still, Fame did manage to run seven months at The Little Shubert, enough to make it the longest-running of the fourteen shows that have played there since the playhouse opened a dozen years ago.

Now if you know the hugely popular 1980 film that spurred the 1991 stage show, you may feel you know this musical, too. No – there are profound differences between the two.

But what could be better for teens than a show where most everyone plays a teens?

David De Silva, who conceived and developed the musical – as well as his bookwriter Jose Fernandez, composer Steve Margoshes and lyricist Jacques Levy -- didn't borrow any of the characters from the film, for those kids had all been graduated from the High School of Performing Arts.

Instead, the four collaborators decided to write about the students who would become the freshman class in the autumn of 1980 and would thus become The Class of 1984. That was, incidentally, the final year that the school was located where it's seen in the movie: 120 West 46th Street in New York City.

The first scene of this Fame shows us a bunch of eighth graders who are wishing and hoping that they'll be the lucky ones chosen for "PA," as it's affectionately known. As we'll soon hear from one of the teachers, "4,000 hopefuls applied and only 97 were accepted."

There were far fewer than that, of course, celebrating "getting in" during the joyous opening number that choreographer Monica Johnson devised for The Rosetta LeNoire Musical Theatre Academy. And yet, the kids certainly conveyed the excitement of eight-dozen-plus when celebrating acceptance into this "exclusive club."

But getting in is very different from staying in, as Ms. Sherman, embodied by Sheika Murray, made that perfectly clear. When she insisted that "You're required to maintain a 2.5 grade point average or you're out," her voice was dismissive and no-nonsense. Before show's end, however, we would see that she was at heart a most loving teacher.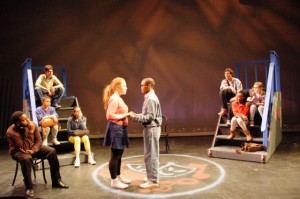 The tall thorn in her side was Tyrone, brilliantly played by Wayne Hampton. You can only hope that you have a student on hand that can be as furiously antagonistic before letting the mask slip away to miraculously reveal a hurting, sensitive kid.

But at first, Tyrone used some profane words that Ms. Sherman wouldn't tolerate. Those in conservative communities must consider this element of Fame, not to mention a song that specifically references an adolescent's complaining – and bragging – about his erection. (Hormones don't just rage at PA, but explode.) There's a good deal of talk on whether or not a handsome leading man is gay. Drug use is not merely casually mentioned, but fits into the plot in a major way.

Tyrone was one of ten students whom we closely followed: three would-be actors (Serena, Nick and Jose); three more who wanted to be musicians (Grace, Goodman and Schlomo) and four (Tyrone, Carmen, Iris and Mabel) who aimed to conquer the world of dance.

Surely in every high school drama club there are kids who can play these roles – or have been playing them already. But what of Ms. Sherman and the other three adult teachers? While the LeNoire kids (Murray, Audrey Lang, Katherine Oquendo, Jameel Timberlake) were all convincingly authoritative, any high school drama director should at least consider playing one of the teachers.

For that matter, the drama director could recruit teachers from the science, math, home ec and other departments who are game enough to play the other three. After all, these people are already teachers, so they wouldn't need a long time to get into character. Better still, their working with kids on an even playing field will make them bond with the students in a way that they never could in the standard classroom situation.

"Teachers aren't some sort of alien race," said Schlomo, and Benji White sounded as if he believed what his character was saying. Much of the dialogue in Fame involves teachers giving advice ("Let's see some honest emotion"), so your kids can learn more than just their lines.

Fame establishes that Ms. Sherman, the English teacher, and Ms. Bell, the dance teacher, don't get along. They clash over Tyrone, for Bell wants Sherman to pass the academic underachiever because he has great dance talent.

Now if you really want sparks to fly, cast two teachers who in real life have a history of not getting along. They'll bring something extra to the song aptly called "The Teachers' Argument." But don't be surprised if their working together for a common goal makes them friends long before opening night.

Murray was fierce in her no-holes-barred rebuttal about passing Tyrone: "Ninety percent of these kids don't make it in the arts. We have to prepare them for life." Yes, that's a lesson worth hearing – one of many Fame offers. If you infuriate a teacher, you can apologize, be forgiven and get back on track.

Parents who'll attend may learn some lessons, too. Schlomo told of the difficulty of "coming from a family of over-achievers" and that his parents expected too much from him. Iris started out as a dancer and then switched to acting, reminded us that we DO have alternatives.

The issue of meddling stage parents was treated realistically; Nick groused that his mother has been pushing him toward Broadway and Hollywood for years; Serena wished her mom could have such a single-minded vision. "You don't -- trust me," said Nick, with Benjamin Miller moaning in the appropriate world-weary voice.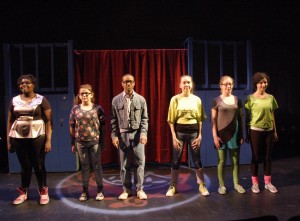 The kids are not always that mature. How can they be? "Well, what's wrong with acting like an adolescent when that's exactly what we are?" asked one student. That reminded me of a lyric that was originally in Hairspray's "Mama, I'm a Big Girl Now" that, I'm sorry to say, was dropped: "Ma, you're always tellin' me to act my age. Well, that's just what I'm trying to do!" So credit goes to Quincy Rodriguez for being able to make the erection song amusing as opposed to profane.

Soli Garzon was wonderfully frenetic as Grace "Lambchops" Lamb, the drummer who was always seen with a drumstick in each hand, tapping on anything that she walked by. Mabel, on the other hand, preferred a different kind of drumstick in each hand – meaning a leg from a turkey. Amy Tolentino was amusing in telling her tale of woe before brightening when she came to a clever solution.

Celia Gooding was dazzling as Carmen, who wanted "too much too fast," as Schlomo told her. She paid the price for her impatience, for she left school after an agent promised her the world. What he really wanted was the world from her. Gooding broke our hearts when singing about her bitter experiences, appearing to be close to a nervous breakdown. But that too is show business.

Fame is A Chorus Line for teens. That similarity allows you to do what Michael Bennett did with his landmark musical. Just as he had many dancers in his opening number who were dismissed from contention and not seen again, you can fill your opening number with first-time-on-stage students who represent the applicants who didn't get into "PA" and then have the rest of the night off.

It's a nice break-in for kids who need to get a little stage dust on their feet before they really get on the road to fame.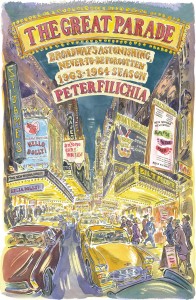 You may e-mail Peter at pfilichia@aol.com. Check out his weekly column each Tuesday at www.masterworksbroadway.com and each Friday at www.kritzerland.com. His book The Great Parade: Broadway's Astonishing, Never-To-Be Forgotten 1963-1964 Season is now available at www.amazon.com.