Filichia Features: Freaky Friday is Good for Every Day of the Week
Filichia Features: Freaky Friday is Good for Every Day of the Week
Over the past 46 years, it's been a book, two films and a TV movie. And yet, the new musical version of Freaky Friday is the best iteration of Mary Rodgers' famous young adult novel!
You can see that come Friday, August 10, when Disney's Freaky Friday will debut on its eponymous channel. Watch Katherine, Ellie's mom, become her daughter -- and vice versa -- after a magic hourglass takes seriously each woman's claim that the other's life is much easier.
Kansas audiences saw the musical's assets when Wayne Bryan staged a delightful production at his Music Theatre Wichita. In taking the best of previous versions - and adding good ideas of their own -- bookwriter Bridget Carpenter, composer Tom Kitt, and lyricist Brian Yorkey showed they'd really done their homework -- which is more than we can say for Ellie.
Carpenter has Katherine unaware that Ellie's cutting classes is endangering her graduating. She also doesn't realize that her daughter feels she can't measure up to Katherine, who's "perfect, but I'll never be that way."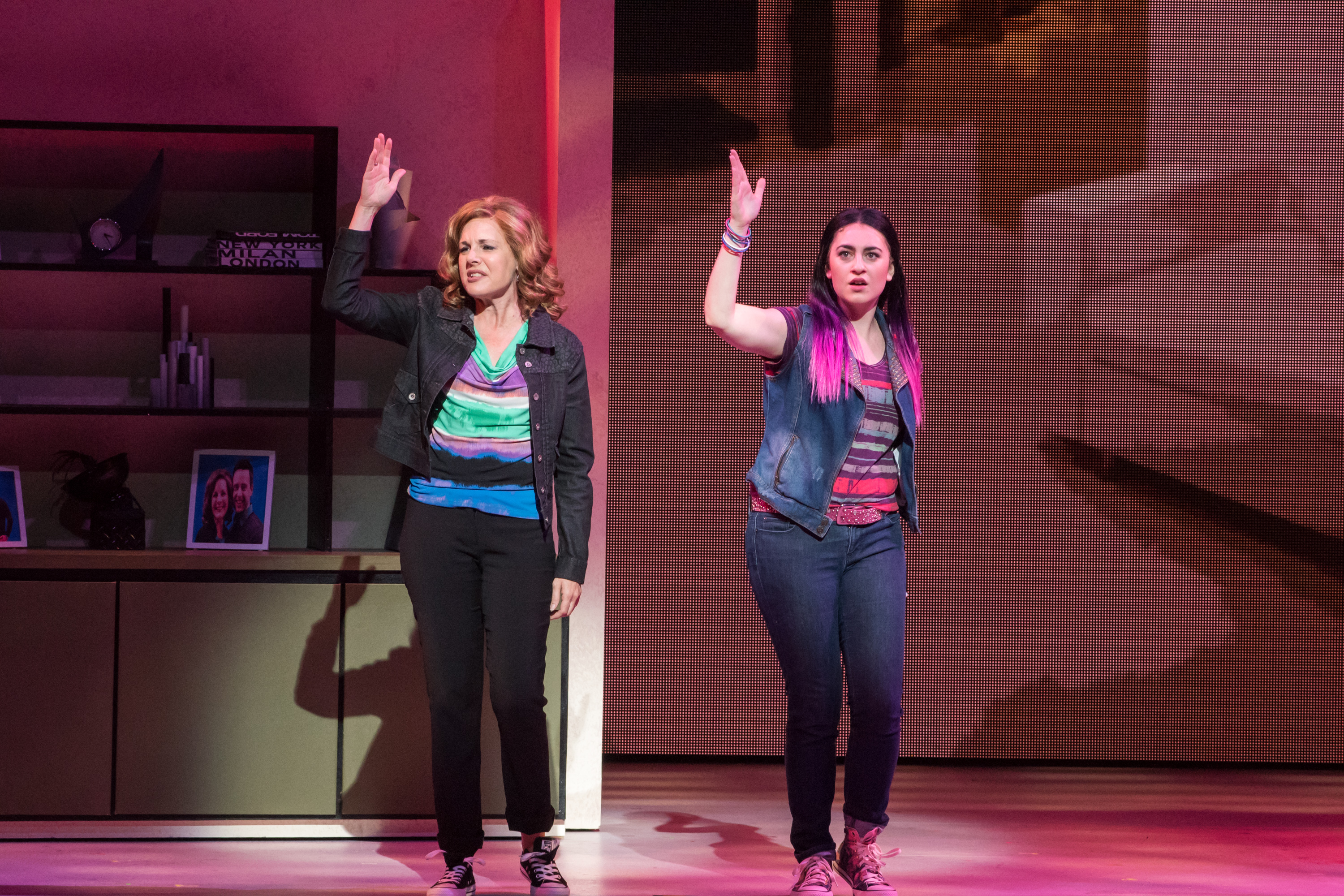 Photo: Jerry Fritchman
Here, unlike the other versions, Katherine is a successful about-to-be-married caterer who plans to work her own reception so she can get a business-boosting cover story in Wedding Magazine. When Ellie tries to approach her, it's "Hold that thought" and "Now's not the time" - although Katherine does make time to say "Didn't you wear that yesterday?" and "Get your hair out of your face."
The 2003 remake gave the musical's writers two great notions. Daughter-as-Mom tossed off "I'm not myself today" and left it at that. Kitt and Yorkey made that their second-act opener "I'm Not Myself Today" - a great idea for a song that Brian J. Marcum choreographed splendidly.
That film also had Daughter-as-Mom fend off suspicion of their strange behavior by quipping that she and her "mother" were merely role playing. Carpenter improved that by sending both into the office of the guidance counselor who suggests that mother and daughter switch roles - which of course means they'll play their actual selves. Although the Wichita audience giggled and guffawed through the entire production, they really let loose here.
The biggest laugh, though, happened after Katherine-as-Ellie told a bunch of teen girls to appreciate their bodies now "because this is as good as it gets."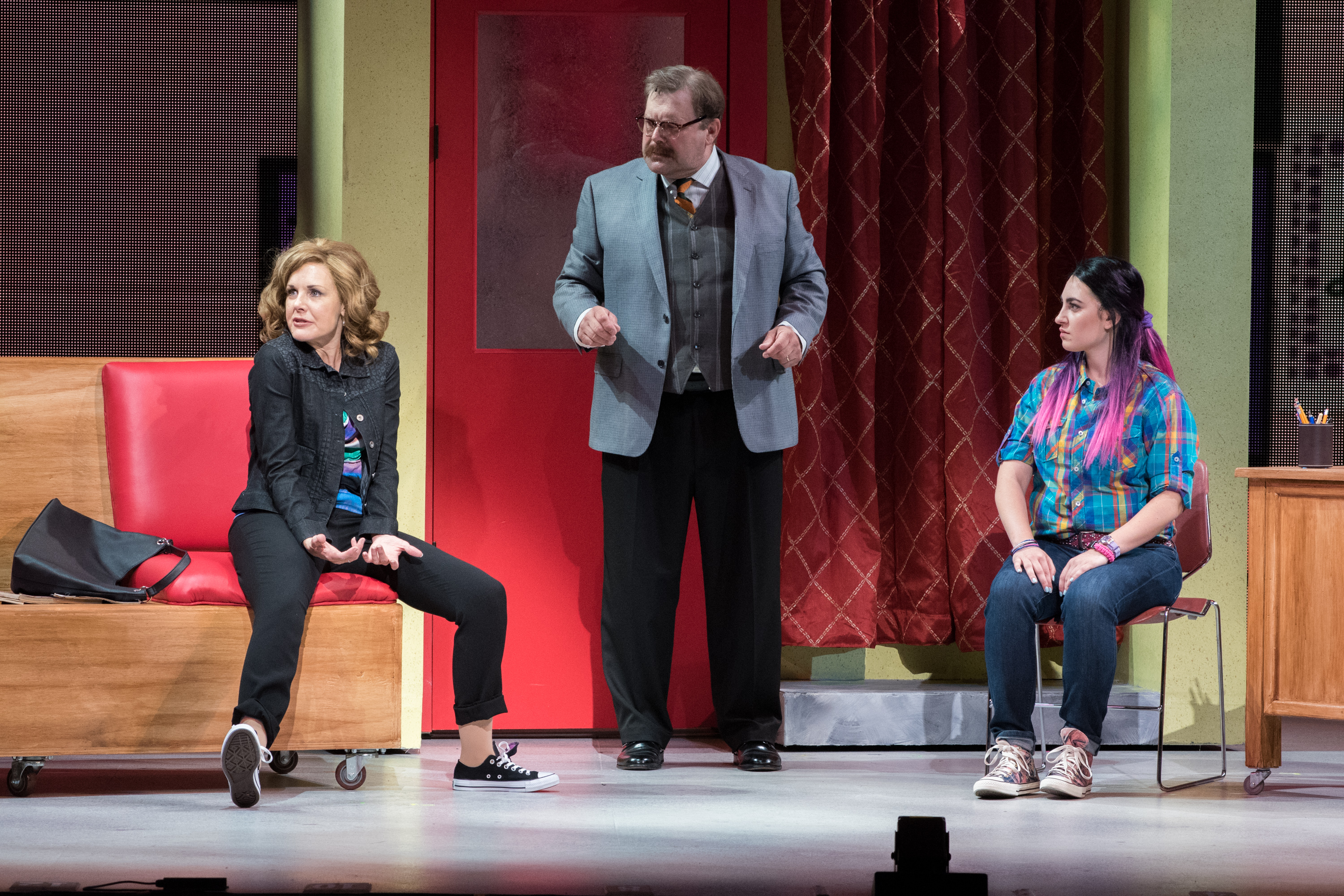 Photo: Jerry Fritchman
This musical version has been reset in Chicago, which inspired Carpenter to use the city's famous annual scavenger hunt as a plot point. And how wise of her to give Katherine problems with her parents. Dad complains that his daughter never cooks anything he'd care to eat; Mom wants her to marry in a church "like normal people" and not in her backyard.
No, that's where widow Katherine will marry nice guy Mike. Ellie hates him simply because he isn't her father. Her little brother Fletcher (an extraordinarily natural Kilian McGaffin), needing a role model, appreciates him. Freaky Friday tells kids who are about to get step-mother-or-father to give these people a chance.
As Kim Huber and Chelsey Lynn Alfredo respectively and admirably proved as Katherine and Ellie, this show is great fun for its leads. Huber admirably found her inner child - and got big laughs when avoiding Mike's attempts to kiss her. After a party, she got a bigger laugh still when she looked around and realized "I'm the mom. I have to clean up."
Alfredo enjoyed becoming her high school's most mature teen. When a teacher saw "Ellie" make a rare classroom appearance, he snarled "What a treat to see you!" only to hear "You know, they did a study on sarcasm in the classroom and it's actually the least effective way to communicate." Alfredo also delivered sharp put-downs of the school's beautiful-and-therefore-imperious Savannah.
The boy of Ellie's dreams is Adam (the amiable Keith Gruber) who told "her" that he preferred her hair pulled away from her face. What a definitive "Thank you!" Alfredo gave the lad for agreeing with "her." We like that Adam is naturally inclined to like who he assumes to be Katherine and is a surrogate big brother to Fletcher.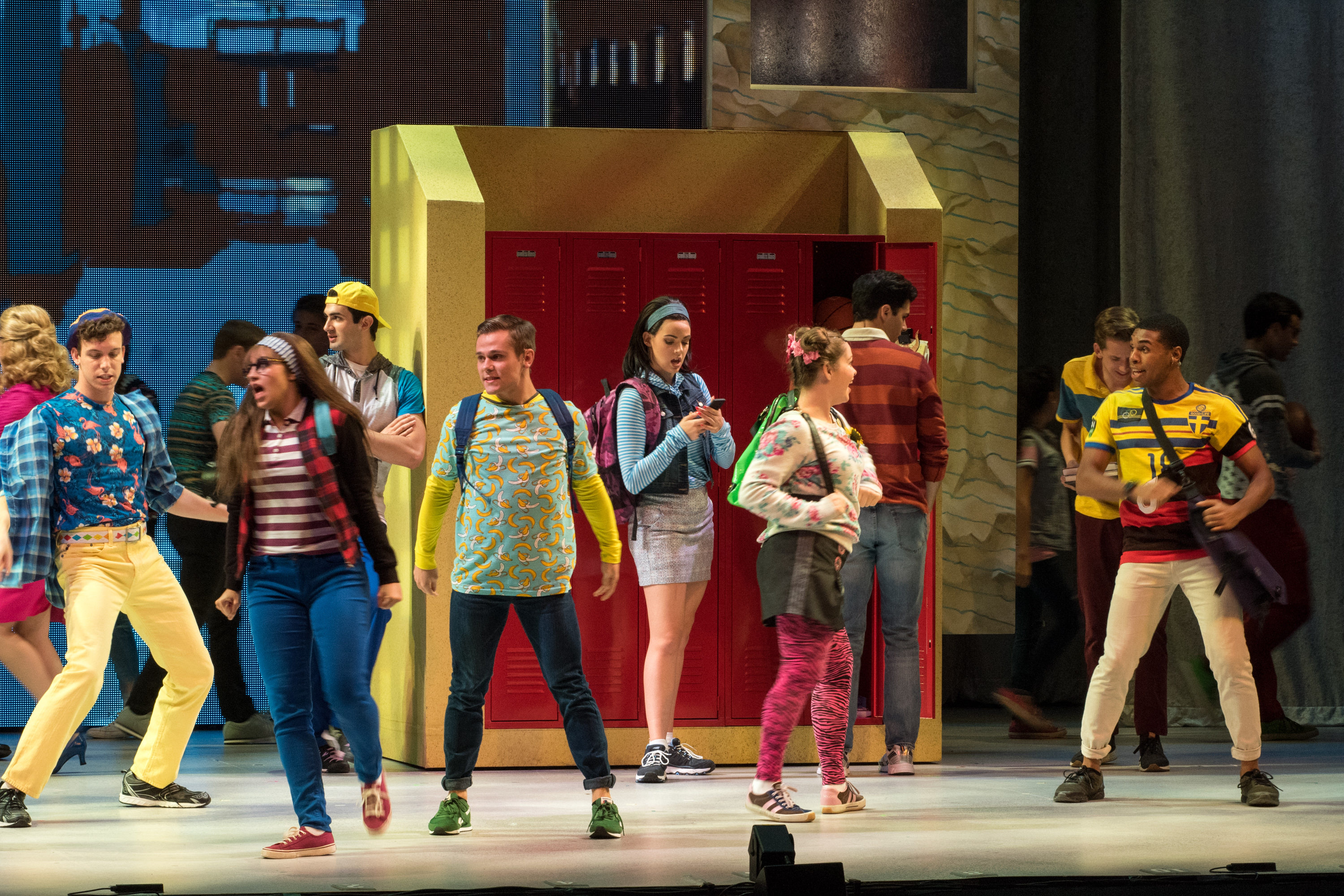 Photo: Jerry Fritchman
Secrets are revealed. Ellie had kept hidden that tattoo she'd had engraved on her backside -- just as Katherine had concealed cigarettes so that Ellie wouldn't know she smokes. "Busted!" both sing before other parents and teens enter to complain about the other's affinity for Cheetos, Cher or Fox News.
Music Theatre Wichita's superb production is done, but Disney's Freaky Friday should whet your appetite for the project! It's not an expensive show to do. At most, ten musicians are required. Set designer J. Branson proved that a slide-on unit could be a kitchen on one side and school lockers on the other. As for the language, it never gets more profane than "kick-ass" and the euphemistic "get my crap together."
At the end when Ellie and Katherine both back in their own bodies, Yorkey gives them a charming lyric: "We'll both forgive each other. Now won't that be a switch?" We see that whether one is a teen or an adult, there are particular and peculiar challenges, but the power of love is a soothing balm.
You may e-mail Peter at pfilichia@aol.com. Check out his weekly column each Monday at www.broadwayselect.com and Tuesday at www.masterworksbroadway.com . He can be heard most weeks of the year on the Internet via www.broadwayradio.com.