Filichia Features: I Bring Ye Plaid Tidings
Filichia Features: I Bring Ye Plaid Tidings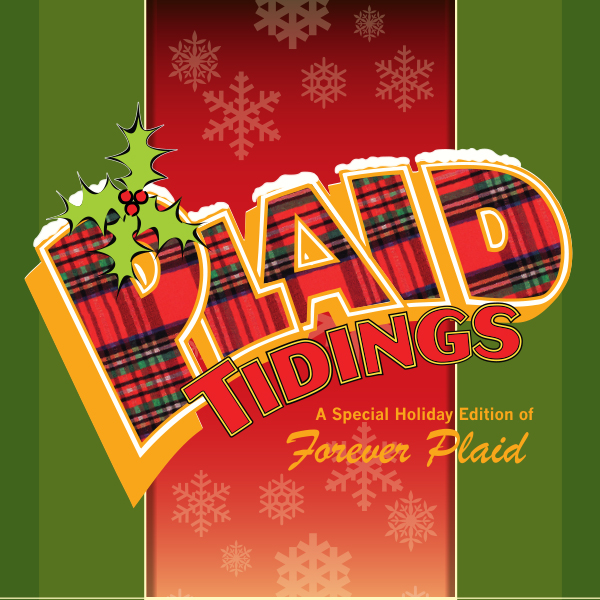 The recent production of Plaid Tidings at The York Theater Company reminded so many of us of how much we've missed "The Plaids."
You must remember those oh-so-square, nattily attired young men in their ghastly red, green and black outfits. Never mind how they looked; they sang their way into our hearts and souls by warbling "Heart and Soul" and other erstwhile hits.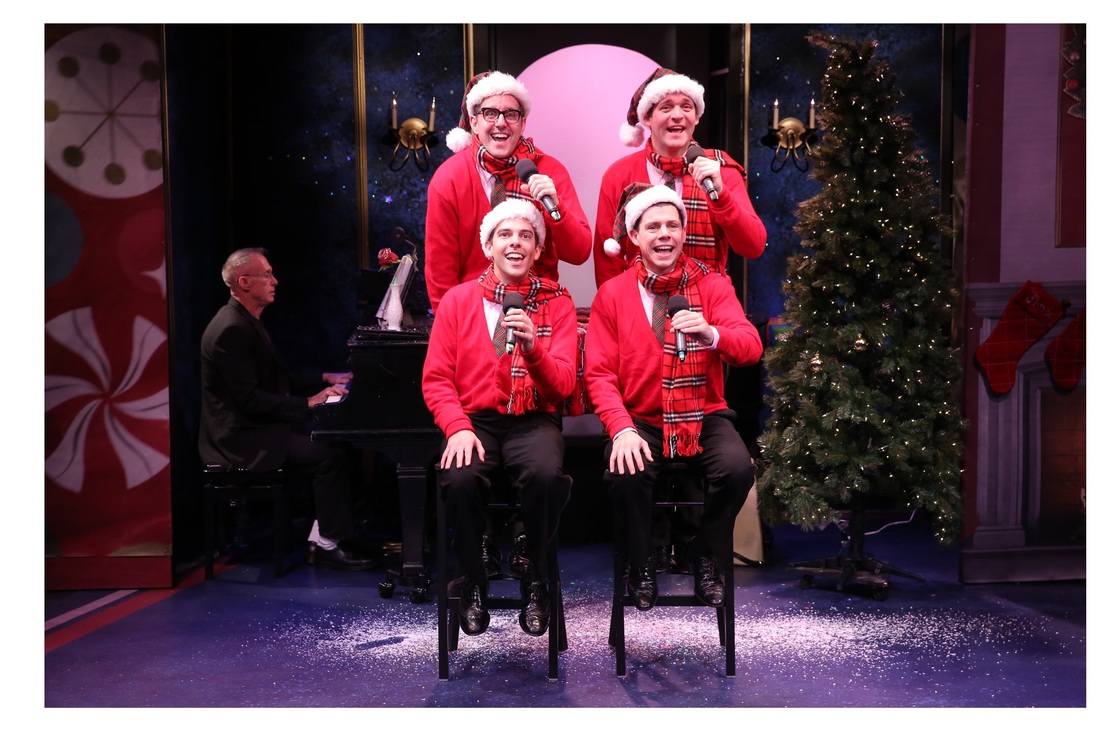 Forever Plaid, their show was called, and it was Stuart Ross' tribute to The Four Aces, The Four Freshmen, The Four Lads and other foursomes that dotted or dominated the musical landscape in the '50s before rock took over.
As Ross' revisionist history taught us, The Plaids – and their music – officially died on Sunday, Feb. 9, 1964 as a result of a road accident. What a shame, for these semi-professionals (to employ a big fat euphemism) from eastern Pennsylvania were on their way to their biggest gig ever: at the Airport Hilton Cocktail Bar.
For knock-off groups like The Plaids, it doesn't get any better – and never did.
No one can say for sure who caused the accident, but the boys did later admit that they had been rehearsing "Love Is a Many-Splendored Thing" when their '54 Mercury was slammed broadside by the school bus belonging to the Our Lady of Harrisburg parish. Its passengers, all of whom survived, were teenage girls en route to "The Ed Sullivan Show" to see the Beatles.  
Or so we've been told. Actually, I've never been 100% sure that the girls -- and the nation – tuned into Ed's show that Sunday night for the Beatles. I've always maintained that 73,700,000 viewers in 23,240,000 homes turned to CBS because Sullivan was also hosting the Broadway cast of Oliver!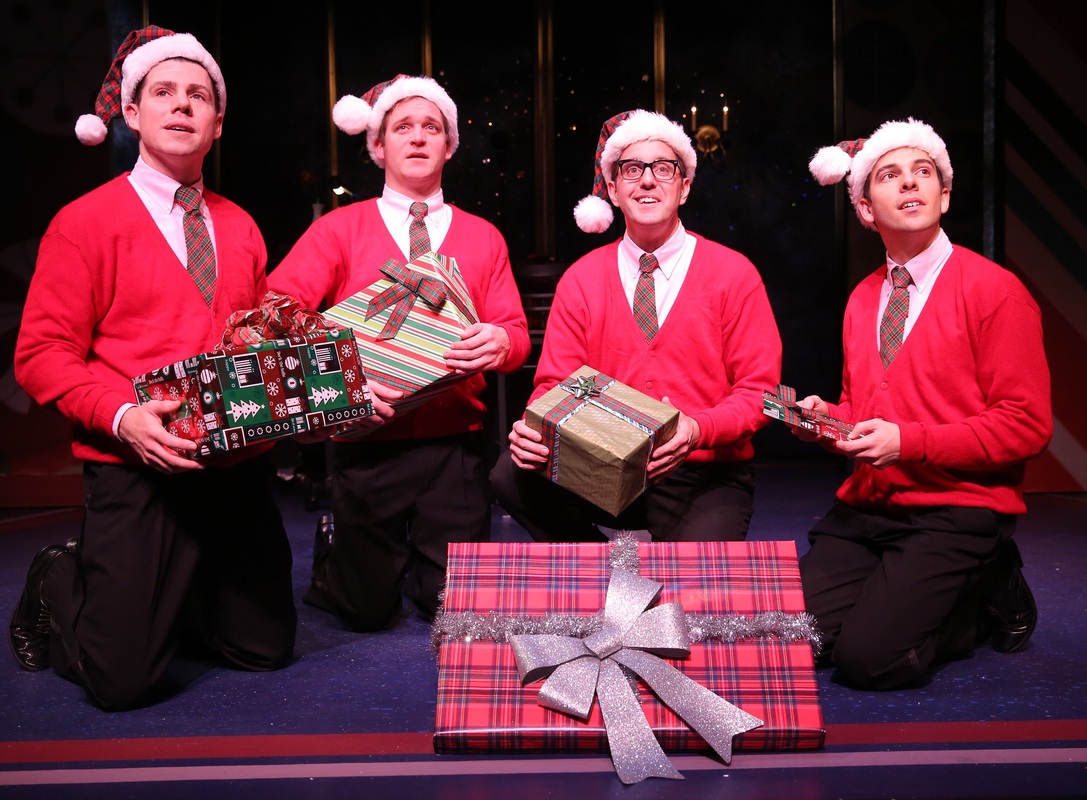 Not convinced by my thesis? Neither was Davey Jones, who appeared on that same Sullivan Show too, for he was then playing The Artful Dodger during Oliver's 774-performance Broadway run. Jones once told me that when he saw the adulation afforded the Beatles, he decided to put musical theater behind him and get into the rock business, too. That's why two years later, along with three other lads, Jones made a Monkee of himself.
Going back a few paragraphs, how do we know that The Plaids were singing "Love Is a Many-Splendored Thing" at the time of their death? In 1990, they returned from the dead to tell us themselves because – well, let's let Sparky, one of the four, explain how they rose from the dead, because he can do it a great deal better than I can: "You see, it's because of all the astro-technical stuff, like the stars being in conjunction with the positions of the planets and the sounds of our voices, combined with the expanding holes in the ozone layer make it possible for us to do the show."
Sound flimsy? Hey, if Pam of that Dallas TV series could dream the entire 1985-86 season which kept Bobby from dying, why can't The Plaids return to life?
When Forever Plaid debuted at the nice little New York nightclub known as The Triad, the Plaids finally met the success that had completely eluded them in the '60s. Well, everything old does become new again, but the reason the show really scored had a great deal to do with Ross' sensitive treatment.
You see, throughout their performing lives, The Plaids were also-rans, rank imitators of their betters who had already sung to perfection "No, Not Much" (The Four Lads) and "Three Coins in the Fountain" (The Four Aces). But by 1990, the Lads had become old men and the Aces had been trumped into retirement. Because the public hadn't heard this specific close harmony sound in decades, it welcomed it with open ears.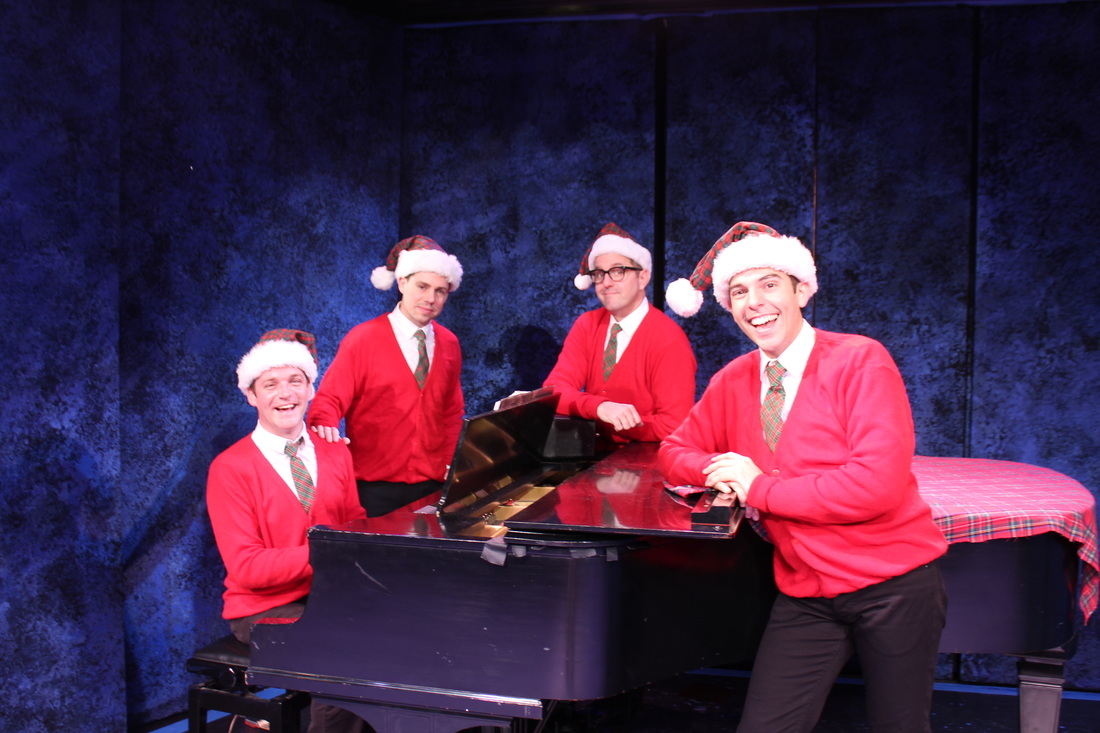 And here's where Ross had Forever Plaid catch fire. Once the boys saw that they were now going over with the crowd in a way they'd never remotely achieved in their lifetimes, they suddenly rose to the occasion and became truly confident and accomplished. The sheepish boys at show's start were no more, for they were replaced by grown men who'd sensed all along that they had what it took. What a nice way of showing that we can all, with the proper encouragement, become more than we ever thought we could.
Throughout the '90s, audiences were in the mood to revisit those pre-rock days when Nirvana was known only as a transcendent state. Forever Plaid wound up playing 1,811 times off-Broadway. What's more, many little theaters around the country stayed alive because of this high-grossing, inexpensive-to-do entertainment.
So next December, why not do the same thing only different? That's Plaid Tidings, which is a hybrid between Forever Plaid and a holiday show.
Act One offers reprises of such Forever Plaid hits as "Day-O," "Jamaica Farewell," "Matilda" and "Sh-Boom." Act Two has them do "the holiday show we never got to do."
The night is filled with familiar songs. We hear the term "jukebox musical" used for such shows as Bullets Over Broadway and A Class Act, but they're not r-e-a-l-l-y jukebox musicals. Such musicals concocted their plots around existing songs, yes, but many (if not all) of these shows' selections never remotely saw the light of jukeboxes. Conversely, Forever Plaid and Plaid Tidings earn the designation of "jukebox musicals" because their songs once indeed were in jukeboxes – most of them in the '50s. It was a time to "put another nickel in – in the nickelodeon," to cite a hit song recorded by The Ames Brothers – another group that The Plaids emulated.

The original production of Forever Plaid had audience participation; one theatergoer was pulled from the crowd to provide the right-hand piano playing of "Heart and Soul." Plaid Tidings instead brings John or Jane Q. Theatergoer to the stage to jingle out a song by playing Christmas bells. It's actually a much easier assignment than piano-playing.
The piece de resistance in Forever Plaid was the group's recap of an average "Ed Sullivan Show" in a mere three minutes. Capturing the essence of 24 season's worth of 1,068 Sunday night episodes wasn't easy, but Ross was able to conceive a hilarious bit from it. Now he's given the idea a new coat of plaid paint. Beloved ventriloquist Senor Wences, The Singing Nun and of course the otherwise indescribable Topo Gigio have all been retained in Plaid Tidings' "Sullivan Show" parody, but a peck of new material has been added. (When casting, see if you can find a singer who can also do a convincing Sullivan impersonation.)
While this "Special Holiday Edition of Forever Plaid" does include such songs as "I'll Be Home for Christmas," "Have Yourself a Merry Little Christmas" and "The Christmas Song," it does want to be ecumenical. During "The Dreidel Song," each of the four performers raises his hands as if a criminal has just entered the building and said "Stick 'em up!" But the image that emerges is one of a menorah. The move got a generous laugh at the York, and it's guaranteed to do just as well in your production.
In the end, we must wonder how many hundreds of hours Ross spent watching old videos of these '50s groups. He certainly clocked enough to teach his Plaids how to replicate every corny move. (Case in point: the head-slam smote to the forehead on the lyric "You're so undecided!") In a strange way, high-schoolers should be brought to both Plaid shows, so the kids can see how over-the-top and amateurish "indicating" is. Watching The Plaids do it non-stop may make students cease and desist.
Your kids may learn another valuable lesson, too. At the end of the show when The Plaids soberly tell everyone to "Drive home safely," it certainly resonates as we remember what happened to them.
But that's the only serious moment in Plaid Tidings. Take a look at the script and score, and you may well solve your "What should our holiday show be next year?" problem well in advance of December, 2016.
You may e-mail Peter at pfilichia@aol.com. Check out his weekly column each Monday at www.broadwayselect.com, Tuesday at www.masterworksbroadway.com and Friday at www.kritzerland.com. His book The Great Parade: Broadway's Astonishing, Never-To-Be Forgotten 1963-1964 Season is now available at www.amazon.com