Filichia Features: Live! From Atlanta! It's Saturday Morning at the Junior Theater Festival!
Filichia Features: Live! From Atlanta! It's Saturday Morning at the Junior Theater Festival!
These shows I'm seeing really should be called "matinees."
The word usually describes afternoon shows, but "matinee" is French for "morning" – so only shows that perform then should be eligible for the label.
This morning, I'll see six, which isn't as daunting as it sounds, for all together they clock in at an hour-and-a-half at the Junior Theater Festival in Atlanta. Here kids from 108 schools or groups will do 15-minute excerpts from MTI musicals.
Everyone is early-to-rise, for the first show is at 8:45 a.m. If you're not performing, you watch.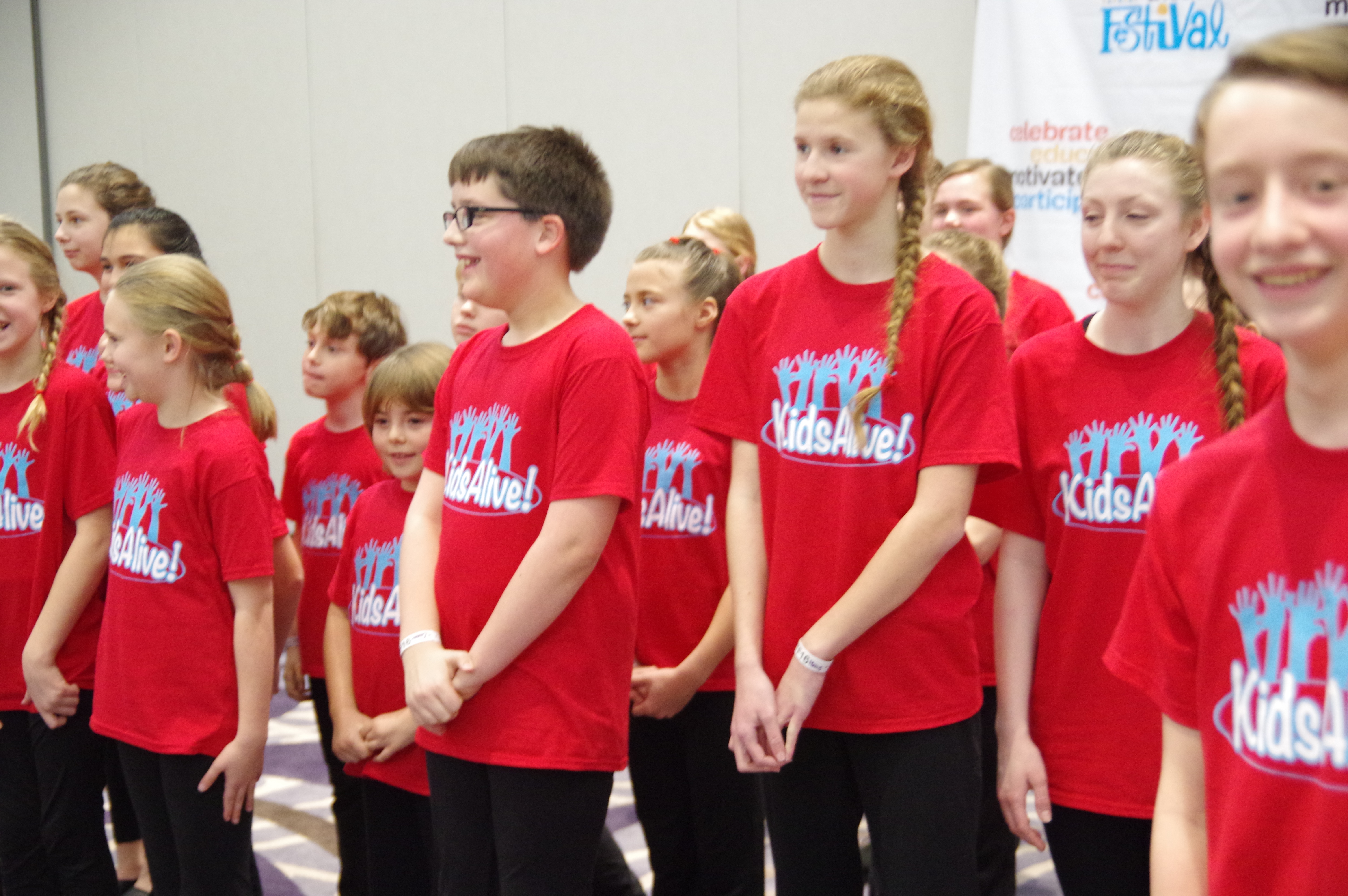 Performers from Kids Alive! (Photo © Marcus Woollen).
Of the 15 different shows available, I choose Disney's Peter Pan JR. that Moorestown (NJ) Theater Company will do in the Orange Pod.
(Each conference room has been given a color. Considering how the festival has grown since 2003 – with another scheduled for Sacramento next month – pods will soon sport as many colors as Baskin-Robbins has flavors.)
Mark Morgan, Moorestown's producing artistic director, tells me 108 kids auditioned, from which he selected two dozen. Their names? Hard to tell. There are no programs, for iTheatrics, the festival's founder and administrator, wants to teach kids that performing as a unit is the most important value. Yes, there are name tags and there'll be individual awards at festival's end, but for now, the ensemble's the thing.
So's timing. Morgan doesn't build in buttons for audience applause, for he knows if he goes past the 15-minute time-limit, the troupe won't be eligible for prizes. The pre-recorded music does allow, however, for a nice splash after the show's villain walks the plank.
The 14-year-old girl who plays Peter doesn't fly – these conference rooms weren't designed with theatrical rigging – so able-bodied students hoist her in the air and walk her across the – well, not stage, but rug – while the ensemble circles around to mask the girl-toters and create the illusion that she's airborne.
Captain Hook is actually hookless with just a black sleeve covering his left forearm. (That'll keep cast members out of harm's way -- and the hospital.) It's a fun production with a message: "No one can make you feel small unless you agree to be small." Remember that, you kids who hold up Peter and aren't seen by the audience.
Magenta Pod, 9:15, Bugsy Malone JR., Eastern Shores Rep Kids, Fairhope, Alabama. When the off-Broadway hit Cagney is released to community theater, the excellent lad playing Bugsy will easily get the title role.
Although we think of the '20s as Roaring, operetta was still around. The young miss who holds a long operetta-ish trill gets applause, which is a nice change-of-pace from the usual "Whoo!" that a long-held note gets in the middle of a power ballad.
"We could've been anything we wanted to be," sing the young pseudo-gangsters. "We're the very best at being bad." Actually, what they want to be – and are – is very good, as the (equally anonymous) adjudicators attest. One praised that "hands, heads and hips moved in the same way all the time."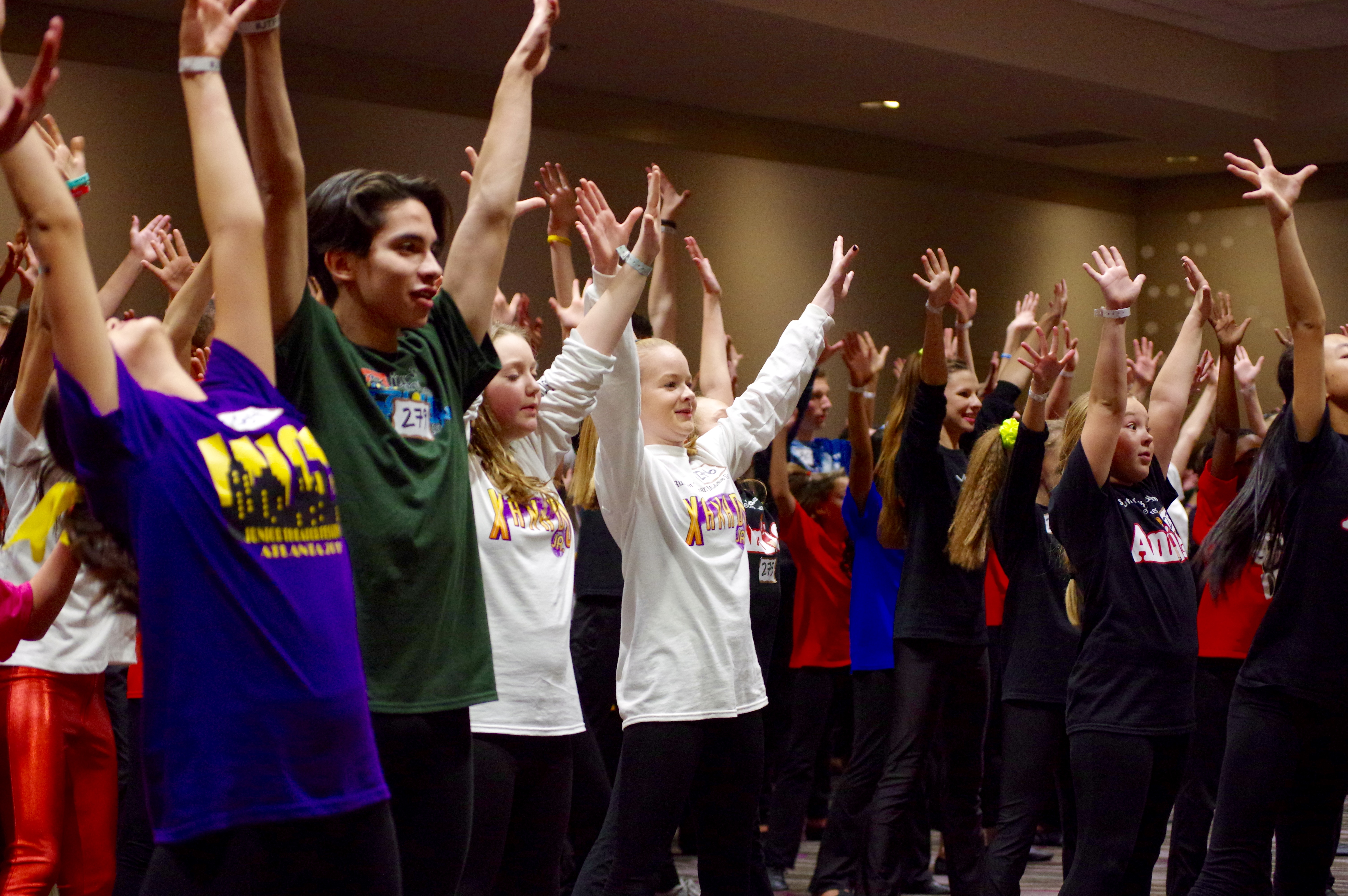 Performers learning choreography (Photo © Marcus Woollen).
Green Pod, 9:45, Godspell JR., DMR Adventures, Charlottesville, Virginia. The kids want to demonstrate that they're not just singers but actors, too, so they spend most of their time on The Prodigal Son parable, which pays off. Still, Stephen Schwartz's "Bless My Lord" cannot be denied, and one terrific girl delivers it so strongly that she was probably heard in Chocolate Pod two rooms away.
When one adjudicator asked what the show's message was, one girl suggested "Everyone can connect with someone regardless of color or background." Yes, musicals educate and elevate.
10:15, Silver Pod: Disney's Alice in Wonderland, Jr, Studio D, Atlanta – for which the kids wear sweet little Alice-blue T-shirts. "Plenty of sunshine heading my way," they sing from the interpolated "Zip-a-Dee-Doo-Dah" -- not literally true, for all pods are windowless. So they bring in their own sunshine and get plenty from the adjudicators, including "Although everyone was dressed the same, I knew who each of you was before you even said a word or sung a note; that's how specific you were."
10:45, Navy Pod: Honk JR., First Stage Theatre Company, Huntington, WV. This version of The Ugly Duckling resonates with kids who have felt "different" all their lives. "Different isn't naughty, different isn't bad" sings the swan-to-be who at the moment is actually named Ugly. As one adjudicator said, "You clearly defined the difference between ducks and swans – and that's not an easy thing to do."
11:30, Navy Pod, Singin' in the Rain JR., Eastern Shores Repertory Theatre, the "big kids" arm of the aforementioned Fairfield, Alabama group. "That boy is going to be a superstar" boldly predicts my girlfriend, mesmerized by this jock who's playing Don Lockwood. I don't doubt her.
When the lad playing Cosmo says of the squeaky-voiced Lina Lamont, "She can't sing, dance or act – a real triple threat," he gets a titanic laugh because this savvy theater audience knows how the term "triple threat" is usually used.
So that's Saturday morning – but what of the afternoon? We still have two more presentations. You'll read about these, uh, apres-midis and more next Friday …
You may e-mail Peter at pfilichia@aol.com. Check out his weekly column each Monday at www.broadwayselect.com and Tuesday at www.masterworksbroadway.com. His book, The Great Parade: Broadway's Astonishing, Never-To-Be Forgotten 1963-1964 Season is now available at www.amazon.com.