Filichia Features: Notre Dame Comes to Wichita
Filichia Features: Notre Dame Comes to Wichita
Never mind the 1996 animated feature which could have been called Quasimodo and the Terrible, Horrible, No Good, Very Bad Day.
This stage musical iteration of The Hunchback of Notre Dame -- Victor Hugo's second most famous novel - isn't aimed at children.
It keeps many of the fine songs that composer Alan Menken and lyricist Stephen Schwartz penned for the film more than two decades ago. They've written a few new ones, too.
Bookwriter Peter Parnell starts with the backstory of brothers Claude and Jehan Frollo. Claude finds religion and becomes the Archdeacon of Notre Dame Cathedral. Jehan fathers an illegitimate and terribly deformed child, which Claude doesn't discover until Jehan is on his deathbed; there he asks his brother to care for the infant.
Claude Frollo decides that the child's disfiguration is a punishment for Jehan's actions out of wedlock. "We are all born sinners," he proclaims. He thinks even less of "foreigners" who, he insists have "infected our city."
Frollo names the unfortunate lad Quasimodo - which means "half-formed." Nice guy, eh? That he has Quasimodo call him "Master" says reams about him, too. We wouldn't expect "Dad," but why not "Uncle"? "Master" implies that Quasimodo's his slave.
In essence, he is. Frollo keeps Quasimodo a virtual prisoner in the church. (As one lyric goes, it's "not only his home, but also his universe." )
The animated film is far less frank in showing Frollo's harassment of Esmerelda. At first he plays the caring-cleric card: "I could instruct you in the gospels," he says in a Barry White voice.
It doesn't fool the street-smart gypsy. "I see the way you look at me," she sasses back.
That sends Frollo on a tear to destroy her. In a song, he abrogates his responsibility. "It's not my fault; it's the gypsy's," he insists before blaming yet another party: "God made the devil much stronger than man."
Here's where Parnell inserts King Louis XI, whom Frollo approaches for permission to hunt down Esmerelda. From research, Parnell learned that the monarch was known as "Louis the Prudent"; thus, the king approves Frollo's quest with perfunctory questioning before uttering a mere "Be prudent."
Yes, those with power often find a way to find more.
Frollo chooses not to be prudent. Now with The Law as well as The Church on his side, he feels invincible.
The ensemble sings, "He saw corruption everywhere but within," which doesn't turn out to be accurate. Parnell surprises us by having Frollo flat-out tell Esmerelda that he lusts for her.
Her response: "You are truly a monster." His response: "My curse is I am truly human."
Well, he did say "We are all born sinners," didn't he?
Parnell follows Hugo in having Quasimodo murder Frollo before immediately regretting it and stating that his "master" was "all I ever loved." We're in France, but Quasimodo has the Stockholm Syndrome.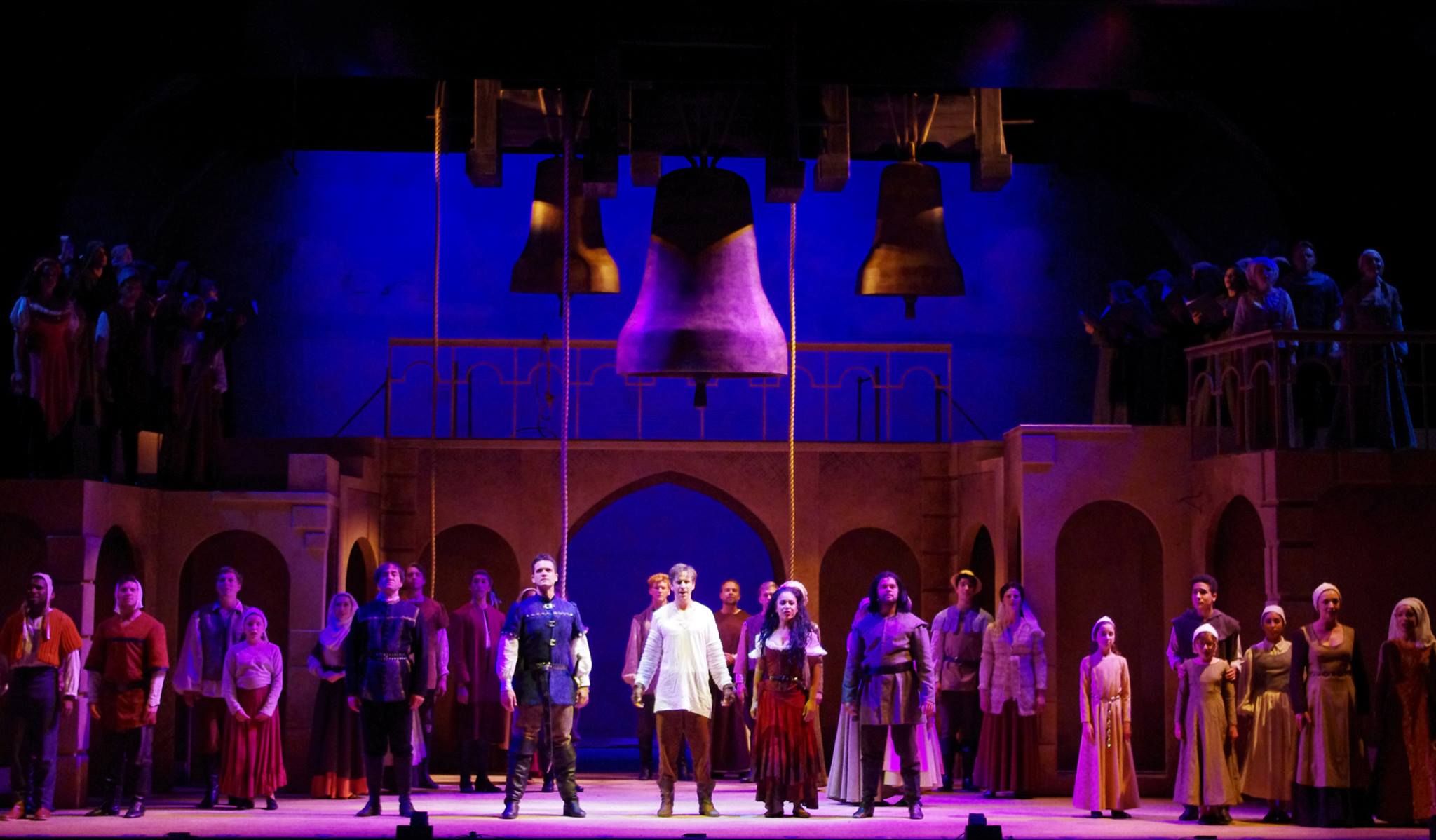 The cast of The Hunchback of Notre Dame at Music Theatre Wichita (© Music Theatre Wichita)
Music Theatre Wichita recently presented the show. Although an average of 82% of its 2,195 seats were sold at each performance over five shows, Hunchback was the champ at 89%.
Wayne Bryan, MTW's longtime producing artistic director, gloriously staged Hunchback. J Branson gave him a unit set that somehow felt grander. Above an Evita-like bridge, gargoyles surrounded clergymen and the poor people of Paris. Under it, flats offered entryways that buttressed a much larger opening. There the cathedral and the streets of Paris all came to life center stage.
Bryan sees Hunchback as "a rich character study which can play effectively in different-sized venues. In our large theater, the show called out for epic scale and cinematic sweep. I wanted the full scope of the story's 1482 environment while keeping its very personal core. With digital videos, we emphasized the stark contrast between the grand vistas of open-air Paris and the loneliness of Quasimodo's isolated bell tower."
Not just Branson's sets, but also Timothy Babb's projections and George T. Mitchell's costumes helped Bryan succeed.
Directors at smaller theaters, take note. "The show might only need a small-cast 'story-theater' technique," says Bryan. "There's enough narration to support that approach."
Here's a surprise: Bryan reports "The libretto encourages each production to assign the narration as best fits the particular cast and directorial style. This keeps the show viable for different productions and cast sizes. I placed the chorus members in neutral spots onstage, far left or far right, so they could be seen as framing the action but not as actual participants. This allowed the characters involved in the action to stay in the scene without breaking fourth-wall. The evening was more involving for both lead actors and audiences."
Another of Bryan's goals was to stress complexity of character. "No one was depicted in only one dimension," he says. "Monte Wheeler gave Frollo some sympathetic characteristics amidst his tortured villainy. Erin Clemons captured the vulnerability beneath Esmeralda's confident sensuality. I loved the joy Skyler Adams' Quasimodo found in simple things."
But he warns "There's a tricky moment. When we hear Quasimodo speak with his imaginary statue-friends and sing 'Out There' (in which he yearns for the world outside), his diction is clear because we hear what's in his head. Only when Frollo enters is Quasimodo's speech impeded. I feared that audiences might not understand, so we tried to make a clear transition, with David Neville's lighting changing the first time we went from Quasimodo's fantasy world into his real one.
"The music certainly includes both grand and intimate elements, so we sought to embody that in visual and emotional terms," Bryan says. Indeed: Menken's music is his most ambitious down to a valse macabre before a planned hanging. Schwartz's lyrics meet his always high standard; Quasimodo, smitten with Esmerelda, sees her as "a little like a bride."
Bryan's physical production is available for rental. Just as Quasimodo should get "Out There," Music Theatre Wichita's impressive sets and costumes should, too.
You may e-mail Peter at pfilichia@aol.com. Check out his weekly column each Monday at www.broadwayselect.com and Tuesday at www.masterworksbroadway.com . His book, The Great Parade: Broadway's Astonishing, Never-To-Be Forgotten 1963-1964 Season is now available at www.amazon.com.