Filichia Features: Ragtime Journeys On
Filichia Features: Ragtime Journeys On
Unlike the Tonys, Oscars, Emmys and Grammys, here's an award that isn't bestowed like clockwork every year.
Only four times in the last few decades has Music Theatre International given The Courage in Theatre Award.
So you know the occasion had to be special for Drew Cohen, president of MTI, to travel 90 miles on a Thursday morning to New Jersey's Cherry Hill High School East. He'd present the prize after the drama club – International Thespian Society Troupe 213 – finished an 11:30 a.m. student performance of Ragtime.
You may be inferring that the prize was given because Cherry Hill East tackled a show with a monster-sized cast that requires dozens of boys, many of whom must sing in more than three dozen songs. No – so many Cherry Hill East students wanted to perform in the Lynn Ahrens-Stephen Flaherty-Terrence McNally masterpiece that director Tom Weaver had to draw the line at 57 and spread them over two casts: The Red Cast and The White Cast, which took their names from the school's colors.
In truth, The Courage in Theatre Award was bestowed after red became the school's primary color on many anger-filled faces in the community. Censorship was demanded of McNally's script because of, you should pardon the expression, "The n-word."
(For the record, one of the lyrics that Ahrens wrote contains a pejorative for a Jew -- and Ahrens is Jewish.)
None of us likes these words, of course, but there's no denying that they are ones E.L. Doctorow used when writing his 1976 novel that spurred the 1998 Best Book and Best Score Tony-winner. For, to be painfully frank, these words were words routinely spoken in 1906 when the novel and musical take place. In both media, Ragtime makes its characters sound as real as possible.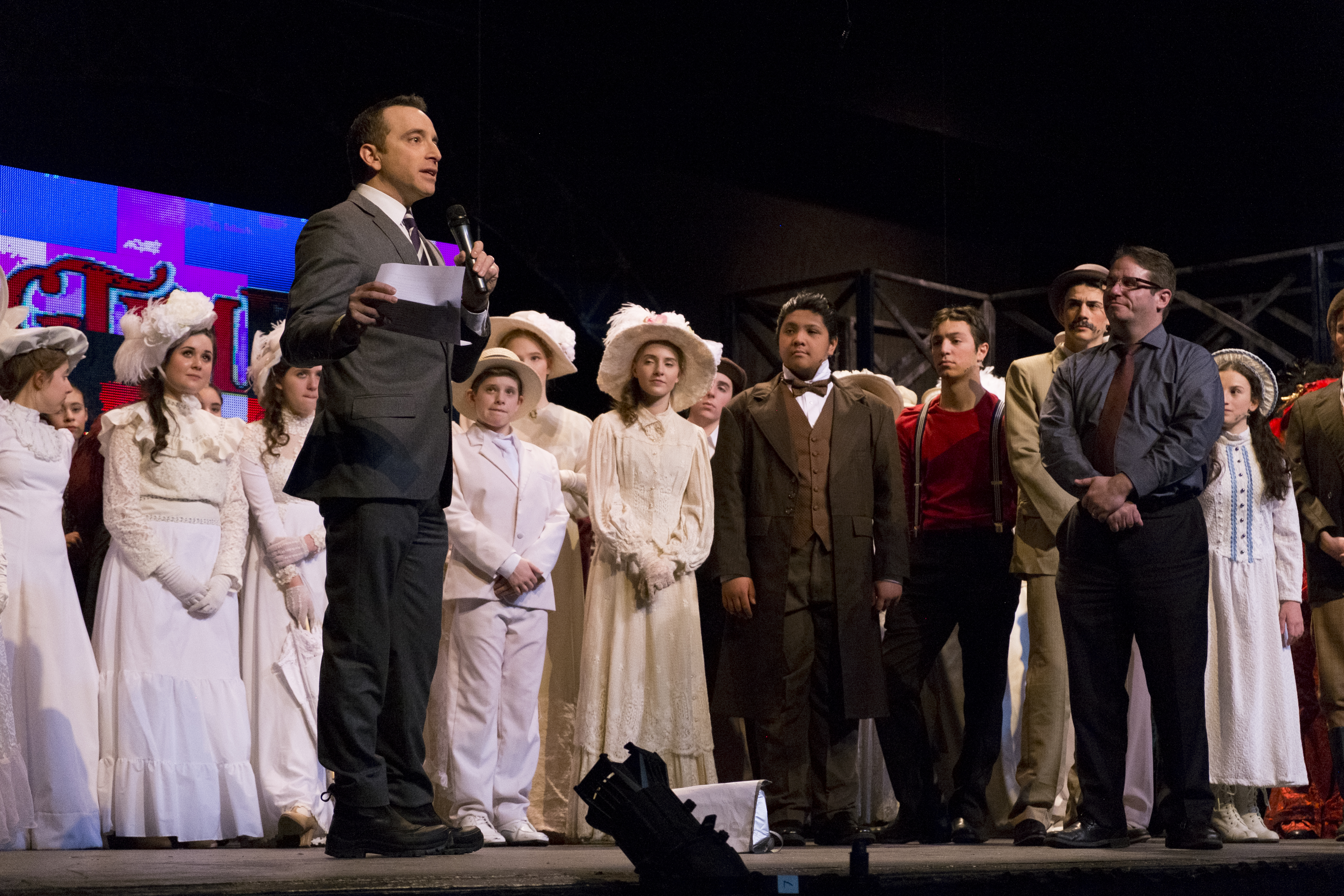 MTI President, Drew Cohen presenting the Courage in Theatre Award to Cherry Hill High School East (Photo © Taylor Schultz)
Many in the Cherry Hill community felt that the disagreeable words must be eliminated. At a school board meeting, Superintendent Dr. Joseph Meloche and students cited historical accuracy; an NAACP spokesperson felt that was no justification.
So Brian Stokes Mitchell, who originally played the role of Coalhouse Walker, Jr. – the victim of the epithets – traveled to the school. He admitted that "Our country has an ugly history with race" but defended the use of the word as a way of showing how far we've come.
"Cherry Hill High School East will present Ragtime as written," Meloche eventually decided. But he added "We will make it abundantly clear that we loathe 'the n-word,' that we despise this most vile of words in our language." Indeed, two students came out before each performance and said just that.
(Not that Cherry Hill East had much of a choice; as you undoubtedly know, anyone making unauthorized edits to a show immediately loses the rights to produce it. And MTI required that Ragtime proceed as is.)
Cohen, in his post-show address, said "I have never been so moved." He also noted that the fracas in January reminded him of 1776, where both the anti-British faction and the pro-crown loyalists had solid reasons for believing what they did and stood by them. He gave credit to both sides for arguing "in a civilized and thoughtful manner – which is not something to overlook today."
He then presented the trophy "for the perseverance and dedication to the arts in the face of adversity."
Weaver later said "This production has been a challenge from the start, yet all the hard work and difficult moments have paid off in many ways for these young students of theater – most of all, the Ragtime message. I would like to think there are any number of audience members who may think twice about what words they use and how painful racism can be. The world of theatre can be a great teaching tool and we have you and MTI to thank for your support in producing this show. Many thanks for making a difference in my students' lives."
Although none of the three writers was in attendance – all are in rehearsal for the Broadway opening of their new musical Anastasia – word got back to them of the outcome.
"Sometimes the magic works!" said Ahrens, whose lyric in "Our Children" proved apt here: "Toward the future from the past."
Flaherty noted "the power of theater and how it can truly affect change." Added McNally, "Is there a better way to reach peoples' hearts (and minds) than live theatre? I don't think so." He also wrote "What a satisfying conclusion to the off-stage drama sparked by Doctorow's masterpiece of a novel" – subtly reminding everyone that he only repeated words that the original author had given him.
Also in attendance was Helen Doctorow, the widow of the novel's author, to whom she was married for 61 years. She's a big fan of the musical because it kept to one of her husband's beliefs: "A history book can tell you what happened," she quoted. "A novel can tell you how it felt."
And so does Ragtime, which is, as McNally's husband and sometime producer Tom Kirdahy said, "The gift that keeps on giving."
Oh, and what was the quality of the production? Said Carol Edelson, MTI's Senior Vice President, "When we saw the students before the show, they looked like little kids. Once they got on stage, they were adults."
As for me, I've been attending high school theater since I was in the sixth grade, and of the 500 or so shows I've seen at schools literally from sea to shining sea, this was the finest of all. The Courage in Theatre Award may not be the only one that some of these students will get in the years to come.
You may e-mail Peter at pfilichia@aol.com. Check out his weekly column each Monday at www.broadwayselect.com and Tuesday at www.masterworksbroadway.com. His book, The Great Parade: Broadway's Astonishing, Never-To-Be Forgotten 1963-1964 Season is now available at www.amazon.com.