Filichia Features: Seussical Helps Newtown, Connecticut
Filichia Features: Seussical Helps Newtown, Connecticut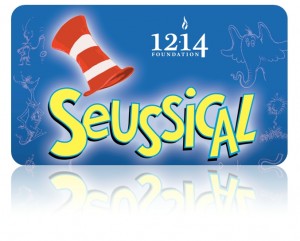 There have been thousands upon thousands of T-shirts made for hundreds upon hundreds of productions of Seussical. But each one for sale in this lobby has a unique logo in its upper right hand corner.

12.14 Foundation.

12.14 as in December 14, 2012 – a day that Newtown, Connecticut will never forget, much as it would like to. It was the Friday when Adam Lanza walked into the Sandy Hook Elementary School and methodically murdered 26 people, most of whom were schoolchildren.

Now, at Newtown High School, 1.3 miles away from the tragic site, director Michael Unger, producer Van Dean and 12.14 Foundation founder and president Dr. Michael Baroody have collaborated to produce Seussical. Kids from the town will join a Tony-nominated guest artist: John Tartaglia, who'll play The Cat in the Hat.

Forty minutes before the Saturday matinee, the lobby is already filled with Newtonians who are animatedly chatting or purchasing snacks and memorabilia. Two little girls are delighted to find that they could buy CDs of Nick Jonas doing some songs from How To Succeed In Business Without Really Trying.

Or maybe, even eight months after the tragedy, Newtown still is looking for distractions, any distraction.

A bit after two p.m., Unger takes to the stage and says that the show will be delayed because Tartaglia is stuck in traffic. (I can vouch that there was plenty in getting to this Fairfield County town.) He estimates a 15-20 minute delay, which may well be a blessing in disguise, for it will allow those in attendance to interact and talk. Some, especially parents of the deceased, of course will never be able to get over what happened; nevertheless, being with other people helps.

Am I overdramatizing? This is not December 15 or 16, but August 10. Has a line from Assassins occurred to you: "Hurts a while, but soon the country's back where it belongs"? Perhaps, but Baroody obviously doesn't think so. When he takes to the stage to announce the show's start he solemnly adds, "Take a deep breath and forget everything else in your life."

That isn't easy, however, once dozens of little elementary-school age children in a rainbow of brightly colored T-shirts storm the stage. Already I'm in tears looking at these survivors, the fortunate Sandy Hook Elementary School students who were in the right place at the wrong time.

There are many teens on stage, too. Four rugged boys are there to play The Wickersham Brothers while five young ladies portray The Bird Girls. The town has really come together for this one. Theatergoers coo in delight when they find that teen Juliana Koziol's Sour Kangaroo costume allows for a pouch from which a little girl – a Sweet Kangaroo? -- occasionally pops her head. Young and "old" learn to work as a unit.

How quiet the audience is when Horton the Elephant discovers the minuscule Whos; yes, there's more in life than meets the eye, and there's a great deal more to life if we'd only care to look. Many enjoy seeing the kids stretch out light blue sheets to represent McElligott's Pool, and giggle when other kids emerge from behind and display boogie boards (via page at dhead online). How they coo with glee when a real dog trots on stage! The program reveals that the cute puppy is named Cosmo Unger. Yeah, it's never too early for kids to learn another truism about show business: someone can get cast just by knowing the director.

The Circus McGurkus allows the kids to wear an extra set of colorful costumes. The song is so winning that the audience is moved to clap in unison. Once more, Newtown is coming together.

Tartaglia, as you'd expect, is an excellent emcee. He makes solid eye-contact with the audience, centering his attentions on one theatergoer for a moment, but never too long before switching to another to make that person feel equally welcome.

Remember, too, that he has a tougher assignment than any other performer who's played The Cat: he must get both the kids on stage and the audience to get through lyrics that aren't easy for Newtown. ("Think of something sinister.") Some parents here will relate to "How Lucky You Are" while others won't be able to at all. Seussical acknowledges that life does contain some elements that we all must fear – but that facing one's fears and overcoming them is a big part of life, too.

And yet, so is having fun, which Tartaglia is determined to deliver to the crowd. He skillfully adopts a Satchmo voice for one song and an equally effective ethnic accent when playing cabana boy to Mayzie in Palm Beach. Seussical's authors Lynn Ahrens and Stephen Flaherty, who made the 80-mile trip here, may well be thinking that the 2000 Broadway fate of their show, some of which was due to a wan Cat, might have been very different if Tartaglia had had the chance to do it.

That brings up another metaphor. Seussical originally suffered through a less-than-perfect Broadway production and closed after a disappointingly short six months. Ah, but since then it has survived and thrived. In the upcoming 15 months, schools and towns across the world will play host to more than two hundred productions of either Seussical, Seussical, Jr. or Seussical TYA. And while comparing what Newtown endured to a Broadway failure seems to trivialize a tragedy, the fact remains that SEUSSICAL's survival in the face off great odds is a good fit for Newtown's residents.

So are many of the messages – as characters learn that they are not "Alone in the Universe" and that "Anything Is Possible." During "Solla Sollew," Unger has the little kids holding hands, which always makes for a nice stage picture; here, however, it also comes across as a statement of solidarity.

There are some sobering messages, too, and not just when The Whos cry for help. It's less than a week after New York Yankee Alex Rodriguez has been suspended for taking performance-enhancement drugs, and here's Gertrude McFuzz learning about the dangers of taking pills, especially for less-than-lofty reasons. Many in Newtown could, from a feeling of hopelessness, turn to drugs, so having Seussical remind them of the dangers isn't a bad idea.

The last half of the show centers on how Horton, who never saw parenthood in his future, becomes a nurturing father. He makes sacrifices to ensure that the egg on which he's sitting will have every chance to live. Kyle Watkins, who plays the role, expertly shows us the precise moment when he makes the commitment to parenthood. How fitting that the child turns out to be "an elephant bird" – stressing that the real father is the one who nurtures, and not necessarily the biological one.

I'm surprised that Watkins – along with Brianna Bauch (Gertrude), Kirsten Liniger (Mayzie) and JoJo (Jane Shearin) -- don't have bios nestling next to Tartaglia's in the program, given their professional standing. From their performances, I can assume that Watkins came directly from NEWSIES, Bauch and Liniger were part of Bring It On and Shearin hailed from Annie. On the other hand, these might well be kids that Unger has come to know from casting and directing his children's chorus each year for 15 consecutive seasons of A Christmas Carol at the McCarter Theatre in Princeton. He's brought up many kids through the ranks, and these four may well be the cream of the substantial crop that he's shepherded.

As if directing kids isn't hard enough, Unger has made his assignment all the more difficult because he's double-cast most of the roles. Doing double the work had to be stressful, but Unger obviously felt the extra effort was worth it to give more kids a chance.

Certainly this cast has paid off. After the show and the long standing ovation, l go to find Unger so I can ask about the four pros, but first run into Lynn Ahrens. "I couldn't stop crying throughout the whole show," she says.

"Neither could I, Lynn," I say. "Neither could I."

Then I let out a different cry – a sound of surprise – when Unger tells me that the four performers I so greatly admired are neither from Broadway nor the McCarter; they have not a shred of professional experience but are simply Newtown kids. While they are obviously immensely talented, I'm sure they became exemplary because Unger taught them to think about what each syllable means. These kids weren't parroting what they'd learned by rote, but felt each meaning. What Bauch did with the word "façade" alone made me laugh out loud. Any agent who doesn't check out these extraordinary talents is either crazy or lazy.

The next question I have is tougher to pose. I ask Baroody, "How many of these kids were at the Sandy Hook Elementary School on that horrible day?" He grimaces before answering "Twenty."

I get a chill, for that's the precise number of children who were murdered in the massacre. To think that there could have been as many as twice the number of Newtown children on that stage.  Perhaps that's one of the reasons that Seussical, with is message of "A person's a person, no matter how small," was the perfect show to help a grieving community.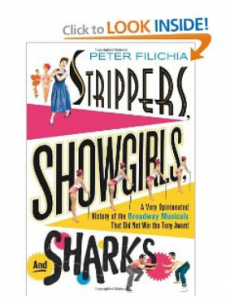 You may e-mail Peter at pfilichia@aol.com. Check out his weekly column each Tuesday at www.masterworksbroadway.com  and each Friday at www.kritzerland.com. His book, Strippers, Showgirls, and Sharks – a Very Opinionated History of the Broadway Musicals That Did Not Win the Tony Award is now available at www.amazon.com.