Filichia Features: She Loves Me – The Democratic Musical
Filichia Features: She Loves Me – The Democratic Musical
"But I have nothing to DO in this show!"
How many times have directors heard that after they've cast a play or musical? The complaint always comes from actors who -- as soon as they're given scripts -- immediately count the number of lines and songs they have.
Even someone as professional and august as Angela Lansbury -- already a three-time Oscar-nominee when she went into rehearsal for Anyone Can Whistle in 1964 -- wasn't above pointing out to Stephen Sondheim that co-star Lee Remick had five songs and she only had four.
(Oh, let's thank her. If she hadn't spoken up, we wouldn't have had the marvelous "A Parade in Town," which Sondheim tailor-made for her.)
But for the most part, if you're directing a production at your professional, community or school theater, you don't want performers coming up to you and making the "I have nothing to do" complaint.
If you've got the talent and the voices – especially a Barbara Cook-level soprano for a female lead -- do She Loves Me and you won't hear a peep out of anyone.
That's because bookwriter Joe Masteroff, composer Jerry Bock and lyricist Sheldon Harnick made She Loves Me the most democratic of musicals (and I'm not talking political affiliations). You can do it with a cast of as few as 13. Five chorus members get meaty parts in three songs; the other eight performers get at least one dazzling number in which each of them can shine.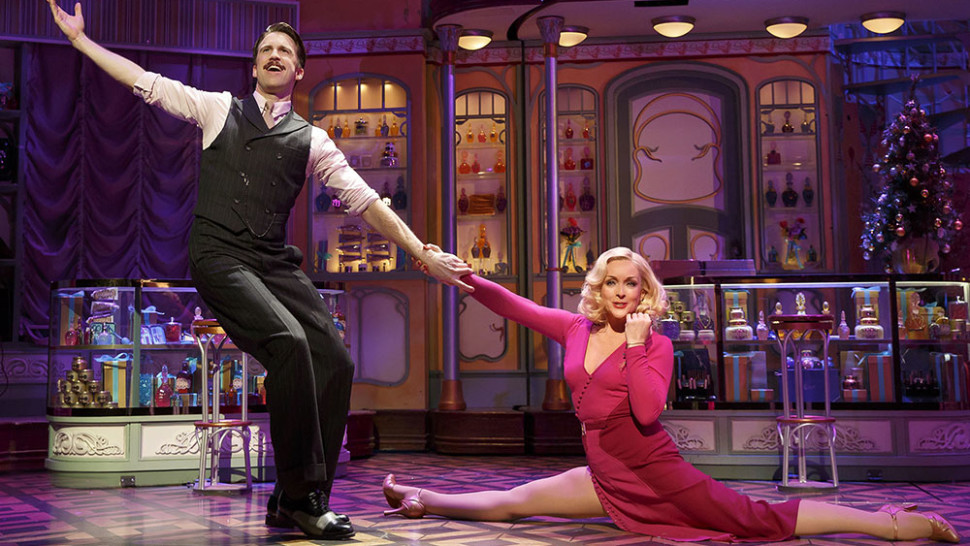 Gavin Creel and Jane Krakowski in Roundabout Theatre Company's production of She Loves Me (Photo by Joan Marcus)
That even includes a Headwaiter who gets the very funny song proclaiming that his café always offers "A Romantic Atmosphere" – all as his waiters and busboys are dropping silverware and breaking dishes. The customers, he reminds them, "all come here just for the mood – and if you don't believe me, try tasting our food."
Any actor who gets this part may balk at having only one scene, although he could have the chance to double as a Private Detective and/or Christmas Caroler. If he does grumble, remind him that Jonathan Freeman received a Tony nomination for doing this part in the 1993 revival, first for acting funny and then for being tender. The part offers both worlds to conquer.
The other seven performers all work at Maraczek's Parfumerie in 1934 Budapest. Mr. Maraczek himself is entering late middle age, but he still recalls when he was a young man in "Days Gone By," a lovely waltz that is, to use a word coined by Stephen Sondheim about three-quarter ditties, "bluedanubey."
Maraczek's least showy employee is Ladislav Sipos, a workaday clerk whose feet are so firmly planted on the ground that it's a wonder he can move from one counter to the next. In fact, as Sipos states in his big number "Perspective," when he considers where Little He stands in comparison to The Entire Universe, he's pretty small; that makes him realize his feelings and opinions are just as minuscule and warrant no protest. The real bottom line, he insists, is "Do not lose your job!"
The most ardent member of the staff is Arpad, the bicycle-bound delivery boy who wants to move inside and up to become a full-fledged clerk. "Try Me," he implores Mr. Maraczek in a song that has him showing how he knows the shop's entire inventory and the price of each item. He also conducts a mock interaction with an invisible customer which results in "The biggest sale in several years, I believe!" Maraczek does come around to see Arpad's point: "Why break someone in when I'm already broken?"
Also on hand are co-workers Ilona Ritter and Stephen Kodaly, who are an item – although she takes the relationship far more seriously than he. All those excuses he's been making lately on why he can't be with her at night cause Ilona to state "I Resolve" to never become involved with this kind of cad ever again.
Both of these characters do come out a bit ahead of the three previously mentioned because they get two big songs of their own. Ilona's other is "A Trip to the Library," a place she once thought above her station, for she considers herself "an illiterate girl." (She probably means "ignorant.") But she sauntered in and not only found "the magic of books" but an eventual boyfriend who has a nice steady job as an optometrist. "Unlike someone else, someone I dimly recall," she lies, "he'll only have eyes for ME, my optometrist Paul!"
Before that happens, however, Kodaly tries to get on her good side in "Ilona." As he purrs, "How I envy you each evening when work is through, for I have only me to be with while you have you." In other words, the soft soap in Maraczek's Parfumerie isn't just limited to the items on the shelves.
Ah, but the day of reckoning comes when that Private Detective fingers Kodaly as Mrs. Maraczek's lover. That gets him fired, but he goes out with a bang in the snazzy "Grand Knowing You," which can best be described as a hat-and-cane number that is so winningly effective that it doesn't even require a hat or cane.
How good a role is Kodaly? When the Tony nominations were dispensed the spring of 1964, the long-closed She Loves Me received five nominations while the current smash Hello, Dolly! nabbed 11. Dolly wound up winning 10 of the 11 and only missed Best Featured Actor in a Musical -- which went to Jack Cassidy for his Kodaly. It was She Loves Me's only Tony victory, and that it came more than four months after the show had shuttered tells you what a good part Kodaly is -- and, of course, how extraordinary Cassidy must have been in it. (Make sure you tell your Kodaly that.)
But the main events of She Loves Me are Georg Nowack and Amalia Balash, co-workers who hate each other. Little do they know that they're members of a Lonely Hearts Club and have come to consider each other a "Dear Friend" en route to what they hope will be "Dear Husband" and "Dear Wife."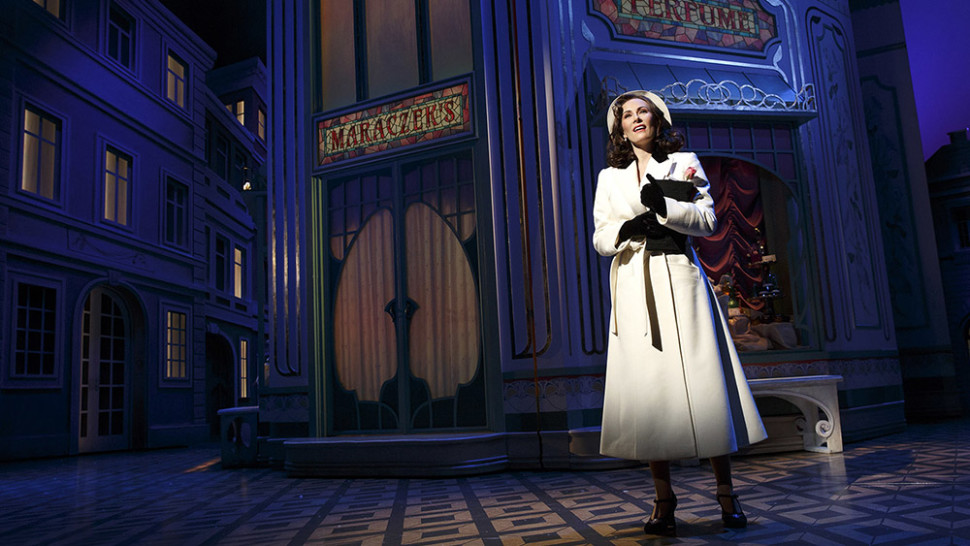 Laura Benanti in Roundabout Theatre Company's production of She Loves Me (Photo by Joan Marcus)
So Georg is worrying about "Tonight at Eight" when they finally meet, while Amalia's concerned "Will He Like Me?" When he goes to the café, he sees that she's already arrived, and of course he's shattered that the woman he came to love is the same woman he's hated for months.
A tip: make certain that in this scene that Georg and Sipos (there for moral support) can't been seen by Amalia. If you put them inside the restaurant and keep them standing by the door, your audience won't believe the situation. Wouldn't the maître d immediately come over and say "May I help you gentlemen?" (He doesn't.) For that matter, when Amalia is looking for her Dear Friend, she wouldn't be looking to her right when the door is on the left. She's waiting for him to arrive, so the front door is where her focus would be.
A production of She Loves Me more than a half-century ago in Boston had Georg played by, believe it or not, James Rado, who fewer than 1,000 days later would be the toast of the town as the co-creator and star of Hair. When he and Sipos went to the restaurant, a window frame flew in and we saw them outside the restaurant surreptitiously looking in. That's much more believable.
Georg confronts Amalia, but doesn't come clean with her; instead, he makes her believe that she's been stood up. After he leaves, she expresses her devastation in "Dear Friend." The next day, she's sick but will go to work once she's fully dressed: "Where's My Shoe?" Soon after, she revels in the present that Georg gave her: "Ice Cream." Georg meanwhile celebrates that "She Loves Me" (and figures in a few others numbers, too).
All right, so Amalia has more to do than Georg, who has more to do than Ilona and Kodaly, who have more to do than Sipos, Arpad and Mr. Maraczek. Still, as producer Max Gordon once said of another musical, "If the pie is big enough, there are enough slices for everyone." She Loves Me is as close to an equal-opportunity musical as you can get.
And I hope that you get the opportunity to get to Studio 54 in New York and see the rapturously received current production. If you can't, well, just do your own and make a number of actors and audience members very happy.
You may e-mail Peter at pfilichia@aol.com. Check out his weekly column each Monday at www.broadwayselect.com, Tuesday at www.masterworksbroadway.com and Friday at www.kritzerland.com. His book The Great Parade: Broadway's Astonishing, Never-To-Be Forgotten 1963-1964 Season is now available at www.amazon.com.