Filichia Features: Sing and Dance Along with Eubie!
Filichia Features: Sing and Dance Along with Eubie!
Some time will need to pass before you can stage the most anticipated musical of 2016: Shuffle Along, or The Making of the Musical Sensation of 1921 and All That Followed.
Whenever a show hosts three Tony-winners (Audra McDonald, Brian Stokes Mitchell and Billy Porter) and three Tony nominees (Brooks Ashmanskas, Brandon Victor Dixon, Joshua Henry) under the direction of a Tony-winning director (George C. Wolfe) and a Tony-winning choreographer (Savion Glover), well, theatergoers are going to pay rapt attention.
While you're waiting, why not ride on Shuffle Along's coattails by doing a revue that features much of the same music – and was a year-long-plus hit when it was first produced in 1978: Eubie!
The title refers to one James Hubert Blake (1887-1983), one of the foremost African-American composers of the early 20th century. Starting with Shuffle Along in 1921, Blake's name was on eight Broadway musicals in the next 16 years.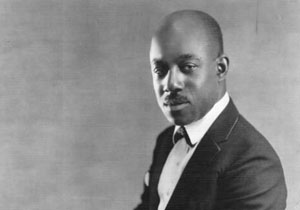 James Hubert Blake (Eubie)
There might not have been much African-American musical theater without him, lyricist Noble Sissle, bookwriters Flournoy Miller and Aubrey Lyles. In 1920 when they had the idea for Shuffle Along, black musicals had barely ever played Broadway. This was still the odious time when white theatergoers proudly took their orchestra seats and African-Americans were relegated to the balcony. After Shuffle Along became a major hit, the barriers were slightly but significantly broken: the orchestra was segregated into white and black sections, and you know who got the better seats. Still, it was progress for African-Americans.
But all this had to happen many blocks from the theater district. Although Shuffle Along had white producers, the best theater they could get to house their show was The 63rd Street Music Hall near Central Park. The place, squeezed between automotive establishments, did not cry out "theater district."
And yet, so many people braved either the long walk or subway ride that the city felt compelled to do something about all the traffic. Believe it or not, West 63rd was then a two-way street, but Shuffle Along's massive audiences made it a one-way thoroughfare. Shuffle Along played 504 performances – an amazing run by any standards back then, but an astonishing one for a black show. To put it more forcefully, Shuffle Along became the 11th-longest-running musical in a decade that would see 440 new musicals produced.
"It made me feel like, well, at last I'm a human being," Blake said at the time. Luckily, he was still alive -- at 91, no less – to see Eubie! which featured 11 songs now heard in this new Shuffle Along musical at the Music Box.
The best known of Eubie!'s bunch is "I'm Just Wild about Harry," a one-step, snazzy number. But did you know Blake wrote it as a waltz? Lottie Gee, originally chosen to sing it, thought it would be better with an up-tempo beat, partly because waltzes weren't associated with blacks. Blake obliged, and she did well by it, but Bob Lee, a singer hastily thrown into the number as a replacement, had a way with him that helped put it over.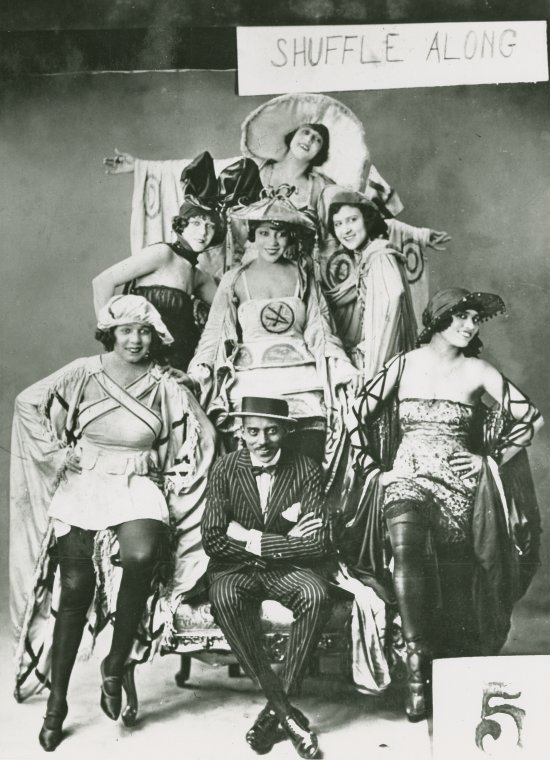 Noble Sissle and cast members from the 1921 Original Broadway Production of Shuffle Along
How big a hit was "I'm Just Wild about Harry?" Let's put it this way: Jerome Kern, when writing Show Boat later in the decade, wanted to include a popular song to let audiences know that the show had moved into the Roaring '20s. "I'm Just Wild about Harry" was his choice.
Even into the '90s, "I'm Just Wild about Harry" was prominently featured at birthday parties for hotel magnate Harry Helmsley. His notorious wife Leona ("The Queen of Mean") Helmsley would have the band repeatedly play the song and demanded that everyone in attendance wear a button that said "I'm Just Wild about Harry" -- except for her husband, whose button simply stated "I'm Harry."
Blake always maintained that "Harry" wasn't the song for which he most wanted to be remembered. His personal favorite was "Memories of You," a ballad with the type of glorious melody that Jerry Herman likes to call "classy." It too is featured in Eubie!
Incidentally, Eubie! received a 1979 Tony Nomination for Best Score, which must have rankled Marvin Hamlisch and Carole Bayer Sager (They're Playing Our Song), Carol Hall (The Best Little Whorehouse in Texas), Billy Goldenberg and the Bergmans (Marilyn and Alan; Ballroom) – all of whom were denied nominations. After all, Blake's work was so OLD and theirs was new.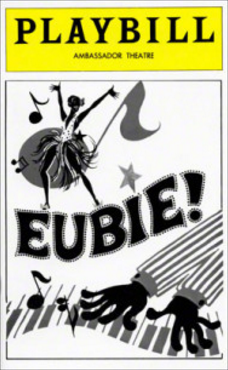 The Playbill for the 1978 Broadway Production of Eubie!
Yes, but two points must be made: 1) given that Blake's eight Broadway credits predated the Tonys by a decade, this was a way of Broadway paying tribute, and 2) the songs are terrific. Chances are you won't agree with Blake's mother, who often feared that her son was propagating "the Devil's music."
One song in question – also heard in Eubie! -- is "My Handyman Ain't Handy No More," made famous by Bessie Smith. Here a woman complains that her boyfriend doesn't " perform his duties like he used to do," that he "lets my stove get cold" and that he no longer "gets up at dawn … to trim my lawn." 
Five lyricists shared Blake's Tony nomination for Eubie! One was Johnny Brandon, although he'd merely provided the lyrics to one song: "High Steppin' Days," which had just been incidental music in Shuffle Along. Lyricists Sissle, Miller, Razaf and Jim Europe never knew that they'd received nominations, for all had died long before Eubie! had even been scheduled for Broadway.
Eubie! contains a few sketches. The most acclaimed one is done in the style of a silent movie and has ricky-tick piano music to match. Two men and two women try to fit on a bench clearly designed for three. The action winds up resembling a variation on musical chairs.
To truly do Eubie! justice, you need elegant costumes: white tie and tails for the men and shiny and satiny gowns and flapper dresses for the women. Truth to tell, though, the original Shuffle Along had to make do with second-hand costumes from shows that had already closed. The tail really wagged the dog here, for when Asian-tinged costumes were among the mix, Blake and Sissle took a song out of their trunk and refashioned it as "Oriental Blues." Both men figured, to paraphrase Tulsa in Gypsy, "This song's good for the costumes." (Julianne Boyd, who conceived and directed Eubie!, also thought it good for her revue.)
As for your cast, if you have an ample-sized song 'n' dance man, you have both a song and dance for him: "I'm a Great Big Baby," which has a Razaf lyric that admits the entertainer is "kinda heavy – maybe." (In fact, no "maybes" about it.)
A woman who's similarly ample-bodied and loves to play with boas – and men in the audience – is a natural for "My Handyman Ain't Handy No More."
Shuffle Along was somewhat misnamed, for there was far more tapping in it than shuffling. As a result, your Eubie! should have two very good tap dancers. Originally they were played by Gregory and Maurice Hines, so you can imagine how extraordinary the tapping was in this premiere production.
You can learn more about Eubie! thanks to two recordings that have been re-released in the past few weeks (obviously anticipating the new musical). One is the actual original cast album of Eubie! (available at www.kritzerland.com) which includes 19 of its 24 songs. Sissle and Blake Sing Shuffle Along (available at www.HarbingerRecords.com) offers 25 cuts, including three from Eubie! that didn't make its cast album.
The former disc of course shows how Eubie! was originally presented, while the latter reveals what was on the minds of the composer and the lyricist, which greatly informed the original style. Both are invaluable for any production of Eubie! you plan to give your audiences.
You may e-mail Peter at pfilichia@aol.com. Check out his weekly column each Monday at www.broadwayselect.com, Tuesday at www.masterworksbroadway.com and Friday at www.kritzerland.com. His book The Great Parade: Broadway's Astonishing, Never-To-Be Forgotten 1963-1964 Season is now available at www.amazon.com.