Filichia Features: Something Isn't Rotten in This Musical
Filichia Features: Something Isn't Rotten in This Musical
Never mind about the title.
Something's coming: something good.
No, not West Side Story, the musical version of a famous Shakespeare play. You and your forebears have been able to license that classic for more than 50 years now.
I'm talking about Something Rotten! which ran only three weeks shorter than West Side Story and deals with Shakespeare himself.
I adored Something Rotten! from the first workshop I was asked to attend. Once was not enough; I made sure to see it four additional times on Broadway.  I also hope to catch the tour, which will play 33 cities in the next 15 months. If it's coming to your neck of the woods, you must, must, MUST attend. A splendid time is guaranteed for all.
How I respect Karey Kirkpatrick, who co-wrote the book, music and lyrics; his brother Wayne Kirkpatrick who's co-composer-lyricist; and their co-librettist John O'Farrel. These guys did it the hard way; they wrote a 100% original musical. No adaptation of a movie for them! The three very wise men started with an inspired idea, a totally empty computer screen and then just went ahead and filled it admirably.
The triumvirate mused "What was it like to be a playwright in the time of Shakespeare?" Obviously, with The Bard writing hit after hit (all right, there was Pericles, Prince of Tyre), any other dramatist on the Elizabethan scene had to be considered at best a distant second.
Something Rotten's writers thus created Nick and Nigel Bottom, whose surname pretty much describes their stature in late 16th century London. Now they've heard that Shakespeare too has decided to write a play on Richard II – the subject of their work-in-progress. Nick is furious.
Nigel can't wait to see it. He's a big fan of Shakespeare.
That infuriates Nick even more. But what possible option is there for an also-ran?
Run to Nostradamus, that's what.
There's a problem. This isn't the famous Nostradamus (1503-1566) who accurately predicted The Great Fire of London, The French Revolution or Napoleon's Conquest. No, this is Thomas Nostradamus, the great prophet's nephew. Remember how J.B. Biggley in How to Succeed in Business without Really Trying defined nepotism? "That's when your nephew is a damned fool."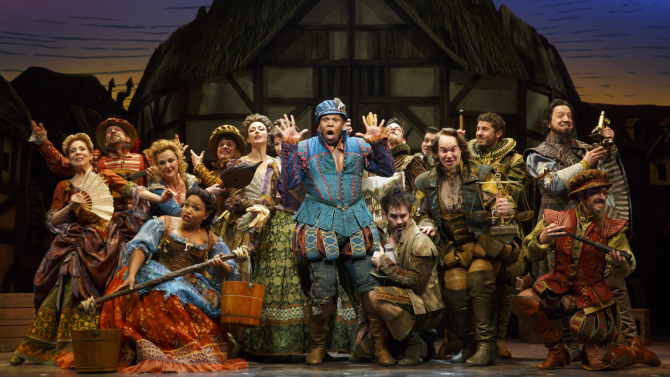 The cast of Something Rotten on Broadway (Photo © Joan Marcus).
Oh, well: Thomas means well. When Nigel presses him for a truly new and inspired idea that hasn't occurred to Shakespeare, the seer peers into the future and comes up with a wild prediction: "In the future, there will be musicals."
As Thomas looks ahead, we see that his theme song could never be "I Can See Clearly Now." He's not unlike a radio station that's peppered with static to the point where you can only hear every other word or so. So the best that Thomas can do is give a line or two from future hits (with a little help from a spirited ensemble) before another musical comes in.
Your audience will adore hearing snippets of songs from Annie, Chicago, A Chorus Line, Evita, Gypsy, The Music Man, Oklahoma!, Rent, Seussical and Sweet Charity in this guaranteed show-stopper called, fittingly enough, "A Musical."
Of the 616 musicals that have been produced in the last 56 years, I've seen at least 500 of them. Given that each one contains approximately 20 songs (is that why they call a song list a score?), that's more or less 10,000 numbers that I've witnessed (and that doesn't include subsequent revivals, of which I've seen plenty as well). Why do I mention this statistic? To say that in that span, I can only think of six numbers that have bettered "A Musical" in Something Rotten!
I have a feeling I'm not alone. The five times I saw the show, each and every time I witnessed a magnificent phenomenon that happens all-too-rarely in musicals. The theatergoers so adored "A Musical" that they applauded their little hands red. Eventually, as it must come to all applause, the theatergoers let it die down. But no! On second thought, they felt that they hadn't done the number enough justice, so not only did they continue applauding, but they managed to applaud even harder and reached a higher decibel level than the impressive one they'd initially achieved.
And Shakespeare? He appears and gathers crowds of admirers whenever he takes the stage. In a burst of anachronistic fun, the creators wrote him as a Mick Jagger-like rock star that has an ego the size of Wales and whales combined. Christian Borle played him so superbly that he won his second Tony.
If that isn't enough fun, the writers remembered that the Puritans weren't happy with this vulgar and lascivious thing called theater. Here Brother Jeremiah does what he can to close these dens of iniquity, unaware that his daughter, whom he assumes is prim and proper, is cavorting with Nigel.
Now really – doesn't this sound like tons of fun? Keep an eye and ear out to see precisely when Something Rotten! becomes available. You could instead go to a relative of Thomas Nostradamus and ask him for the release date, but that might turn out to be highly unreliable.
You may e-mail Peter at pfilichia@aol.com. Check out his weekly column each Monday at www.broadwayselect.com and Tuesday at www.masterworksbroadway.com. His book, The Great Parade: Broadway's Astonishing, Never-To-Be Forgotten 1963-1964 Season is now available at www.amazon.com.