Filichia Features: Sondheim for Two
Filichia Features: Sondheim for Two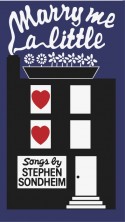 As has been the case with thousands of musicals before it, Marry Me A Little starts with an overture.

Or does it?

Our program tells us that this new Keen Company production with recycled Stephen Sondheim songs is a two-character musical. We'll meet Him and Her, as they were solely named by Craig Lucas and Norman René when they assembled the show in 1980.

So as a pianist begins playing upstage left, we have to wonder if he is Him -- until he makes a mistake and stops playing. Yes, it's got to be Him – or director Jonathan Silverstein has hired a not-so-hot musician. Him is apparently a composer who's in his apartment working on a new piece.

In fact, this is indeed John Bell, the show's musical director. Silverstein has made him a semi-character: a tenant in another apartment whose incessant playing will soon be annoying fellow tenants Him and Her. This production of Marry Me A Little will almost be a three-character musical.

"Moonlight on Flatbush Avenue," a lyric in the title song of the early Sondheim effort Saturday Night, tells us we're in Brooklyn. Scenic designer Steven C. Kemp has put Him and Her in a converted loft that's really supposed to be two converted lofts. But we only see one, because Lucas and Rene decided that one set could be used to represent two different apartments (no doubt, all in the cause of economy).

Maybe Him and Her belong together; after all, they apparently have the same taste in furniture.

Whatever the case, a director must quickly establish that these are not two people in the same apartment. Just having them pass each other without saying anything really isn't enough; sad to say, plenty of long-term couples do that every day of their lives. Silverstein deftly solves the problem by sending them into the bathroom at the same time. We also get a hint when Her wildly dances by herself the way we all do in our apartments when we're playing music that we like. We wouldn't do that and make jerks of ourselves when someone else is watching.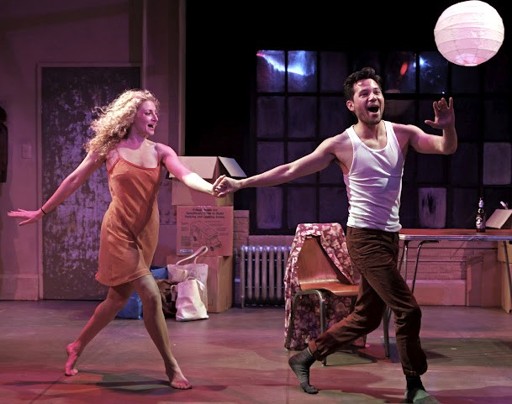 However, Silverstein had a chance to make the two-apartment business clearer. When Her enters her apartment, we see "3F" on the outside of the door. Once Her closes it, Silverstein would have done well to have a techie backstage quickly change the apartment number to "2F," which we would then see as Him opens wide "his" door and enters. That way, the audience would know for certain that Marry Me A Little is set in two completely different apartments. Otherwise, attendees might come to the more obvious conclusion that two people in one apartment are living together.

When Marry Me A Little debuted in 1981, the technologies we now take for granted were some years away. Thus, Silverstein was smart to include a smart phone. Her gets a text, glances at it, smiles in delight and starts singing: "Can That Boy Foxtrot!" (It's the fine song that "I'm Still Here" replaced in Follies.) We as well as Her get the message: the texter has sent her an invitation to get together. Lauren Molina manages to do a few steps of a fox trot even while sitting to show her joy in suddenly having a Saturday night date.

But wouldn't you know that as soon as she's dressed and ready to go, in comes another text message? From Molina's slumping shoulders, we know that her cyber-boyfriend has cancelled. Now – what can you do on a Saturday night alone? Her changes out of her fancy duds and dons a Mickey Mouse T-shirt. (That's the only way in which this production is Mickey Mouse.)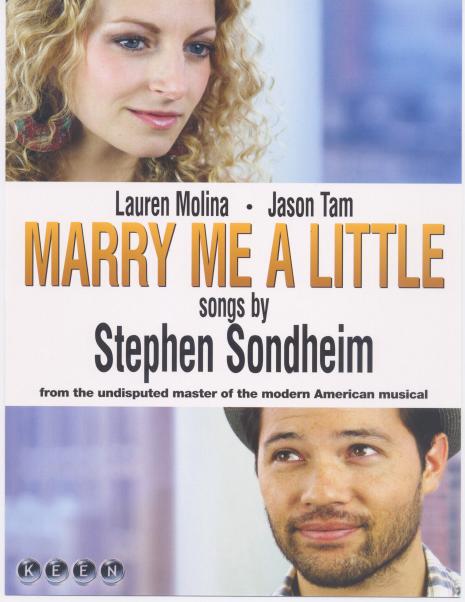 Meanwhile, Him isn't waiting around for the girl upstairs. He opens up his laptop, gets to a site and sings "Bring on the Girls" (originally planned as the opening number of Follies). Let's hope that Him is looking at photos on JDate or match.com and not a less lofty site. Jason Tam and Silverstein wisely don't make the song sound salacious.

We see Him's frustration in "Ah, But Underneath," the excellent song from the London and Paper Mill productions of Follies. Him ruminates on a lost love who once drove him crazy through her bi-polarism.

Here Silverstein adds a nice subtle touch that suggests that Him and Her are simpatico: while Him is singing "Ah, but Underneath,"  Her is simultaneously undressing and showing what she has underneath. (English teachers, take note: the expression "Her is" that rankled your ears in The Pajama Game is at last grammatically correct.)

Her gets to show her frustration, too, in "There Won't Be Trumpets." Molina does extraordinarily well by it, with decades' worth of vexation permeating each word and note. When the Bobbys in Company revivals sing "Marry Me a Little," they're expressing that they're only willing to give so much to a relationship; when Her sings it, she lets us hear what she'd gladly settle for. Molina makes it a cri de coeur et âme.

Marry Me A Little asks the question "Is the ideal mate not the girl next door, but the one who lives above you?" Ah, but don't forget the famous New York City rule: don't get involved with anyone in the building in which you live. If it doesn't work out – and it probably won't in a Sondheim show -- you'll both be embarrassed when you see each other in the elevator, in the hall, on the front stoop or anywhere in the neighborhood.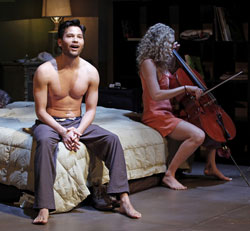 Nevertheless, Him eventually goes to Her door, bangs on it and prepares to complain about the noise she's making. Once Her opens the door, they both look as if they've opened the door to the possibility of a relationship. A possibility – that's all. Sondheim's shows have always been more realistic about love. While many a musical ends with a wedding, this one certainly doesn't.

Arthur Laurents -- Sondheim's bookwriter of West Side Story, Gypsy, Anyone Can Whistle and Do I Hear A Waltz? – said that Sondheim's songs are often "little one-act plays." We get 19 of them here. How nice to hear an audience appreciate Sondheim's deft talent for finding terrific rhymes. There's many a gurgle of pleasure after such lines as "An imitation Hitler but with littler charm" and "Who need Albert Schweitzer when the lights're low?" How lovely to hear the audience coo after they've heard Sondheim's delicious triple rhyme: "reliance," "science" and "giants" in "Ah, but Underneath." (Don't you love triple rhymes that have completely different spellings on the final syllables?)

Most of all, I was fascinated to hear the audience laugh after Him sang his opinion of marriage – that it meant living "happily ever after in hell."

And thereby hangs a tale.

Let me take you back to March, 1970, to the first-ever performance of Company at the Shubert Theatre in Boston. When Dean Jones' not-so-confirmed bachelor Bobby delivered his 11 o'clock number -- not "Being Alive," but this predecessor, "Happily Ever After" – I saw panic on his face as his eyes widened to twice their usual size. He saw, heard and felt that the audience wasn't at all with him. Weeks later, when I heard that Jones would prematurely leave the show, I had a feeling that he made that decision during "Happily Ever After" that very night.

In 2002, I was asked to helm a press conference at the Alabama Stage and Screen Hall of Fame, into which Jones was being inducted. I asked him why he quit Company, and Jones answered, "That first night I went out there in Boston and sang this song 'Happily Ever After,' I could feel the audience asking me, 'Why do you hate us? By singing this song, you're showing that you hate us.'"

After Tam delivered "Happily Ever After," Marry Me A Little's audience enthusiastically applauded in a way that first-nighters certainly hadn't in Boston. Statistics show that in 1970, 10% of marriages ended in divorce. Now nearly 50% do, meaning that plenty more audience members have come to the conclusion that marriage means living in hell. Times have changed – and not just with cell phones and laptops. Once again, so many people in the world need time to catch up with Stephen Sondheim.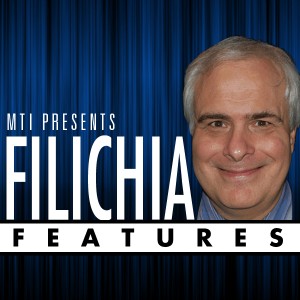 You may e-mail Peter at pfilichia@aol.com. Check out his weekly column each Tuesday at www.masterworksbroadway.com and each Friday at www.kritzerland.com. His newest book, Broadway Musical MVPs, 1960-2010: The Most Valuable Players of the Past 50 Seasons, is now available through Applause Books and at www.amazon.com.