Filichia Features: The Harnick and Bock Way
Filichia Features: The Harnick and Bock Way
Leave it to Sheldon Harnick, on a day he received an honor afforded to very few, to mention that his first full score for a Broadway resulted in failure.
But that's precisely what he did on Wednesday, May 11, when West 53rd Street between Broadway and 8th Avenue was renamed "Harnick and Bock Way."
He's that modest, this Harnick. He could have crowed to the crowd that there was a time that the musical for which he provided lyrics – Fiddler on the Roof – became the longest-running show in Broadway history, breaking a record that had been in place for a quarter-century.
Harnick could have added that since its original run, no musical has had more Broadway revivals than Fiddler, including the splendid one we have right now at the Broadway – on the corner of, as it will now forever be known to those of us who care about musicals, "Harnick and Bock Way."
(The people who put the sign up on the pole were supposed to position it so it faced down 53rd Street. Instead, they installed it in such a way that it's on Broadway. Freud said there are no accidents, and I'll believe him in this case: having all of Broadway named "Harnick and Bock Way" is fine with me.)
With She Loves Me on the scene, Harnick could have bragged that his lyrics are one of the reasons that musical theatre aficionados believe that this 1963 entry is "the perfect musical." It's a term that's been bandied about for My Fair Lady, A Chorus Line and, yes, Fiddler, but among those people who think about musicals more than even food, wine and vanilla ice cream, She Loves Me usually comes in first in the perfection race.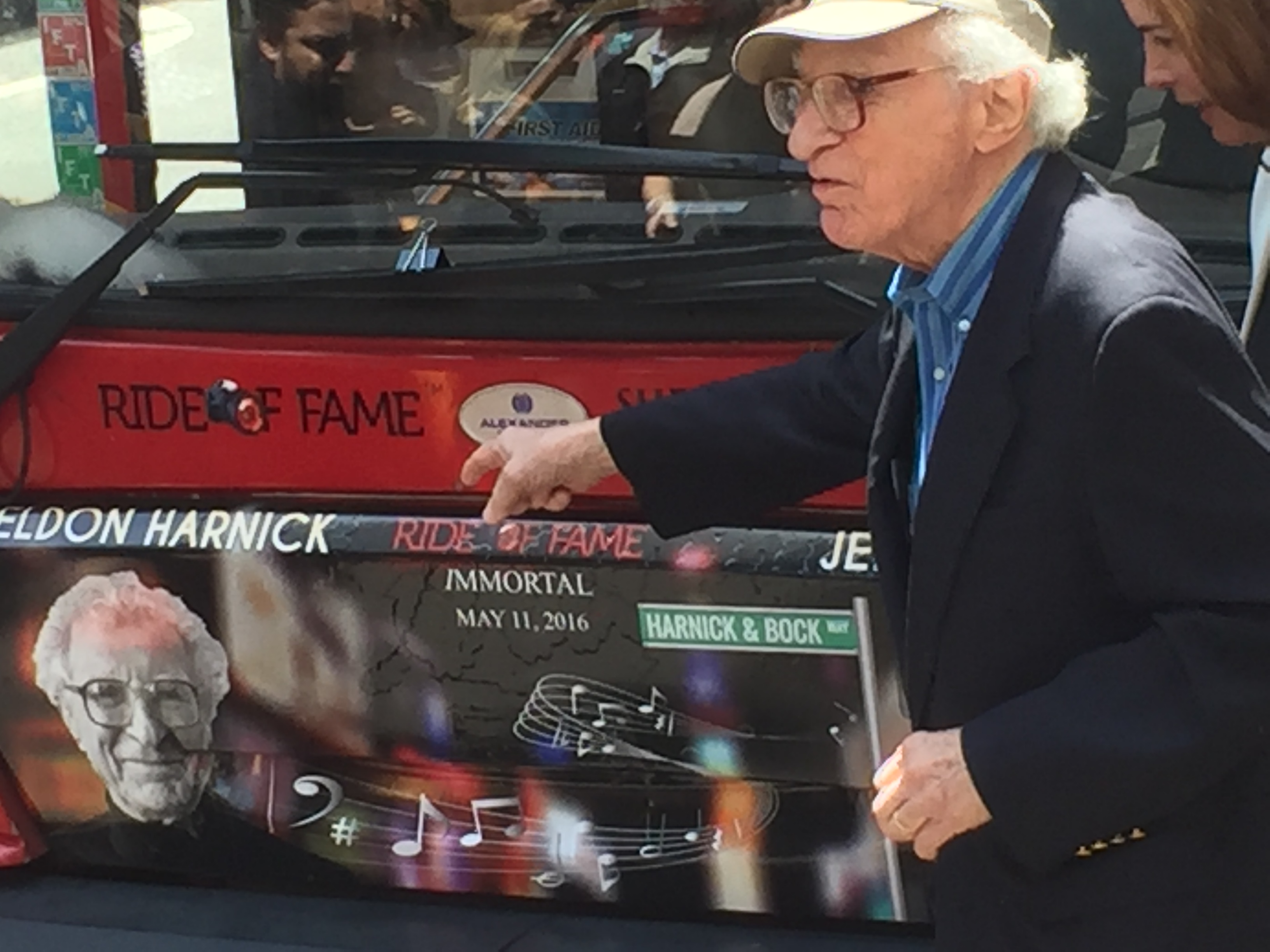 Sheldon Harnick at the unveiling of "Harnick and Bock Way"
To be sure, Harnick did mention these two shows when accepting the honor, because they are running and charity begins at home. But he also could have sung his own praises for providing the lyrics for Fiorello! That 1959 hit also holds the distinction of being half of a tie in The Best Musical Tony race, a distinction it shares with The Sound of Music. Think of it this way: if only one voter had checked Fiorello! on his ballot instead of any of the other four nominees that year, Harnick and composer Jerry Bock wouldn't  have had to wait five more years before winning outright a Best Musical Tony (for Fiddler, of course).
But the Pulitzer Prize committee that year didn't need to announce a tie: Fiorello! polled higher than every one of the dozens of contenders, and became only the third musical selected in the prize's 42-year history. It holds another distinction: Encores! has staged 69 shows in its 23-season history, but Fiorello! is the only one it's done twice -- as its first-ever production in 1994 and then again in 2013.
Encores! has been good to Harnick and Bock, for it mounted a 40th anniversary production of their 1960 show Tenderloin in 2000 and grew The Apple Tree in 2005 and saw it wend its way to Broadway the following year. Both scores are sensational, although I will admit that I've found myself in the minority in preferring the Encores! recording of Tenderloin to the original cast album. The sound is better, the performances are more robust and, in the CD era, more material could be included, including a terrific entr'acte and a reprise of "Picture of Happiness," one of the team's most delightful songs. The one saving grace of the original cast album is that you'll hear the then-future Mrs. Harnick – one Margery Grey – sing "Picture of Happiness" in a voice that is unique; she matches a little girl's sound with adult confidence.
Tenderloin has endured criticism for dealing with an upright and uptight minister who wants to close down establishments that employ those in The Oldest Profession, for whom Harnick and Bock wrote more fun-filled songs. Still, religious groups that present musicals might find Tenderloin an admirable change of pace from an annual Passion Play.
The Apple Tree might have been more successful had it been produced before Fiddler, for following a mega-hit isn't easy. It's three one-act musicals – one involving Adam, Eve and a Snake; another musicalizing "The Lady and the Tiger," which may arguably be the first-ever "Choose Your Own Adventure" story; and "Passionella," which Harnick and Bock musicalized on the advice of their director, Mike Nichols. It's a Cinderella spoof of a chimney-sweep who yearns to be a movie-star and gets her wish – at least for a while.
What makes The Apple Tree easier to produce than many musicals is that a director can cast three different trios of performers in each act; that way, everyone gets a fat part and there's less to rehearse and memorize. And if your Adam isn't available to rehearse this Sunday, then ask one of your two other casts to come in; when they can't, bring on The Garden of Eden set.
By the way, what was that first failure that Harnick mentioned at the ceremony? The Body Beautiful, which opened on Jan. 23, 1958 and found that The Ides of March were indeed all they were feared to be, for that March 15 meant a closing after a mere 60 performances. It was an original musical (those are the toughest!) about a pugilist who becomes too big for his boxing trunks – emotionally, not literally; he wasn't an overweight heavyweight, but his ego grew to the size of Madison Square Garden.
After Harnick attended the final performance of The Body Beautiful and stepped onto the sidewalk, he could have never dreamed that he was standing on the future Harnick and Bock Way -- for indeed The Body Beautiful played The Broadway Theatre, Fiddler's current home.
Fiddler was in fact one reason why this specific "Way" was chosen; its stage door lets out to the south, even-numbered side of West 53rd, while She Loves Me's stage door is on the right, odd-numbered side. The Broadway Theatre is also the locale where the original Fiddler set its long-run record and where Fiorello! played the last months of its two-year run.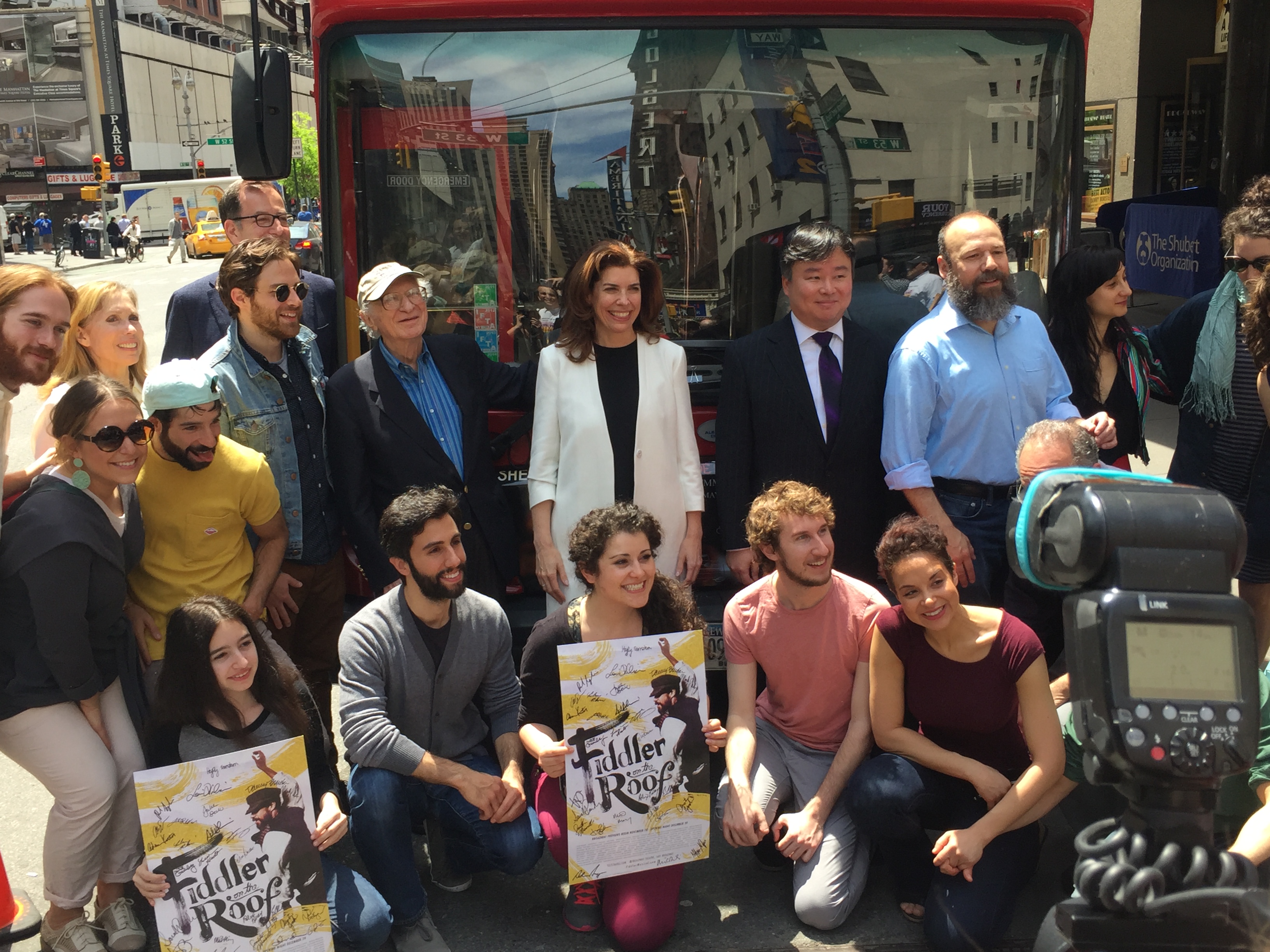 Sheldon Harnick with the cast of Fiddler on the Roof at the unveiling of "Harnick and Bock Way"
Harnick once told me that he was rankled when The Body Beautiful didn't get an original cast album, and felt even worse when he'd visit record stores and see copies of Whoop-Up. That was another 1958 musical, one that ran four performances fewer than The Body Beautiful, and yet, there it was in all its original cast glory.
But in 2008, The York Theatre Company revived The Body Beautiful and a cast album did result. Sure, it took a half-century, but at least it was in print long after copies of Whoop-Up had been melted down to make new records that undoubtedly offered superior music and lyrics.
This season, the York also did Harnick and Bock's 1970 musical The Rothschilds, reworked and retitled Rothschild & Sons. This is the story of a Jewish family oppressed by Gentiles in power in Austria – but through hard work, a never-say-die attitude and great vision, it wound up helping their people live better lives. It's a magnificent musical that should be considered by every JCC in the land.
Want more proof that Harnick and Bock were great writers? Out of their seven musicals, only The Body Beautiful didn't score a Tony nomination for any of its performers, and of the remaining six, only Tenderloin didn't yield a Tony-winning performance.
As Elaine Stritch used to love to drawl, "If it ain't on the page, it ain't gonna be on the stage." Harnick put the words on the pages, Bock wrote the notes on the music staves, and the results made Tony-winners of Tom Bosley as Fiorello!, Jack Cassidy as the lecherous Kodaly in She Loves Me, Zero Mostel and Maria Karnilova as Tevye and Golde in Fiddler, Barbara Harris for three roles in The Apple Tree, Keene Curtis for four roles in The Rothschilds, which also struck Tony gold for Hal Linden (in his first big break of his career) as the Rothschild paterfamilias.
Longtime musical theater fans may have been unnerved during this entire article by seeing the team referred to as "Harnick and Bock." Hasn't it always been "Bock and Harnick?"
In fact, it has, but after the ceremony Harnick told me that he and Bock had never discussed which of them should come first. The alphabet, he said, had nothing to do with it. It doesn't always, after all; we never heard two of musical theater's most illustrious teams referred to as Hart and Rodgers or Hammerstein and Rodgers.
Yes, in the vast majority of cases when a show lists its credits, the composer comes before the lyricist. But Harnick says that journalists called them Bock and Harnick from the beginning, and that's the moniker that stuck.
Now, though, it's "Harnick and Bock Way." Says Margery Grey Harnick, "I suspect it's because Sheldon is still alive" -- and kicking and writing, still at 92; Bock died in 2010. Perhaps, but I'd like to think that this year -- the 60th anniversary of their starting their collaboration -- that the feeling is that Bock had had six decades in first place, and now it's Harnick's turn to get his six decades in the top spot.
Maybe the plan is that in 2076, we'll switch back to "Bock and Harnick" and in 2136 return to "Harnick and Bock." This is indeed relevant, for we know that the shows of this glorious team will still be presented in those years to come.
You may e-mail Peter at pfilichia@aol.com. Check out his weekly column each Monday at www.broadwayselect.com, Tuesday at www.masterworksbroadway.com and Friday at www.kritzerland.com. His book The Great Parade: Broadway's Astonishing, Never-To-Be Forgotten 1963-1964 Season is now available at www.amazon.com.