Filichia Features: The Junior Theater Festival from A to Z
Filichia Features: The Junior Theater Festival from A to Z
So as Jersey Boys was closing on Sunday after 4,642 performances, the number 5,830 was instead on my mind.
That's the number of kids and adults who attended the 15th annual Junior Theater Festival in Atlanta last weekend.
Here 111 groups did 15-minute excerpts from the JR. series – i.e., hour-long adaptations – of musicals. One troupe from Australia and another from New Zealand could have waited until next month to attend the first-ever Junior Theater Festival West in much-closer Sacramento, but they wanted to be where it all started in 2003.
Once again, JTF, as it's chummily known, covered all the bases from A-to-Z:
A is for Ahrens-and-Flaherty, the Tony-winning team who enjoyed JR. productions of their Seussical and Once on This Island. Lynn Ahrens was especially moved by a performance of the latter, where Young TiMoune was really young: a one-year-old child of the director.
B is for Between the Lines, a musical that's being adapted from the best-seller by Jodi Picoult. The author beamed at the Kate Anderson-Elyssa Samsel songs that suggested a hit may result.
C is for CCM Preparatory Department, Dee Anne Bryll's company that trains kids who already know that they'd like to attend the prestigious Cincinnati Conservatory of Music. Their Singin' in the Rain JR. suggested they'll get there.
D is for Disney, whose contributions to the festival are in many ways incalculable, but definitely computable in one way: of the 111 productions, 31 sported the Disney brand.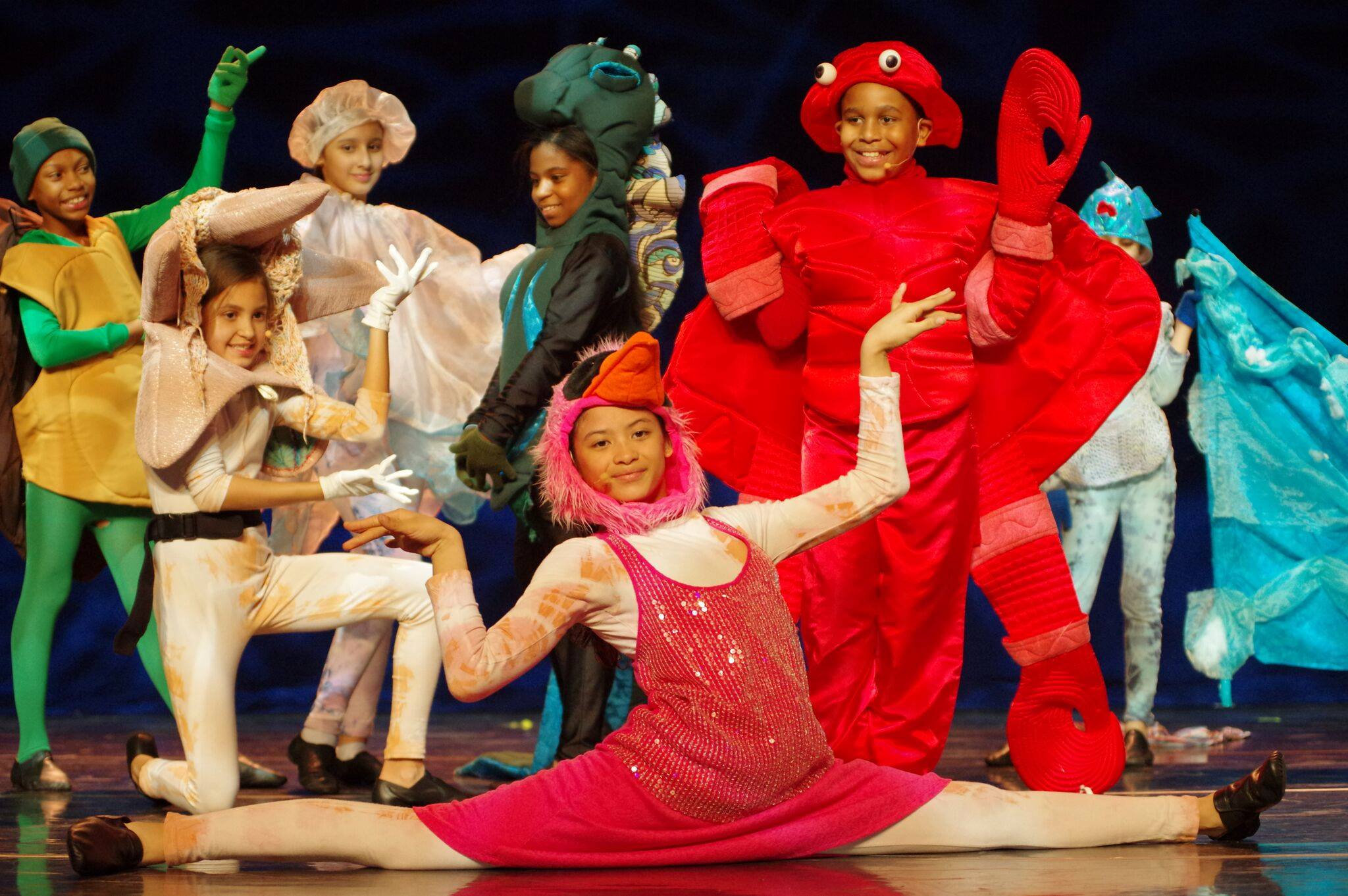 Disney's The Little Mermaid JR. (Photo © Junior Theater Festival Facebook).
E is for Eastern Shores Repertory Theatre, which not only brought its Fairhope, Alabama teen students to do Singin' in the Rain JR. but also its younger kids to do Bugsy Malone JR. The commonality? Each had terrific leads in slick productions.
F is for Freddie G, the CEO and Chairman of Music Theatre International and the namesake of the many awards bestowed to both kids and adults who participate. The G, by the way, is for Gershon, his surname. Would that the world could value teachers as Gershon does; he gave four scholarships to educators who'll spend a week in July in Manhattan, attend workshops and see Broadway shows, all to better their own future productions.
H is for Hilton Head School for the Creative Arts, whose teacher Angelo Cerniglia received the festival's Spirit Award. That was fitting, for even after Hurricane Matthew had decimated his school, Cerniglia was determined to reach Atlanta. That he did The Lion King JR. was apt, for it deals with succeeding courageously over seemingly impossible odds.
I is for iTheatrics, which, yes, turns full-length musicals into JR. versions, but also -- thanks to Timothy Allen McDonald, Marty Johnson, Cindy Ripley, Steven G. Kennedy among others -- makes this festival happen.
J is for James and the Giant Peach JR., which had 12 JR. productions, tying with Seussical JR.  for the most JRs. Perhaps Junie B. Jones JR. and Disney's The Jungle Book KIDS, introduced on Saturday night at the New Works Showcase and now available, will match that number in 2018.
K is for KIDS, the official label for 30-minute musicals for young 'uns who'll someday graduate to the hour-long JR. adaptations. Here the KIDS version done the most was The Lion King, which takes our L-spot with three productions (not to mention nine JRs, too).
M is for Mary Pope Osborne who attended and signed her many Magic Tree House Books. They've become three KIDS musicals (Dinosaurs Before Dark KIDS, The Knight at Dawn KIDS and Pirates Past Noon KIDS) and one JR. (A Ghost Tale for Mr. Dickens JR.).
N is for Newsies, whose filmed version of the Broadway musical had its world premiere here. Even original stage director Jeff Calhoun and choreographer Christopher Gattelli were anxious to see it – for they hadn't yet.
O is for "Ogre Achievers," the witty slogan that Magic Curtain Productions of Orlando -- doing Shrek JR. -- had emblazoned on their T-shirts.
P is for Playbill, a festival sponsor that awarded $1,000 to Musical Mayhem Productions of Elk Grove, California.
Q is for Queens Grant Middle School from Mint Hill, NC, who did Dear Edwina JR. to the delight of its authors. (More on them later.)
R is for Robinson, as in Australian songwriter Matthew Lee, who wrote "Chookas" specifically for the festival. No, Chookas aren't second-cousins to Wookies; it's what theater people Down Under say instead of "Break a leg!"
S is for "Supercalifragilisticexpialidocious," the tongue-twisting and hand-twisting production number from Mary Poppins – and now Mary Poppins JR., which Play On Players from Gainesville, Georgia introduced at the New Works Showcase.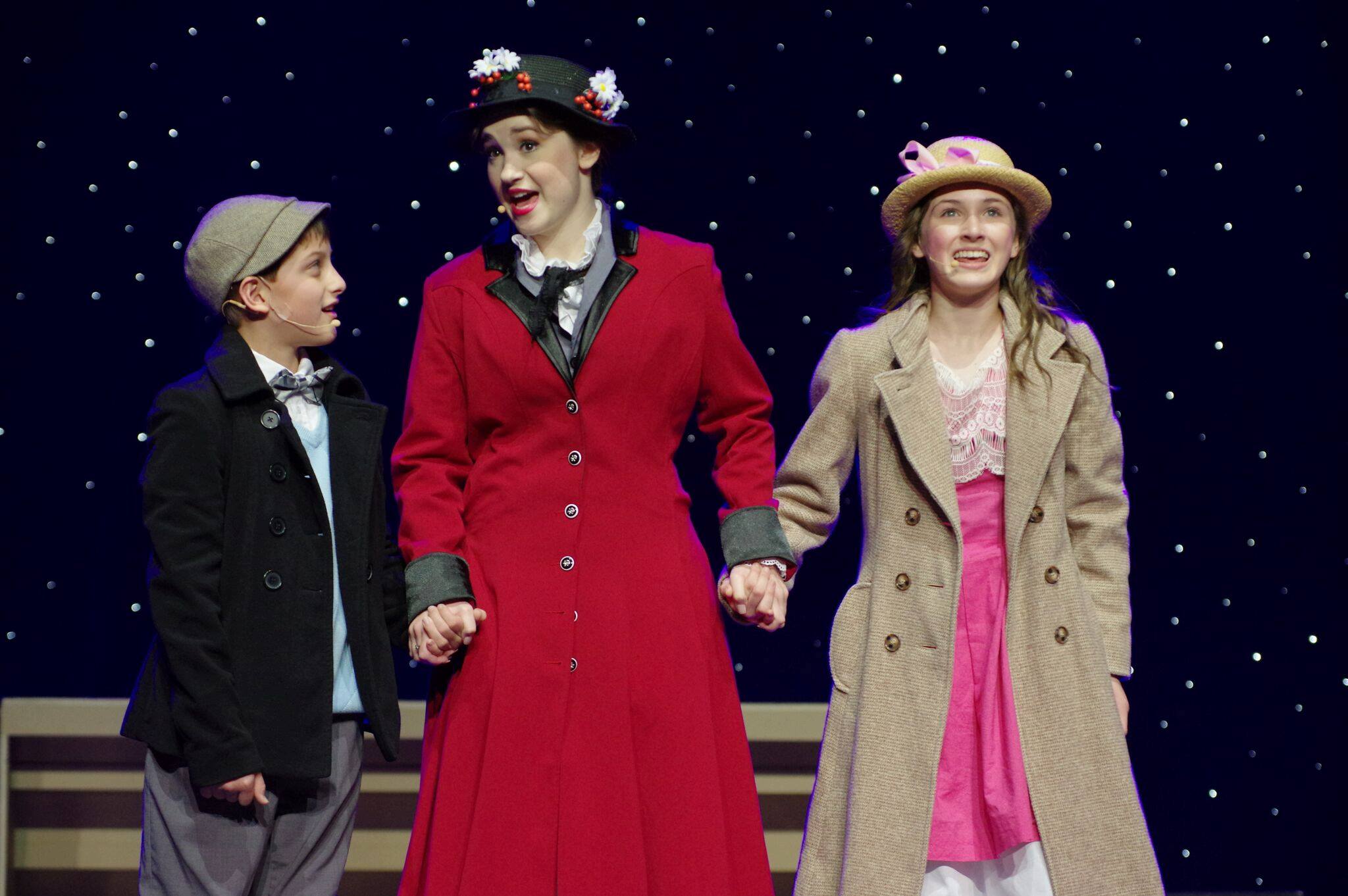 Disney and Cameron Mackintosh's Mary Poppins JR. (Photo © Junior Theater Festival Facebook).
T is for Treehouse Theater of Manitowoc, Wisconsin. Although most groups perform shows they've already done or specifically mount ones just for the festival, this troupe's Disney's Beauty and the Beast JR. was essentially an out-of-town tryout for their production that'll run April 27-30. (If you're in the neighborhood, do drop in.)
U is for Uptown Musical Theatre of New Orleans whose seventeen kids in Legally Blonde JR. got its audience to swoon, "Oh, my God, you guys!"
V is for Vienna, Virginia; Vero Beach, Florida and Versailles, Kentucky, from where Harmonia School of Music and Art (Hairspray JR.), Riverside Children's Theatre (Aladdin JR.) and Woodford Theatre Young Artists (Elf JR.) respectively hail – and were hailed.
W is for Willy Wonka JR. which Mill Springs Academy from Alpharetta, Georgia performed, whetting our appetites for Broadway's upcoming Charlie and the Chocolate Factory.
X is for Xanadu JR., Louisiana Broadway Magic's offering which just kept rolling along.
Y is for Young Actors Playhouse of Canton, Georgia. In doing Disney's The Little Mermaid JR., they kept their heads well above water.
Z is for Zina Goldrich who, with her writing partner Marcy Heisler, savored seeing their Dear Edwina JR. and Junie B. Jones JR. They prompted Goldrich to (most accurately) proclaim "Junior Theater Festival is a love-bomb!"
Indeed! But even an A-to-Z synopsis doesn't do the festival enough justice. Return next Friday to discover more. 
You may e-mail Peter at pfilichia@aol.com. Check out his weekly column each Monday at www.broadwayselect.com and Tuesday at www.masterworksbroadway.com. His book, The Great Parade: Broadway's Astonishing, Never-To-Be Forgotten 1963-1964 Season is now available at www.amazon.com.