Filichia Features: The Juniors Go Big Time
Filichia Features: The Juniors Go Big Time
Count 'em: five thousand, seven-hundred and eighty-one.
Too daunting a task to count 5,781 of anything except paper currency? I understand.
So in the case of The Junior Theater Festival held each January, let's just take the administrators' word for it: 5,781 tween and teen students from 119 school and after-school groups in 30 states and five other countries have come to Atlanta to show what they can do on stage. Along the way, they'll meet fellow musical theater enthusiasts and forge relationships that could last for decades to come.
All 520 rooms in the Renaissance Waverly Atlanta went fast, leaving thousands to scramble to find accommodations as close as possible, for connected to the hotel is The Cobb Galleria Centre where most of the weekend's activities will take place. (The hotel will do its part, too, in providing breakout and function rooms where kids will perform or teachers will run workshops.)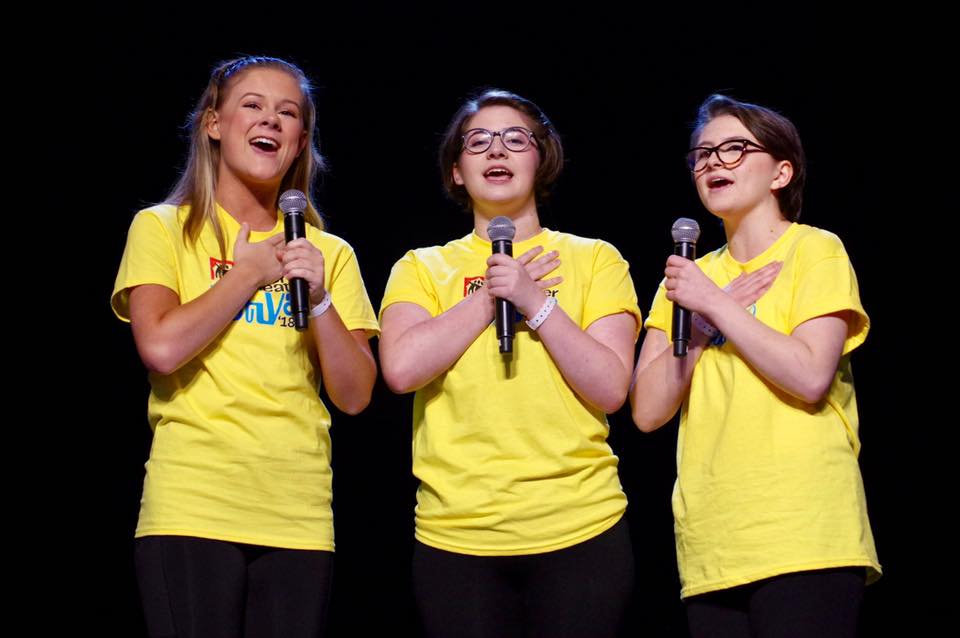 Spotlight Theatre Productions (Sarasota, FL) students Samantha Crawford, Emma Diner & Sarah Johnson snag the national anthem for just about 6,000 attendees at the Kick-Off opening ceremonies.  Photo: Marcus Woollen.
The glass elevators allow a view of the ground floor, which is a riot of colors. From the smallest kid to the biggest chaperone, virtually all wear T-shirts often color-coordinated with the "pods," as the function rooms have been renamed, to which they've been assigned.
Some shirts trumpet the name of the group on one side and the title of their musical on the other. Others have cute quotations. You've undoubtedly seen many items that start with "Keep Calm and"; here groups doing Legally Blonde have "Bend and Snap" on them, too.
The shirts from The Creative Theater Workshop in Ft. Meyers are emblazoned with the names of such sponsors as Banner Pool Services in thanks for providing the resources or money to get them here. The backs of First Redeemers' shirts have a quotation from 1 Timothy 4:12. "Don't let anyone look down on you because you are young, but set an example for the believers in speech, in conduct, in love, in faith and in purity." That's good advice even for those who aren't inclined to read Timothy.
The elevators are always crowded, and more than once I entered to find kids unabashedly singing Seussical's "Alone in the Universe" (giving a new meaning to elevator music). However, the song hardly applies to this weekend. More apt would be "No One Is Alone" from Into the Woods, for everyone here has so much in common it's a phenomenon.
True, the festival is a competition of sorts. Two adjudicators will be assigned to each of the 16 rooms where the kids will perform, and awards will be dispensed on Sunday afternoon. But this is Friday night, and with 15 rooms' worth of kids not in direct competition, everyone can feel that the member of a rival cast he's talking to now won't beat him out for any of the numerous prizes.
So there's camaraderie galore in the 144,000 square foot hall with more rows of seats than many of the teachers, not to mention the students, have ever seen. With all those seats, some attendees obviously won't have an ideal view of the stage, so one Jumbo Tron-sized TV is placed on each side of the stage.
Enormous speakers pour out show tunes. Junior actors who've never been anywhere near Maryland nevertheless know "Good Morning, Baltimore" and are singing along. Yes, a good time is being had by all - even the occasional teacher, parent or chaperone who is anxiously scanning seats to make certain every child is present and accounted for.
Competition was obviously keener when the festival began in 2003, for only 18 groups and 850 people attended. Your stock portfolio should only grow as fast.
These contrasting figures are revealed during the opening welcome delivered by Timothy Allen McDonald, the executive director of iTheatrics. It's a company devoted to putting musical theater into schools; as McDonald states here, "Everyone should have arts education."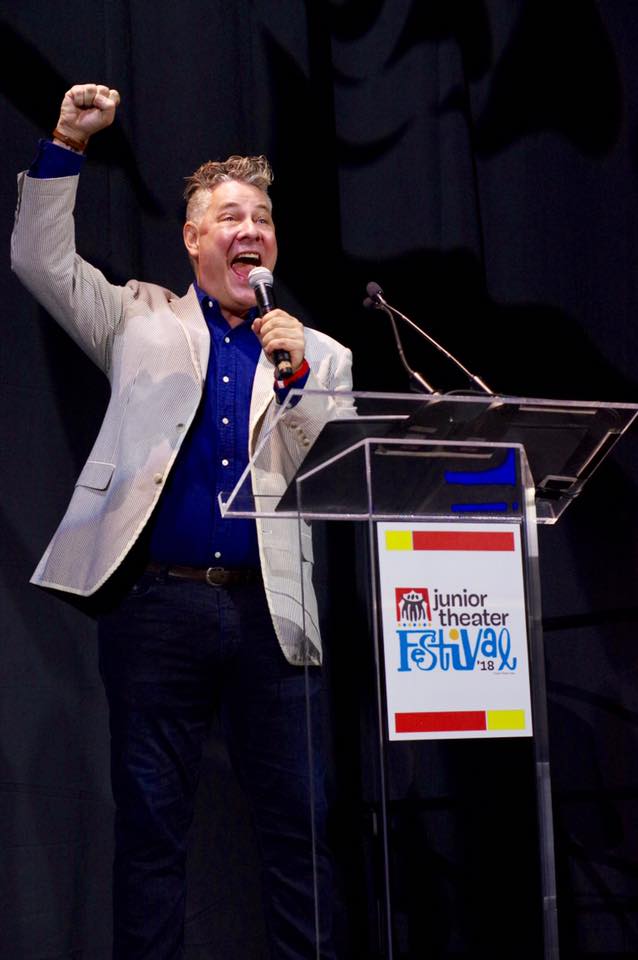 Tim McDonald welcomes attendees to the festival. Photo: Marcus Woollen.
(iTheatrics is one of the four main festival sponsors; Disney Musicals, Playbill and our own Music Theatre International are the other three. Many backs of T-shirts thank all of them.)
When facing the thousands, McDonald asks that everyone repeat after him: "With my heart open, I am an artist. When I share my talent with others, I make the world a better place -- so help me Sondheim."
Do kids know whom he's referencing? Sondheim is hardly of their generation; he'll soon mark as many years as a piano has keys. Still, many children know his name from Into the Woods.
Or should we say Into the Woods, Jr.? They're much more likely to have performed the hour-long adaptation. Here, however, even the seven organizations that have brought that Sondheim-Lapine show have abridged it to 15 minutes, as have all the other troupes with the musicals they're producing.
Some groups are using Atlanta as a type of pre-Broadway tryout, for these 15 minutes will be part of the shows they'll produce later in the year; some of them have taken the best elements of the shows they've already done in the fall, so Atlanta becomes almost a first stop of a national tour.
What's really gratifying is seeing how student actors are so polite with adults. So many were so excited while walking, taking in everything to the left or right that a number of times one bumped into me. Whenever it happened, without fail I received a sincere "I'm sorry" or "Excuse me." Santa in Elf, Jr. mentions people who are on his "naughty list"; I doubt that any kid here would even be on the waiting list for the naughty list.
Click in next Friday and read all about it.
You may e-mail Peter at pfilichia@aol.com. Check out his weekly column each Monday at www.broadwayselect.com and Tuesday at www.masterworksbroadway.com . His book, The Great Parade: Broadway's Astonishing, Never-To-Be Forgotten 1963-1964 Season is now available at www.amazon.com.