Filichia Features: The Latest Broadway Junior Finale
Filichia Features: The Latest Broadway Junior Finale
On the morning of May 14th, there was more pride than usual at the theater where Ain't Too Proud plays.
Who can blame schoolchildren for busting a few buttons? They were about to appear on a Broadway stage thanks to the 14th Annual Shubert Foundation / Music Theatre International Broadway Junior Finale. Students from New York City junior highs and middle schools came to the Imperial Theatre.
"How many 12, 13, 14 year-old kids can say they've made their Broadway debuts?" asked Michael I. Sovern, president of the Shubert Foundation.
Actually, more than you might think: 11,000-plus have done just that since the program started in 2006.
Thirteen schools did a production number. All stressed two important words in the musical theater lexicon: diversity and inclusivity.
Hundreds of young spectators were thrilled to be greeted by Ain't Too Proud stars James Harkness and Jawan M. Jackson, who play two of The Temptations.
"Here's where hard work and dedication pay off," said Harkness.
"If you're nervous," said Jackson, "that only means how much you care."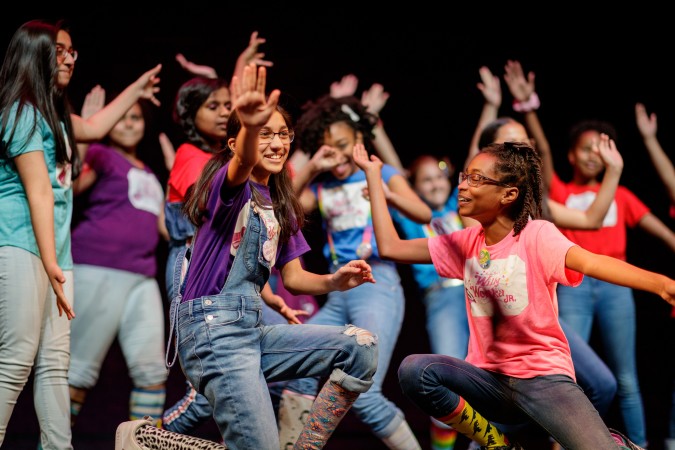 Photo © Danny Dupuy
Frankly, the kids didn't seem nervous at all. The PS 214 The Lorraine Hansberry Academy students who performed "It's Showtime" from Madagascar - A Musical Adventure, JR. were playing timid lions and tigers and bears who yearned to go "back where we belong," but unlike their characters, they were very much at home on Broadway.
So was the lass playing Tracy Turnblad in Shirley Tanyhill School's "Good Morning, Baltimore" (Hairspray JR.) when she reached the lyric "I know there's a place where I belong." Yes -- right here.
Ditto the PS 111Q Jacob Blackwell School girl who sang "Oh, gods, oh gods, let me fly" in "Waiting for Life to Begin" ( Once on This Island JR.). She's already had her prayer answered at least vocally.
The lead lad from P53K of "The Candy Man" ( Roald Dahl's Willy Wonka JR.) smartly knew to start singing softly, then build and save his best notes for his Big Finish. He got some of the morning's biggest cheers.
Harkness said that when he started out he "didn't even know what choreography was." These students certainly did. Hamilton Grange Middle School's Remix from Legally Blonde: The Musical JR. even included the show's Irish Step Dance. The performers from M.S. 226 Virgil I. Grissom J.H.S. made "You Can't Stop the Beat" ( Hairspray JR.) a great eleven o'clock number even at 12 noon.
By doing "Gaston" (Disney's Beauty and the Beast JR.), the pupils from Albert Einstein Campus learned how to waltz, a skill they'll find handy at future proms, weddings and anniversary parties. Performers from Lafayette Academy offered dynamic dancing that enhanced "He Lives in You" from Disney's The Lion King JR. - the musical that was the choice of two other schools, too.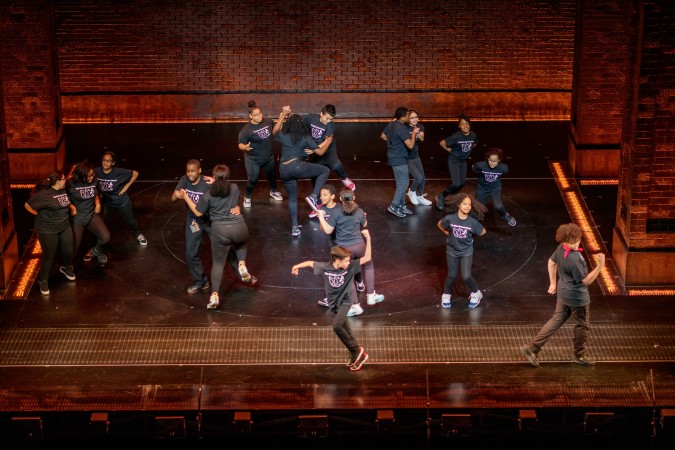 Photo © Danny Dupuy
Ebbets Field Middle School 352 proved that "Circle of Life" doesn't need costumes to succeed. T-shirts will do if you have talent - and these kids did. Later, School for Global Leaders performed "Shadowland." Ethel Merman, who did Annie Get Your Gun, Call Me Madam and Gypsy at this very theater, would have been proud of the girl who, like her, easily reached the balcony's back row with her powerful voice.
Two schools offered selections from Disney's Aladdin JR. P188X's "A Whole New World" used glitter-covered stars to complement the kids who starred. Soon after P79M Dr. Horan School started "Prince Ali" audience members were clapping in rhythm. They switched to feverish applauding when the dancers started their kickline.
Disney was also represented by The Little Mermaid JR. PS/MS 207Q The Rockwood Park School brought in the biggest cast for "Under the Sea." Were they making an effort to represent as many underwater species as possible … or does Rockwood Park simply have so many kids who just love to sing and dance? (We'll happily assume it's the latter.)
"Next-to-closing" was always the coveted spot in vaudeville, and The George J. Ryan Middle School 216's "Oompa-Loompa" ( Roald Dahl's Willy Wonka JR.) made the most of it. What's more, these kids knew how to give a most stylish curtain call.
Graduates from the program returned. One group had at least one rabid Lynn Ahrens-Stephen Flaherty fan; although she was singing "Why We Tell the Story" from Once on This Island JR., she was wearing a Seussical T-shirt. Another ensemble convinced us that they'd made a commitment to their "Freak Flag" (Shrek The Musical JR. ) and would be themselves and nobody else from now on.
Let's hope that these Junior kids stay that way even when they're senior citizens.
You may e-mail Peter at pfilichia@aol.com. Check out his weekly column each Monday at www.broadwayselect.com and Tuesday at www.masterworksbroadway.com . He can be heard most weeks of the year on www.broadwayradio.com .