Filichia Features: The Magic in Disney's My Son Pinocchio
Filichia Features: The Magic in Disney's My Son Pinocchio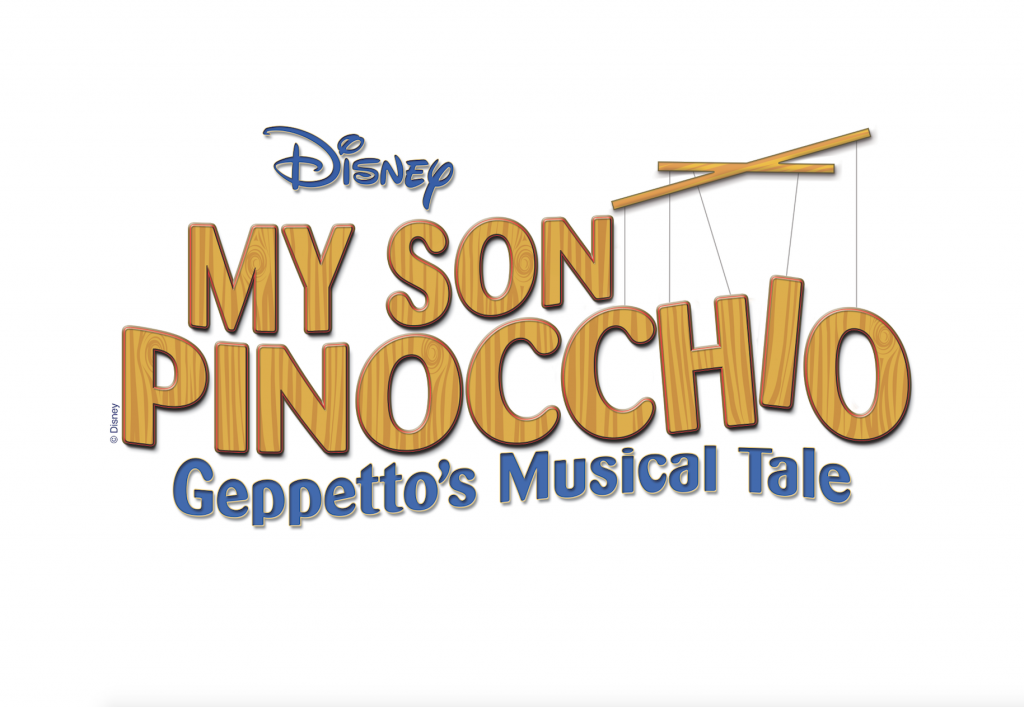 So did my column last Friday convince you that you should do Disney's My Son Pinocchio?

If you read what I wrote, you saw that I certainly admire this tender and moving story from David I. Stern - and that I also took great pleasure from the tuneful and intelligent score by Stephen (WICKED) Schwartz. Seeing how well Wayne Bryan directed My Son Pinocchio and Amy Baker Schwiethale choreographed it at Music Theatre Wichita sealed the deal for me.

So have you been persuaded?

Well, yes and no, you're saying. You admit that the show sounds terrific. Just as WICKED fascinates because we see The Wizard of Oz from another point-of-view, My Son Pinocchio seems compelling too because it gives us Geppetto's take on raising a puppet-boy. (Parenting, as so many of us have discovered along the way, is no walk in the park.)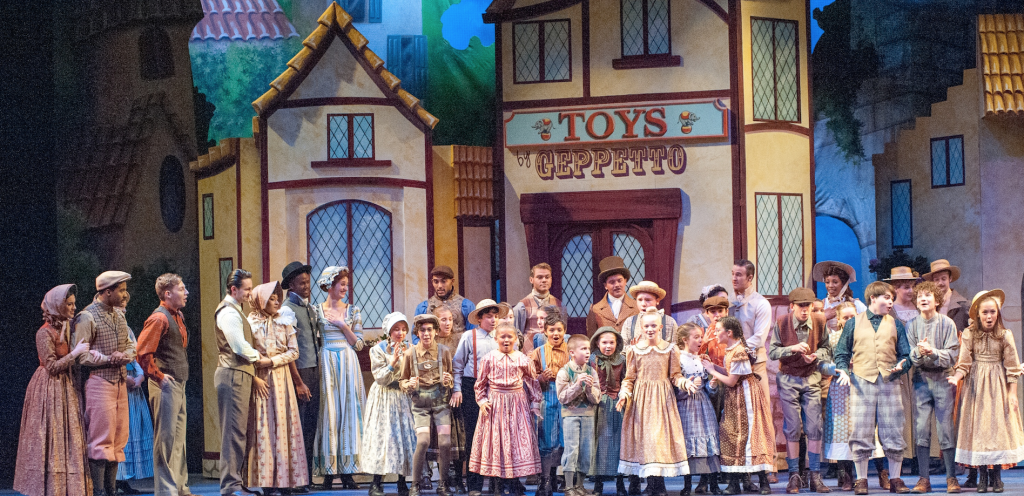 The Cast of
Disney's My Son Pinocchio:
Gepetto's Musical Tale at Music Theatre Wichita  (Photo © Jerry Fritchman)

But if you and I were speaking now, I suspect I'd hear a little fear in your voice: "Isn't it a technically difficult musical?"

Well, I see your point. Even Stephen Schwartz admits in one of The Blue Fairy's songs, "Just because it's magic doesn't mean it's easy." But Bryan, who's also MTW's producing artistic director, will explain how his theater indeed created some magic.

As he says, "We decided that, unlike our more technically sophisticated productions of Disney's Beauty and the Beast, Mary Poppins and The Little Mermaid, we would keep this production intentionally low-tech, letting the story, lyrics, music and characterizations provide the bulk of the magic."

(So you can, too!)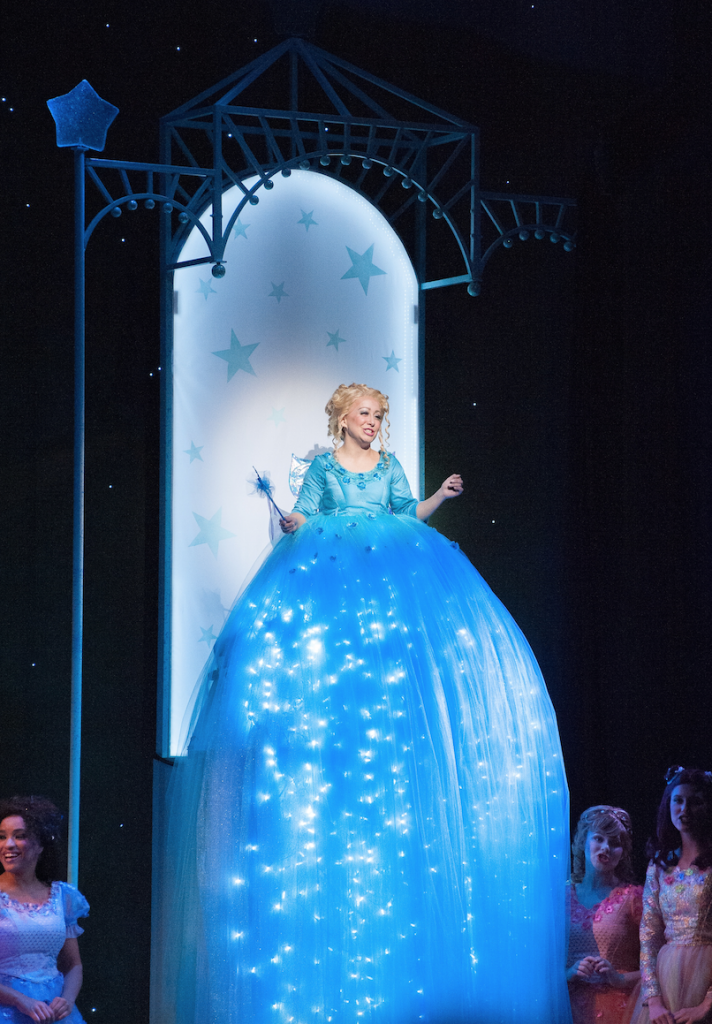 The Blue Fairy (Emily Vargo) towering above the Fairies in Training in Music Theatre Wichita's Production of Disney's My Son Pinocchio: Gepetto's Musical Tale. (Photo © Jerry Fritchman).

"Instead of flying in The Blue Fairy with wires and pulleys," he says, "we created a tall rolling tower as her domain with two firemen's poles framing the central platform. When The Blue Fairy was revealed in her perch wheeled on by her four Fairies-in-Training, she seemed to be mountainously tall -- like a Christmas tree ornament placed atop a sparkling blue gown that reached all the way to the floor. Later, when she slipped from behind the giant dress and slid down a pole to floor level, we could enjoy how very petite the actress was. And at the end of the show when Pinocchio was transformed into a real boy, he accomplished that in the folds of her giant gown."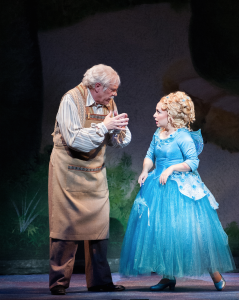 The same Blue Fairy (Emily Vargo) opposite Gepetto (Nicholas F. Saverine in
Disney's My Son Pinocchio: Gepetto's Musical Tale
at Music Theatre Wichita (Photo © Jerry Fritchman).

Readers, I can see you moving your head up and down and quickly as you possibly can - not because you agree, but because you understand that point and now want to move on and mention the next roadblock you see: "Okay, getting Pinocchio to look like a real boy is easy, because a real boy will be playing him. But how can you get Pinocchio to look wooden during the early part of the show?"

Bryan has an answer for that one, too: "Our costume designer Tiia E. Torchia studied different methods of turning our nine-year-old actor Topher Cundith into the wooden puppet. For his skin, she found a wood-grained spandex fabric, out of which a body suit was made, which he wore underneath a short-sleeved shirt, vest, shorts, brown shoes and white gloves. Stripes were added around the elbows and knees, to suggest wooden joints. The actor was directed and choreographed to convey a lack of flexibility in his arms, legs, wrists and joints."

And his face? "Tiia made a molded mask-like headpiece," says Bryan. "It covered the entire top and back of head, had wooden-looking hair and continued down the front of the face, covering just the forehead and nose area. One mask, used for most of the show, had a lighter weight nose, shaped to look like carved wood. And --"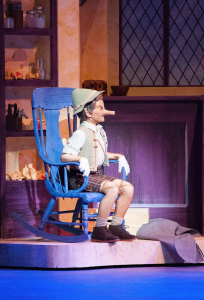 Topher Cundith as Pinocchio in Music Theatre Wichita's Production of Disney's My Son Pinocchio: Gepetto's Musical Tale.

I can see you interrupting Bryan, saying, "This brings up another problem! Pinocchio's nose has to grow! What do we do about that?!"

Bryan and Torchia had that covered, too. "We had a mask that has a telescoping nose mechanism built into it," says Bryan. "It was activated by a squeeze bulb hidden in Pinocchio's pocket. It was connected to a tube which pushed air into the nose apparatus forcing it out to a longer length."

He admits that Torchia had to do double and triple duty. "Tiia made three molded mask-like headpieces," says Bryan. "Two were for Topher and one was for Brookelyn Lindley, another actor very much the same size and height that played Pinocchio's double in the final sequence when he became a real boy."

You're saying, "Explain, Wayne."

He will. "After Geppetto and Pinocchio returned to the toy shop for the final scene -- as the set rotated to show the interior of the shop -- Topher traded places with Brookelyn so that he could began his quick-change offstage. Brookelyn wore Mask Number Three and was dressed identically to Topher; even up close it was hard to tell which actor was onstage."

There was a little more to it than that. As Bryan says, "As Brookelyn acted the role onstage, the audience heard Topher's pre-recorded voice whenever Pinocchio spoke. The sound department did an excellent job of playing Pinocchio's lines at just the right time and Brookelyn did an equally excellent job of moving and looking just like Topher. So when The Blue Fairy decreed that Pinocchio should be a real boy, the Fairies-in-Training swirled in a circle around Brookelyn, who disappeared upstage of The Blue Fairy's tower, and Topher - now a real boy - emerged from the front of The Blue Fairy's voluminous gown. Dimming the stage lights and flashing the twinkle lights in The Blue Fairy's skirt helped make the moment seem quite magical."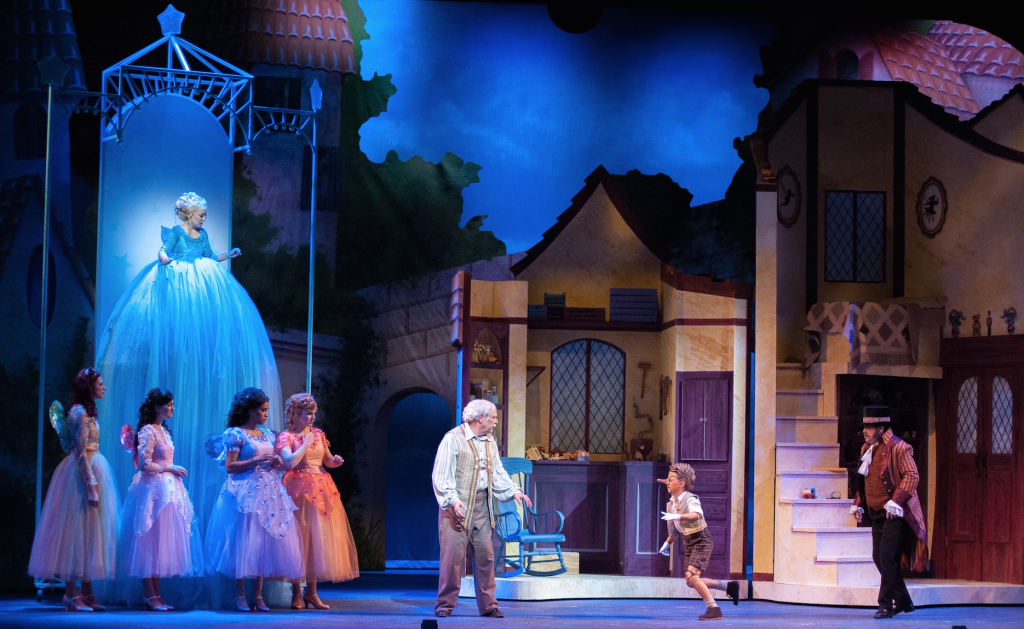 The cast of
Disney's My Son Pionocchio: Gepetto's Musical Tale
. Before Pinocchio's (Double: Brookelyn Lindley) transformation into a real boy. (Photo © Jerry Fritchman).

Now you're waving your hands back and forth in an effort to get Bryan's attention for yet another question: "How did you get Pinocchio and Geppetto into a whale?"

Bryan's all set there, too. "After exploring different ideas with shadow-play or puppetry," he says, "we turned to a wonderfully creative digital video designer named Timothy Babb who created a 90-second video sequence for us. It depicted silhouettes of Pinocchio on the deck of the ship, being encouraged by a silhouette of Geppetto to jump off the ship into the water. Eventually 'Pinocchio' did and 'Geppetto' jumped in to swim to him. At that point, with some 'magic swirls' to depict the fairies' intervention, the whale arrived and swallowed both of them. The video was accompanied by water sound effects, along with pre-recorded voices of Geppetto and Pinocchio."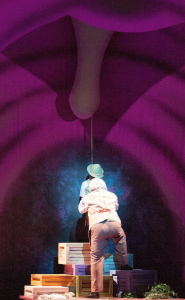 Pinocchio and Gepetto attempting to escape the inside of the whale in Music Theatre Wichita's Production of
Disney's My Son Pinocchio: Gepetto's Musical Tale
. (Photo © Jerry Fritchman).

Your arms are crossed by now as you rebut "Fine, so that's how you got them into the whale - now how did you get them out?" That's where Pinocchio's expandable nose again came into play. Pinocchio had Geppetto ask him questions to which he purposely answered with lies. (Geppetto: "How old are you?" Pinocchio: "Forty-seven.") His nose then grew long enough that he could tickle the whale's long-hanging uvula, forcing him to sneeze them to freedom.

Adds Bryan, "Pinocchio stood against and held onto the upstage mast as an unseen stagehand pushed a dowel rod up through the broken mast, to finally reach and tickle the uvula which rocked back and forth thanks to guide wires."

If this sounds too daunting, Bryan's MTWrentals.org can help with the video as well as the sets and costumes. So you don't have to wish upon a star to do Disney's My Son Pinocchio.

You may e-mail Peter at pfilichia@aol.com. Check out his weekly column each Monday at www.broadwayselect.com, Tuesday at www.masterworksbroadway.com and Friday at www.kritzerland.com. His bookThe Great Parade: Broadway's Astonishing, Never-To-Be Forgotten 1963-1964 Season is now available at www.amazon.com.