Filichia Features: Thoroughly Modern Millie Grazie
Filichia Features: Thoroughly Modern Millie Grazie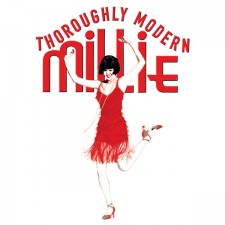 Audiences love when a character makes a fast costume change. If it happens with enough speed, they almost feel as if they're getting two characters for the price of one.
That opportunity arises only moments into Thoroughly Modern Millie, after Salina, Kansas native Millie Dillmount has arrived in New York City. It's the start of the Roaring '20s, and Millie wants the roaring to start.

But is she dressed for the occasion? Once she sees everyone walking and rushing around her, she realizes that her Kansas Sunday best won't work on any day of the week in Manhattan.

So Millie goes through a revolving door – and after she does, anyone directing Thoroughly Modern Millie had best have some crackerjack costume-changing dressers backstage. If your audience doesn't "Ooooh!" in amazement when Millie returns seconds later in her short skirt and bobbed hair, you've missed a wonderful opportunity to put the crowd squarely on your side. Letting theatergoers know that you can accomplish the seemingly impossible will immediately give them confidence that they're going to see a wonderful production.

And here, in Thoroughly Modern Millie, as soon as our heroine decides to abandon her get-rich-quick goal and tell Jimmy that she loves him, she spies him leading her newfound friend Miss Dorothy into his bedroom.

We're as crushed as she. What do you get when you fall in love? A guy with a pin to burst your bubble. But all will end well – although Richard Morris, who wrote the 1967 film on which the 2002 musical is based, kept us guessing. He had Millie learn only minutes before the fade-out that Jimmy is no pauper, but a smart young tycoon who hid his wealth so that a woman would fall in love with him and not his bankbook and portfolio. Stage adaptor Dick Scanlan also held the secret in reserve right up to the final curtain.

So why did Jimmy bring Miss Dorothy to his room late at night? The two just wanted to compare notes, as brother and sister do from time to time. Their step-mother Muzzy thought that her two step-siblings would learn a great deal about life if they went out into the world and saw how the other 47% lives.

So Thoroughly Modern Millie keeps almost as many secrets as a murder mystery. Come to think of it, the show almost contains a murder and certainly involves a mystery -- courtesy of Mrs. Meers, who runs the boarding house where Millie and Miss Dorothy reside.