Filichia Features: To Life, To Life, to Fiddler!
Filichia Features: To Life, To Life, to Fiddler!
So I see that in the near future, 16 organizations within striking distance of New York City will soon be producing Fiddler on the Roof. What's more, 27 directors in New York, New Jersey and New England will be tackling Fiddler on the Roof JR.
My advice to all: take a trip to the Broadway Theatre at 53rd Street so you can see Bartlett Sher's new production of the Joseph Stein-Jerry Bock-Sheldon Harnick masterpiece.
Granted, this will be more of a trek for those of you who are planning to stage Fiddler at Donovan Catholic High School in Toms River, New Jersey or at the Opera House in Claremont, New Hampshire. Nevertheless, you'll be glad you made the trip after you see Sher's brilliant new reimagining of this 1964 classic.
We're not suggesting that you attend so you can steal from Sher. But being in the presence of this astonishing revival may make you see that Fiddler can be even a more powerful experience than you've imagined. Set the same tone as Sher and your audiences may well be more moved than the millions of theatergoers who have for 51 years witnessed the struggles of Tevye, Golde and their five daughters.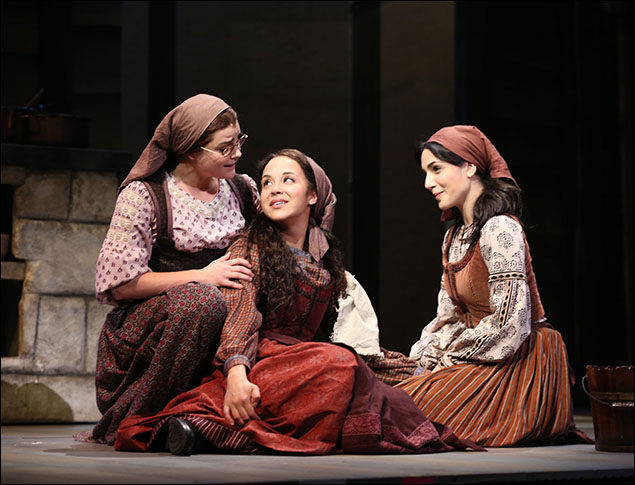 Melanie Moore, Alexandra Silber and Samantha Massell in Fiddler on the Roof at the Broadway Theatre (Photo by Joan Marcus)
Fiddler was always a musical play, but never more than now. During "Tradition" – one of musical theater's greatest opening numbers -- Danny Burstein's Tevye tells us about life in Anatevka: "It isn't easy" he says, not going for the laugh that most Tevyes try to get. Why sugar-coat the truth about the hardscrabble existence? Life here indeed isn't easy.
Burstein's Tevye soon gives us a different kind of laugh. After he says that he'll explain to us how certain Anatevkan traditions came into existence, he adds a little but distinctly embarrassed laugh after he realizes "I don't know" how certain rituals began. The frank admission makes us give out with a little laugh, too.
Maybe the Anatevkans should have given more thought to why traditions came into being, but as the show starts, they certainly don't question their rituals. Here comes Yente the matchmaker ready to fix up Tevye and Golde's daughter Tzeitel with the very wealthy (albeit old and overweight) Lazar Wolf. Tzeitel might have even been willing to marry him if she hadn't fallen in love at an early age with Motel, who's become the town's tailor. But now, with a different kind of Wolf nearly at the door, Tzeitel (as beautifully played by Alexandra Silber) comes close to having a breakdown. And when you think of it, wouldn't that happen to a young woman who's been fearing Yente's visit all along?
And with good cause, for soon Yente has convinced Golde that Tzeitel and Lazar are "a perfect match." Note, though, that Alix Korey says it in an offhand way that shows Yente routinely doesn't give a single thought to the ramifications of joining two people who'll have to live together 'til death do they part. Korey's matter-of-factness makes us want to storm the stage and insist that arbitrary matchmaking is NOT the way that two people should become engaged and married.
Tzeitel is in agony during "Matchmaker," in which Sher establishes how much her sisters love her; they try to have her look at the bright side. Alas, they cannot, and soon Tzeitel is bringing them back to reality. Sher has her pick up an apple from the table and lets it represent the horrifying suitors that Yente may bring them. The way Silber thrusts the apple in their faces reminds us of The Witch's offering the poisoned pomme to Snow White. So when Tzietel punctuates the moment by stating Yente's catchphrase of "Right! Of course right!" it too isn't said to get a laugh from the audience, but to establish that what Yente judges to be correct gets a knee-jerk agreement from her clients.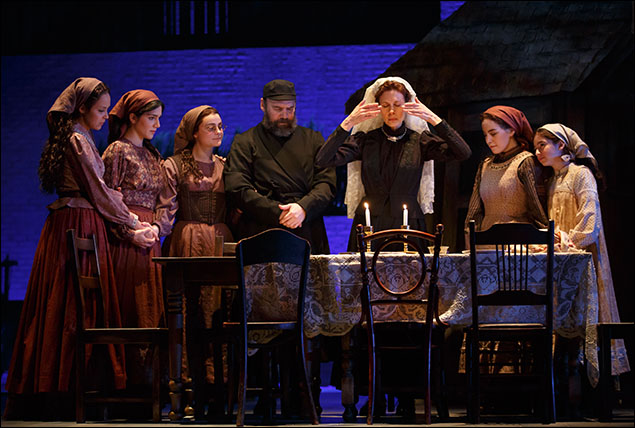 The Cast of the Broadway Revival of Fiddler on the Roof at the Broadway Theatre (Photo by Joan Marcus)
Sher's added texture extends to Lazar Wolf, who is extraordinarily nervous about asking Tevye for his daughter's hand. This suggests that way down deep, Lazar knows he isn't the right person for a young virgin. Still, after Tzeitel begs her father to break the agreement and he indeed does, Lazar shows some hard feelings during the wedding ceremony. Well, if in "Tradition" we learn that a misunderstanding about a horse really being a mule can cause a long-running riff, a broken promise may cause very bad blood to flow for an even longer time.
In the wedding scene, Lazar's at first shown to be gracious. He takes the high road on the matter -- but only for a few seconds before his very hard feelings emerge. However, the next time we see Lazar is deep into the show, when the Cossacks evict the Jews and everyone must leave Anatevka. The way that Sher has Lazar hug Tevye good-bye tells us not only that time has healed the wound and that all is forgiven, but also that Lazar has over the ensuing year realized that indeed Tzeitel should be with the man she loves and shouldn't have been checkmated into a marriage she didn't want.
In fact, Sher has decided that Lazar, one of town's richest men, would even be willing to financially help Tevye and his family. What Sher has invented is a silent moment not in the text, but one that tells us a great deal about him and his substantial worth as a human being. Now we really feel bad for him. (Notice I'm not telling you what he does; I really want you to see this production.)
When Golde must inform Tevye that their third daughter Chava has left home and has married a Gentile, Jessica Hecht provides more agony than I've ever seen from any Golde. She seems to be as dead as the ghoulish figures we'd seen in his "The Tailor Motel Kamzoil" dream. And why not? Most directors have Tevye bear the brunt of the news, but Sher knows that both parents would feel the agony.
Chava tries to make her father understand, but he'll have none of it. Just before the exodus, she'll try again. Even here Sher has found a way to raise the stakes and the tension: he has Tevye suddenly turn around, unaware that Chava is standing so close; now they are nose-to-nose. They probably haven't been this close since he rubbed noses with her in her crib.
Here Chava hopes that this nearness will be enough to break her father's resolve and that he'll speak to her. No, Tevye's religious beliefs mean even more to him than his family. He turns away as if he didn't see her – as if she weren't even there. Sher's making them so-near-yet-so-far makes the tragedy substantially greater.
Stein's libretto establishes that just before Chava leaves in defeat, Tevye says a conciliatory "God be with you" in order to make her feel at least a tiny bit better. Sher makes this scene more pungent, too, for he keeps Tevye far downstage, so not until Chava has walked far upstage and is ready to exit does he mutter "God be with you."
The key word is "mutter." Tevye doesn't care if she hears him; there's even a part of him that doesn't want her to hear him. This tiny-voiced statement is all the effort that he wants to make.
But a father can't turn his back on a daughter he's loved since her birth almost 20 years ago. Once she exits, Tevye turns around, gives a glance and sees her for the last time.
Doesn't all this sound amazing? So come on, New York, New Jersey and New England directors. For that matter, you New Mexico directors should get here too. After all, if displaced Jews can go from Anatevka to America by walking to a train station, taking a long railroad journey and then enduring a longer voyage on a boat – under 1905 steerage conditions, yet -- then you can certainly get on a plane to New York City and see this magnificent Fiddler on the Roof.
You may e-mail Peter at pfilichia@aol.com. Check out his weekly column each Monday at www.broadwayselect.com, Tuesday at www.masterworksbroadway.com and Friday at www.kritzerland.com. His book The Great Parade: Broadway's Astonishing, Never-To-Be Forgotten 1963-1964 Season is now available at www.amazon.com.