Filichia Features: Young Frankenstein Goes to College
Filichia Features: Young Frankenstein Goes to College
Here's the rebuttal to those critics who have called Mel Brooks' humor "sophomoric."
Well, if so, then his musicals – including Young Frankenstein -- would be just right for college sophomores, wouldn't they?
Add freshmen, juniors and seniors to the mix and you'll have a musical that has the spirit of Harvard's Hasty Pudding Shows and The Princeton Triangle Club – but is substantially better.
Brooks, with his everything-but-the-kitchen-sink tendencies included every possible gag in this Transylvanian tale except introducing a sweet transvestite. In addition to purposely corny "Walk-this-way" jokes, there are vulgar lines, ribald lyrics and double entendres. But all your students are over 18, aren't they?
In Hackettstown, New Jersey, undergraduates at Centenary University (under the banner of NextStage Rep) last week showed that Young Frankenstein isn't wasted on the young. If you're a director at a school of higher learning, give Young Frankenstein the ol' college try – and you'll undoubtedly succeed with your audiences.
You should have (or be) a choreographer who knows how Broadway dances looked in its Golden Age, for Young Frankenstein has three such production numbers. Director Lea Antolini-Lid added deft touches to two but gave a student the piece de resistance: Irving Berlin's "Puttin' on the Ritz," in which Dr. Frederick Frankenstein and his Monster (that's his name for him, not mine) start tapping and are joined by an equally tap-happy ensemble. Jana Byrnes may only be a senior, but she certainly understood what a tap extravaganza must be.
Byrnes also played Inga, the Transylvanian fräulein who deftly yodels. (You can only hope to find someone as accomplished as she to handle these vocal pyrotechnics.) Part of Inga's joyous trilling comes because she feels an affinity for Frederick – enough that he might forget his "Please-don't-touch-me" fiancée Elizabeth.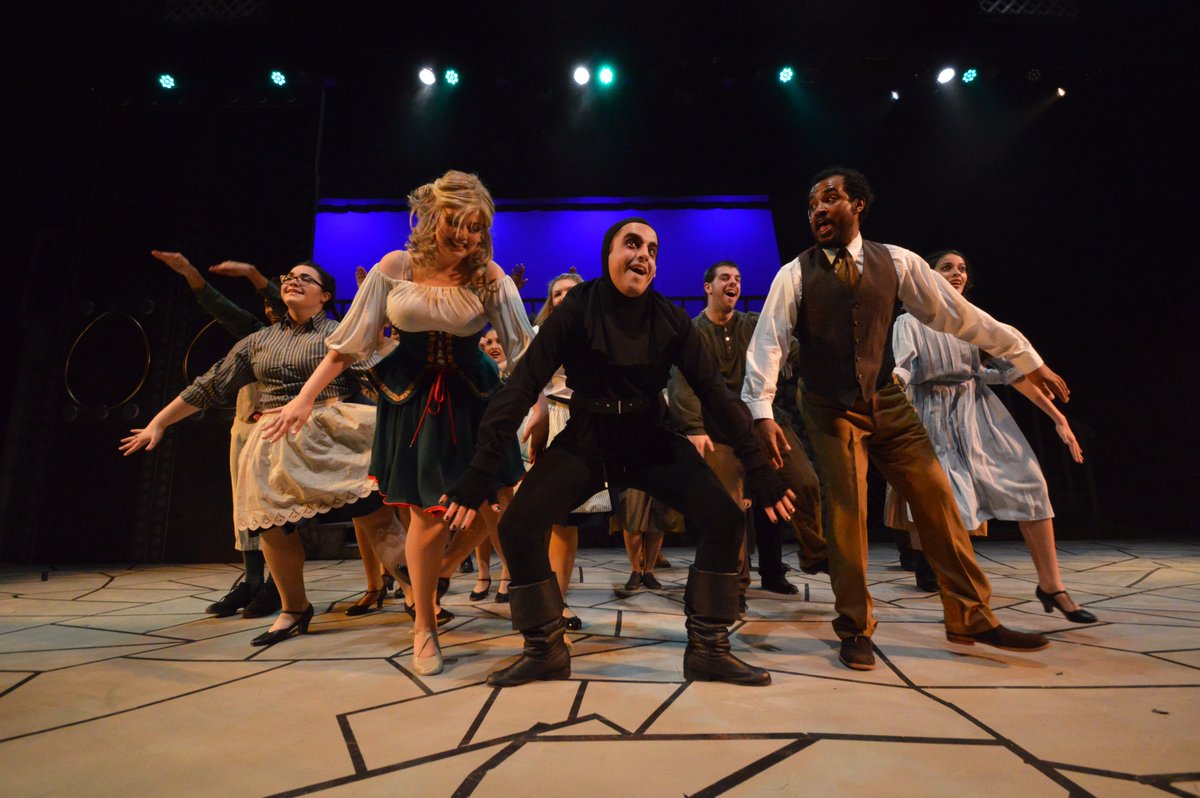 The cast of Mel Brook's Young Frankenstein at Centenary College (Photo via @Twitter).
Don't assume that Young Frankenstein is a romantic-triangle story. It's a spoofy sequel to, of course, the 1931 film version of Mary Shelley's 1818 novel Frankenstein. There her Victor Frankenstein became Henry Frankenstein, who puts one dead man's brain into another dead man's body in hopes of recalling him to life. Unfortunately, Frankenstein's assistant has chosen not a "normal" person's brain, but a criminal's – which leads to double the toil and trouble.
Today's college students are notorious for avoiding black-and-white films so you might have to strong-arm them into seeing not only the original film but also Brooks' 1974 spoof on which the musical is based. Both will give them a head-start on how to play the comedy.
Beginning with Frederick Frankenstein – Victor's grandson -- these characters are all caricatures, so your actors can be hammy enough to fill the meat section at Costco. And yet, as goofy as Frederick is, CJ Lawson brought a distinct charm to the role in Hackettstown.
It's a good show for young character women, such as Angelina Taystra who, as Frau Blucher, disclosed everything we never wanted to know about her intimate life details and were loath to ask. She told us anyway in her hilarious show-stopping rendition of "He Vas My Boyfriend."
Although Frederick's assistant was admirably played by Nick Bettens, this is a role that a young woman could take, especially because the character's head is always hooded. In fact, Sasha Onishchuk adeptly portrayed Inspector Karl Kemp with a no-one-was-fooled beard. Why not? It's Mel Brooks!
After Elizabeth's rendezvous with the seven-foot Monster, Brianna Morris walked with a limp because she had one shoe on, one shoe off. 
Monster is perfect role for just-starting-outers. Most of the time he merely grunts; even in "Puttin' on the Ritz," he merely sings those words and a few others. So this isn't a half-bad starter-kit role for your school's star halfback.
Don't be afraid to approach your college's football team, for you just might find a player who'd like to have a big role in a musical without enduring much memorization. (That's what non-actors always think is the hardest part.)
Let the jock know that his face will be painted, for many a theatrical newbie feels that having his face obscured gives him an extra layer of protection from the audience.
And if some players refuse on the grounds that acting is sissy stuff, send them to www.footballbabble.com to see the list of "50 Football Stars in the Movies.")
If you look at the Young Frankenstein film, you'll see that Brooks directed Peter Boyle to look uncomfortable and unsure of his singing. Here, however, Antolini-Lid had Ameer Copper gleefully blurt out in "Puttin' on the Ritz" and then look as pleased with himself as Lin-Manuel Miranda must have appeared on the day his Hamilton reviews were published.
But who doesn't feel this rush of happiness when he's doing a musical? Maybe Monster is human after all.
You may e-mail Peter at pfilichia@aol.com. Check out his weekly column each Monday at www.broadwayselect.com and Tuesday at www.masterworksbroadway.com. His book, The Great Parade: Broadway's Astonishing, Never-To-Be Forgotten 1963-1964 Season is now available at www.amazon.com.