Follow the Producers of Peter Pan Live, The Oscars, and a Whole Lot More on Twitter!
Follow the Producers of Peter Pan Live, The Oscars, and a Whole Lot More on Twitter!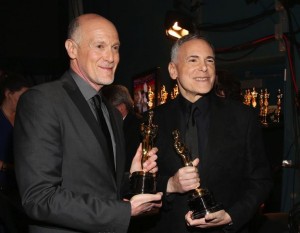 You may not recognize their faces, you may not even know their names, but
Craig Zadan's and Neil Meron's
productions have earned a total of six Academy Awards, five Golden Globes, 13 Emmy Awards, two Peabody Awards, a Grammy Award, five GLAAD Awards, two NAACP Image Awards, and two Tony Awards with their various feature films, television and theater projects.
Zadan
and
Meron
were the executive producers of last year's hugely successful, live, three-hour NBC presentation of "The Sound of Music Live!" starring Grammy winner Carrie Underwood as Maria.
Their other television projects, which have accrued 103 Emmy nominations, include: "Gypsy," "Cinderella," "Annie," "The Music Man," "Life With Judy Garland," "Martin & Lewis," "Serving In Silence," "The Beach Boys," "Brian's Song," "The Three Stooges," "The Reagans," "A Raisin In The Sun," the Golden Globe-nominated TV series "Smash" and the hit series "Drop Dead Diva".
In addition, 2015 marks the third consecutive year this dynamic duo will produce the Academy Awards telecast.
Zadan and Meron's motion pictures include: "Hairspray," "The Bucket List," "Footloose," and the Oscar-winning Best Picture, "Chicago."
On Broadway, they recently produced the Tony-winning "How To Succeed in Business Without Really Trying" starring Daniel Radcliffe and John Larroquette, and the Tony-winning "Promises, Promises" starring Sean Hayes and Kristin Chenoweth.
Follow Neil and Craig on Twitter for exclusive, behind-the-scenes photos, interviews and news about the upcoming Peter Pan Live! Broadcast (and the 2015 OSCARS).
@craigzadan
@neilmeron