Frank and Family
Frank and Family
"He gets up early, drinks a pot of strong coffee, and digs."
That's how Frank Loesser's first wife Lynn described his work habits, and his impressive output certainly reflects that.  By his death at age 59, Frank Loesser had written five Broadway shows, a movie score, countless songs for films, and sketches for soldiers to perform during World War II.  He'd won four Tonys, an Academy Award, a Grammy, and a Pulitzer.  Despite this tremendous success, Loesser's family was not exactly thrilled by his chosen career.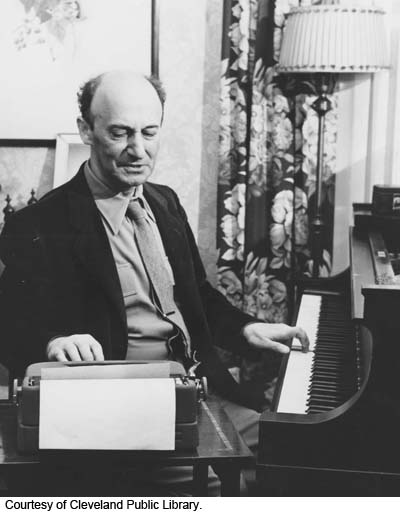 Frank's older brother, Arthur, became a world-famous concert pianist. (From the Cleveland Public Library)
The Music Of Home
Growing up in early 20th century New York, Loesser's childhood was filled with music, literature, and art.  His parents were German-Jewish intellectuals: Henry, his father, was a pianist who later accompanied famous Wagnerian soprano Lilli Lehmann during a New York performance, and his mother, Julia, translated and lectured on modern literature.  Consequently, the Loesser household was a bastion of music, academics, and art.  Loesser's daughter, artist and author Susan Loesser, would later write that her father "grew up in a house . . . seething with intellects. . . . It was Goethe his mother read him at bedtime, not Sholom Aleichem."  The Loesser boys-Arthur, the eldest by sixteen years, and Frank-were expected to not only participate in such an environment, but to excel.  Arthur would not disappoint, much to his father's delight: he became a classically trained concert pianist, and toured Europe, Australia, China, Singapore, Japan, and Indonesia.
Blasphemy
Frank was a different story.  Refusing the classical training of his father and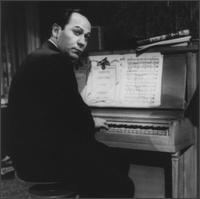 From an early age, Frank was a natural at the piano.
brother, Frank's music education consisted of his exceptional ear, his impressive memory, and the world around him. He taught himself the harmonica and piano-winning third place in a citywide harmonica contest-and his first rhymes were written to the rhythms of elevated trains.  In a letter to Arthur, their father remarked that young Frank was "developing more and more into a musical genius. He plays any tune he's heard and can spend an enormous amount of time at the piano. Always he wants attention and an audience."  Frank's ability to read and write music would come years later, but that seemed to give him no trouble as a composer.  "When he was about six he improvised at the piano," Arthur describes, "aiding it with his own voice, something he called 'The May Party'... In his early teens he began to pick out current popular tunes on the keyboard, harmonies and all."
Sit Down, You're Rockin' The Boat
Frank's passion was popular music-not the classical canon that his father and brother revered-and his family made it clear that the two genres were nowhere near the same level.  "[His family] thought popular music was trash-that's probably one reason that my father was smitten with it and wanted to become a popular songwriter," explains Susan Loesser.  Frank's songs were "very nice, but of course they're not music."  Always ready to rebel and certainly not one to back away from a challenge, Frank used his family's disapproval as motivation to work even harder-and to distance himself from his privileged Upper West Side background.   He faked a Lower East Side working-class accent during his period as a Tin Pan Alley writer, which drove Arthur crazy.
Not that the brothers were on the best of terms.  Disagreements and harsh words marked their relationship, so much so that Frank was known as "the evil of the two Loessers."  Frank's position as a musically black sheep had a direct influence on his work, as he never stopped hoping to gain his family's respect.  The score of THE MOST HAPPY FELLA-a gorgeous blend of aria and American folk music-is easily Frank's most ambitious and most operatic work, and the one his family would be most likely to praise.  But Frank couldn't resist taking advantage of his family's distaste: "Fugue for Tinhorn," the opening of GUYS & DOLLS, was probably meant as a jab at Henry and Arthur, who must have cringed at the thought of a fugue being applied to Hell's Kitchen gamblers.
Jo Sullivan in THE MOST HAPPY FELLA
Somebody, Somewhere
Frank Loesser may never have gotten validation from his father and brother, but he certainly found it in his wife and children.  He met his second wife, Jo Sullivan, on the set of THE MOST HAPPY FELLA-she played the female lead-and his four children include an actress, a writer, an artist, and a producer/theatre manager.  Jo, his daughter Emily, and Emily's husband, Broadway actor Don Stephenson, can be heard singing Frank's songs on the album
Loesser By Loesser
, and Jo has tirelessly promoted his work since his death, from co-producing concerts to playing Sarah Brown on a national tour of GUYS & DOLLS and reprising her role as Rosabella from THE MOST HAPPY FELLA.  For Frank Loesser, work and family were always intertwined, and while it may have been frustrating at times, ultimately, it was for the better.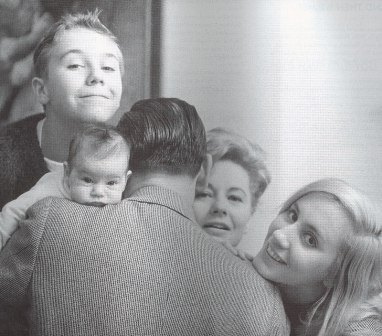 Frank Loesser with his family
Visit Frank Loesser's
official website
for more information about the relationship between his personal life and his career. To discuss this article or any of Frank Loesser's works, check out the
GUYS & DOLLS
,
GREENWILLOW
,
WHERE'S CHARLEY?
,
THE MOST HAPPY FELLA
, and
HOW TO SUCCEED IN BUSINESS WITHOUT REALLY TRYING
MTI ShowSpace show pages.