FRECKLEFACE STRAWBERRY THE MUSICAL: Now Available for Licensing!
FRECKLEFACE STRAWBERRY THE MUSICAL: Now Available for Licensing!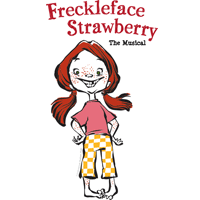 Freckleface Strawberry was just like every other girl – except she had bright red hair and something worse…FRECKLES!
Freckleface Strawberry will do anything to get rid of her freckles – from scrubbing them with soap, to caking on makeup, and even wearing a ski mask to school! Will her schoolmates realize it's her under the mask? Will Freckleface be brave enough to finally face her complexion in the mirror?  With the help of her loveable schoolmates including an amazingly talented ballerina, a cutie jock, a charming ditz, and a totally kooky teacher, Freckleface learns that everyone is different - and that's what makes everyone special! With soaring live music, awesome dancing… and a freckleface full of laughs, your whole family will love this brand new musical for all ages . . . freckles or not!
A small cast of 7 actors plays a total of 19 characters in this 60 minute musical. It's small cast size and short running time makes it just as perfect for touring companies as it is for stationary establishments. Taking place in both Freckleface's imagination as well as the "real world" the musical allows for unlimited design creativity. Its upbeat and touching score is sure to hold TYA audience's attention until last note.
Created through the collaborative efforts of
Rose Caiola
and
Gary Kupper
, this heartwarming, family-friendly musical has been enthralling audiences all throughout the heart of New York City. With performances from New World Stages, right slap in the middle of the Theatre District, to the visionary Manhattan Movement & Arts Center, Freckleface has told her story and sung her songs to tens of thousands of friends and families. Now she's ready to make her way into the hearts all across the United States.
Official Off-Broadway Website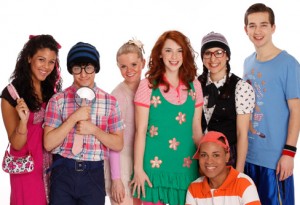 Check out the
official off-Broadway FRECKLEFACE STRAWBERRY THE MUSICAL website
for exclusive interviews with Julianne Moore, production photos, videos and more!
License!
Theatre for Young Audiences
FRECKLEFACE STRAWBERRY
is part of our
Theatre for Young Audiences Collection (TYA)
.  The Theatre for Young Audiences Collection features musicals for adults to perform for children. TYA shows usually have cast requirements of 6-12 actors, and have running times under 90 minutes.