Free Read: God Bless You, Mr. Rosewater
Free Read: God Bless You, Mr. Rosewater
This month's free read is Alan Menken and Howard Ashmans's God Bless You, Mr. Rosewater!  Before Little Shop of Horrors, Disney's The Little Mermaid, Beauty and The Beast, and Aladdin, the legendary songwriting team created an incredible gem of a musical - a witty, heartfelt, and intelligent adaptation of Kurt Vonnegut's celebrated novel.
Heir to the Rosewater family fortune and head of the prestigious Rosewater Foundation, Eliot Rosewater can't shake the feeling that there's more he can do with his life. After wandering around America, he comes to his hometown Rosewater, Indiana and finds a community in need of help and recognition. In return, Eliot is awakened and finds his life's calling.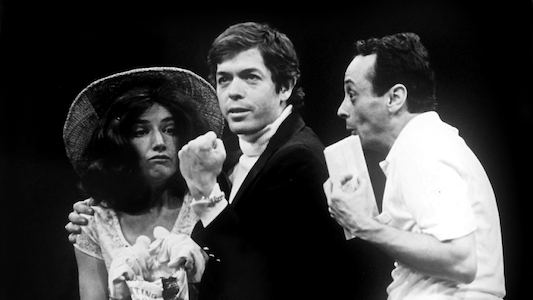 Holly Villaire, Jonathan Hadary, and Peter J. Saputo in the 1979 production of God Bless You, Mr. Rosewater (Roger Greenawalt)
Directed by Ashman himself, God Bless You, Mr. Rosewater opened Off-Broadway in 1979. It won the Drama Desk Award for Outstanding Musical and Best Musical at the Drama Critics Circle Awards. In 2016, the show was revived as part of New York City Center's Encores Off-Center series, starring Santino Fontana and James Earl Jones.
To celebrate the show that catapulted this Oscar and Tony award-winning team, we invite you to read the script for free, listen to the premiere cast recording, and watch some highlights below. Discover why God Bless You, Mr. Rosewater is the show your season has been waiting for.
Howard Ashman and Alan Menken Collection
Follow the fun @mtishows on Instagram, Facebook, and Twitter. 
(Header image: New York City Center's Encores Off-Center production of God Bless You, Mr. Rosewater. Photo: Sara Krulwich)