Free Reads: Celebrate These 6 Broadway Anniversaries!
Free Reads: Celebrate These 6 Broadway Anniversaries!
This month, not one, not two, but SIX MTI shows are celebrating milestone anniversaries! Spanning across generations of Broadway musicals, these titles are earnest, imaginative, rebellious, joyful, and "a little bit naughty." Join the celebration by reading the librettos of these iconic shows. Do some shopping at Maraczek's Parfumerie and Price & Son Shoes. Stop by North Shore High School or Crunchem Hall (but stay away from the Chokey!). Spend a relaxing day with Frog and Toad or get into the rock and roll spirit of Tommy. There is something for everyone in these Free Reads.
April 4 heralds the 10th anniversary of Kinky Boots opening on Broadway. This big-hearted show won six Tonys® including Best Musical, the Grammy® for Best Musical Theatre album and London's Olivier Award for Best Musical. Kinky Boots features a joyous, Tony-winning score by pop icon Cyndi Lauper, and a hilarious, uplifting book by four-time Tony winner, Harvey Fierstein. Lauper made history as the first woman to win the Tony for Best Original Score solo.
Kinky Boots tells the story of Charlie Price, who has reluctantly inherited his father's shoe factory, which is on the verge of bankruptcy. Trying to live up to his father's legacy and save his family business, Charlie finds inspiration in the form of Lola. A fabulous entertainer in need of some sturdy stilettos, Lola turns out to be the one person who can help Charlie become the man that he is meant to be. As they work to turn the factory around, this unlikely pair find that they have more in common than they ever dreamed possible... and discover that when you change your mind about someone, you can change your whole world.
Mean Girls celebrates 5 fetch years since opening on Broadway on April 8! Adapted from Tina Fey's 2004 hit film, this "Cautionary Tale" follows Cady Heron's pursuit of popularity (and revenge) at her new high school. When she takes on The Plastics, a trio of lionized frenemies led by the charming but ruthless Regina George, Cady learns a lesson about who her real friends are and being true to herself.
From book writer Tina Fey (30 Rock), lyricist Nell Benjamin (Legally Blonde) and composer Jeff Richmond (Unbreakable Kimmy Schmidt), Mean Girls was nominated for a staggering 12 Tony Awards.  This queen bee took Broadway by storm and has joined the musical in-crowd. And now, so can high schools and youth theatre groups with Mean Girls High School Version! Read this "grool" libretto:
On April 11, Matilda The Musical celebrates the "revolting" 10th anniversary of its Broadway opening. Winner of five Tony Awards, including Best Book of a Musical for Dennis Kelly, and 47 international awards, Matilda revels in the anarchy of childhood and the power of imagination. Packed with high-energy dance numbers, catchy songs and an unforgettable star turn for a young actress, Matilda is a joyous girl power romp.
Matilda is a little girl with astonishing wit, intelligence and psychokinetic powers. She's unloved by her cruel parents and has found a new nemesis in her school's headmistress, Miss Trunchbull, who just loves to punish those who don't abide by her rules. But Matilda has courage and cleverness in equal amounts, and could be the school pupils' saving grace!
April 13 marks the 20th anniversary of A Year with Frog and Toad. This whimsical show was nominated for three Tony Awards – including Best Musical. Based on Arnold Lobel's well-loved books, and featuring a hummable score by Robert and Willie Reale, A Year with Frog and Toad follows two great friends – the cheerful, popular Frog and the rather grumpy Toad – through four fun-filled seasons.
Part vaudeville, part make believe... all charm, A Year with Frog and Toad tells the story of a friendship that endures all year long. The jazzy, upbeat score of A Year with Frog and Toad bubbles with melody and wit, making it an inventive, exuberant and enchanting musical for the whole family. 
The Who's Tommy celebrates its 30th Broadway anniversary on April 22. This five-time Tony Award-winning musical was translated to the stage by theatrical wizard, Des McAnuff, into a high-energy, one-of-a-kind theatrical event. Based on the iconic 1969 rock concept album, The Who's Tommy is an exhilarating story of hope, healing and the human spirit. The story of the pinball wizard who triumphs over his adversities has inspired, amazed and puzzled audiences for more than 40 years.
After witnessing the accidental murder of his mother's lover by his father, Tommy is traumatized into catatonia and, as the boy grows, he suffers abuse at the hands of his sadistic relatives and neighbors. As an adolescent, he's discovered to have an uncanny knack for playing pinball and, when his mother finally breaks through his catatonia, he becomes an international pinball superstar.
On April 23 in 1963, a charming new musical called She Loves Me opened on Broadway. Over the following 60 years, this romantic comedy has left audiences smitten and garned Tony, Olivier, Drama Desk, and Critics Circle Awards. Featuring music by Jerry Bock and Sheldon Harnick (Fiddler on the Roof) and book by Joe Masteroff (Cabaret), She Loves Me is a tenderhearted show with an endearing innocence and a touch of old-world elegance. The Mikos Lazlos play Parfuemerie, on which it is based, has inspired many adaptations, including the beloved film You've Got Mail starring Meg Ryan and Tom Hanks.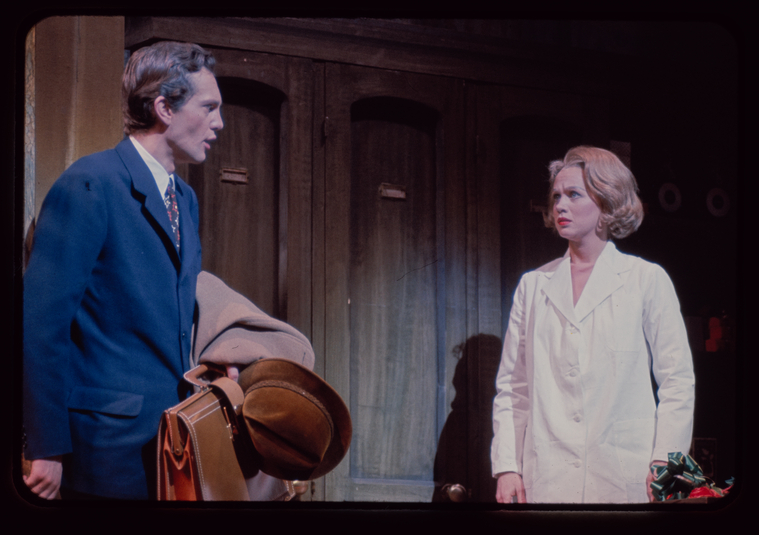 Original Broadway production of She Loves Me (Friedman-Abeles)
Set in a 1930s European perfumery, we meet shop clerks, Amalia and Georg, who, more often than not, don't see eye to eye. After both respond to a "lonely hearts advertisement" in the newspaper, they now live for the love letters that they exchange, but the identity of their admirers remains unknown. Join Amalia and Georg to discover the identity of their true loves... and all the twists and turns along the way!
Follow the fun @mtishows on Instagram , Facebook , and Twitter.