Get Spooked with the PHANTOM OF THE COUNTRY OPERA
Get Spooked with the PHANTOM OF THE COUNTRY OPERA
All the tough guys are so macho in their spurs and pantaloons, as they shoot up all the bad guys and they drink in the spittoons!
Book by  Sean Grennan and Kathy Santen
Music by  Michael Duff
Lyrics by  Cheri Coons

PHANTOM OF THE COUNTRY OPERA: The plot may sound oddly familiar: operatic sensation Christina Joseph leaves a promising career at La Scala and returns to her roots in Nashville, Tennessee, singing backup at the Country Palace. There she finds an enemy in an aging Country-Western diva and a mentor in a mysterious janitor determined to make her Country Music's newest star.
It's a splashy, hilarious Country-Western send-up of the classic tale of horror, "The Phantom Of The Opera!" Filled with irreverent wit, painful punning, sly contemporary references and more than a touch of the absurd, this shameless romp is a bit like a loopy version of The Nashville Network. And with an unforgettable score that runs the gamut from Grand Opera to Country to Broadway-including a little ditty called "Hog Butcher's Daughter" - PHANTOM OF THE COUNTRY OPERA has audiences tapping their toes and rolling in the aisles.
Casting
PHANTOM OF THE COUNTRY OPERA features a cast size flexible to your needs and presents the opportunity for an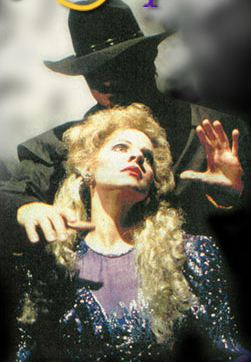 ensemble-driven production with showstopping musical numbers. This comedy, full of surprises and twists, is a big hit in regional and community theaters across the states. Get ready to Yee-Haw and saddle up!
Reviews
The Chicago Sun-Times says, "A clever, splash, exuberant new musical...bubbling over with zippy wordplay... a zany, affectionate exploitation of every showbiz cliche in the book", and the Chicago Tribune proclaims, "Ingenious...nothing less than a gold mine!."
Licensing
Click here to license PHANTOM OF THE COUNTRY OPERA.
Community
Click here to visit PHANTOM OF THE COUNTRY OPERA on MTI ShowSpace.