Gleeked Out? Try the THE SOUND OF PLAID: THE NEW GLEE CLUB VERSION OF FOREVER PLAID - Now Available for Licensing
Gleeked Out? Try the THE SOUND OF PLAID: THE NEW GLEE CLUB VERSION OF FOREVER PLAID - Now Available for Licensing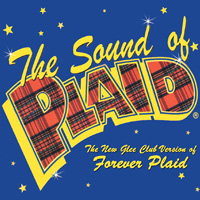 The Plaids have been delighting audiences for over a decade, proving that friendship, dedication, and charming renditions of 1950s standards can transcend even death.  But now, Francis, Sparky, Jinx, and Smudge won't have to carry out their posthumous performance on their own.
In
THE SOUND OF PLAID: THE NEW GLEE CLUB VERSION OF FOREVER PLAID
the four original Plaids we've come to know and love are part of a student choral group - along with many of their peers.  With a flexible cast size of both boys and girls, this newest addition to the
FOREVER PLAID
family is
perfect for high schools and glee clubs who want to put a new spin on an old favorite.
FOREVER PLAID
has become a huge hit around the world and a favorite among audiences everywhere. Community Theatres have come to love the four-character show that is easy to produce and always elicits a great audience response.  Building upon the characters and songs from FOREVER PLAID,
THE SOUND OF PLAID: THE NEW GLEE CLUB VERSION OF FOREVER PLAID
features a flexible cast size made up of both male and female performers.
VIDEO: Bradford High School in Kenosha, Wisconsin Show Highlights...
The premise of
THE SOUND OF PLAID
is similar to FOREVER PLAID: In 1960s America, friends who met in the audiovisual club form a student choral group. When they discover that their high school music program was going to be cut from the curriculum, they decide to do a benefit to raise money. On the way to pick up their custom made plaid tuxedos and skirts, their bus is struck by lightning. Although The Sound Of Plaid are taken from this planet, through the Power of Harmony and the Expanding Holes in the Ozone Layer (and other astro-technical stuff) they are allowed to come back to perform the show they never got to do in life.
Featuring classic songs and warm funny characters,
THE SOUND OF PLAID
is a great new twist on a familiar favorite, and a perfect choice for a theatre looking to do a "big, little show."
Licensing
Click
here
to license the rights to perform
THE SOUND OF PLAID.
Community
Click
here
to check out
THE SOUND OF PLAID
on MTI ShowSpace.