Going Up: London's Union Theatre Offers A Compelling And Inventive A MAN OF NO IMPORTANCE
Going Up: London's Union Theatre Offers A Compelling And Inventive A MAN OF NO IMPORTANCE
1960s Dublin has come to 21st century  London - to rave reviews! From November 11 to December 5, UK theatregoers have the chance to see Union Theatre's production of Lynn Ahrens, Stephen Flaherty, and Terrence McNally's A MAN OF NO IMPORTANCE.  An adaptation of the 1994 film, this intimate gem delicately balances lighthearted comedy with an intensely personal journey of discovery.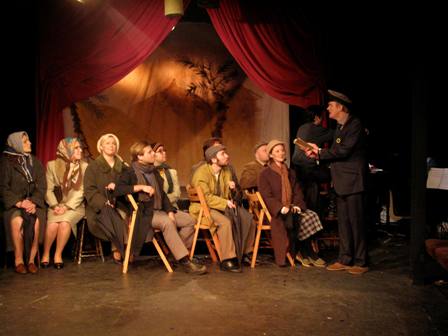 Paul Clarkson is Alfie Byrne, a bus driver obsessed with Oscar Wilde who harbors a secret in his heart.
Critics praise both the show's craft and Union Theatre's production. 
Time Out
names it a "Critic's Choice," calling the musical "elegant" and "impossibly charming," able to "unearth drama in the dross of real life, tragedy in tiny chances left untaken, and vastly uplifting climaxes in the smallest, most qualified victories." 
The Stage
notes that the story's "comi-tragic twists and turns are complimented by Lynn Ahrens' earthy lyrics.  Stephen Flaherty's score is comfortable rather than cerebral and in this case, it is exactly what's needed...Director Ben De Wynter has brought together a strong ensemble who inhabit their roles with conviction."
BroadwayWorld adds:
"One of the potentially sublime qualities of fringe theatre productions is that they can reinforce the fact that it is not necessary to have the stage filled with epic-scale scenery...to present a great piece of musical theatre - provided that the piece in itself is dramatically and musically strong, the performances compelling and the direction cleverly inventive. All three of these elements are present in the current production of the musical A Man Of No Importance...The writing is so deftly understated that it speaks volumes, avoiding cliché and achieving a genuinely moving depth of emotion.  The same quality of restrained and perfectly observed emotion is evident in Ben De Wynter's direction and the performances of the entire cast...It is a wonderful example of a musical that works simply because of its ability to reach out to its audience with the ring of truth. And in this superb production at the Union Theatre it rings out in simplistic triumph."
The Public Reviews agrees:
"There are not many fringe stage productions that make you feel as though you have front seats at a large stage but 'A Man of No Importance' is certainly one of them. With a relatively large cast and a fantastic score, this musical drama warmed the heart on what was a very wet night. With many a song that would stay in your head and fine acting, this made for a great night out...The whole cast...brought the play to light admirably with each adding their own flavour to the show...A Man of No Importance' was a well put together performance and a great exploration of musical theatre...[T]he world of fringe theatre could learn a lot from this wonderful production."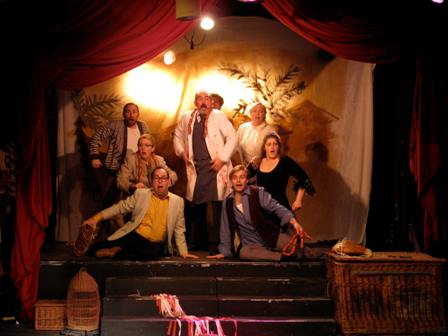 The cast of A MAN OF NO IMPORTANCE at Union Theatre
Click
here
for more information about Union Theatre's production of A MAN OF NO IMPORTANCE.
To license A MAN OF NO IMPORTANCE, visit its
MTI show page
. To discuss this production and view photos of its original off-Broadway cast, check out A MAN OF NO IMPORTANCE's
MTI ShowSpace page
.