Harry Connick, Jr.'s THE HAPPY ELF Now Available for Licensing
Harry Connick, Jr.'s THE HAPPY ELF Now Available for Licensing

Eubie the Elf is on a musical mission to bring Christmas cheer to a town on Santa's naughty list.
A new musical comedy by Grammy Award-winning and TONY Award-nominated composer and lyricist, Harry Connick, Jr.;
The Happy Elf
tells the tale of Eubie the Elf, a lovable fellow who wants to spread Christmas joy throughout the town of Bluesville. Hoping to introduce a new generation of children to the joys of jazz, Connick has crafted a musical landscape against which Eubie's story, by Lauren Gunderson and Andrew Fishman unfolds.
The Happy Elf
follows Eubie, the happiest elf in the North Pole. More than anything else, Eubie longs to be a part of Santa's sleigh team. Instead, he's stuck checking the naughty-or-nice lists. Then one Christmas Eve he sees something strange: in the whole town of Bluesville, not a single person has been nice. With a pinch of elfish magic and a magical whoosh, Eubie's off to Bluesville. But can he turn a whole town of naughty children nice in just one day?
Families will love this festive tale of overcoming adversity, friendship, the power of positivity and believing in yourself!
The Happy Elf
is destined to become a holiday classic.
Some international restrictions may apply.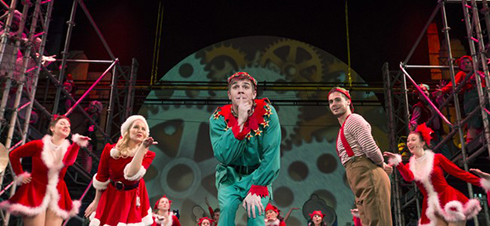 Order Your Free Perusal Copy of the Script Today
For a limited time only, you can read a free perusal copy of the libretto for
The Happy Elf
. Log in to your My MTI account and select the show from the dropdown menu (it will appear free of charge), or call your licensing agent to order an electronic version or hard copy today!
Offer valid through 08/16/2015. All perusal librettos must be returned to MTI and shipping costs are the responsibility of the customer.