How She Persisted Marched to the Stage
How She Persisted Marched to the Stage
When Nina Meehan read the bestselling children's book She Persisted, she knew it had to be adapted into a musical. She made a cold call to author Chelsea Clinton's office and pitched the idea.
For Meehan, the Executive Artistic Director of the Bay Area Children's Theatre, there couldn't have been a better time to do it. The book highlights 13 trailblazing American women who made their mark on history despite the voices that told them they couldn't.
"Voices of women need to be amplified in our current political times," Meehan explained to MTI. "We need to hear and understand the struggles of those who came before us in order to build a future that is more equitable."
"All of these women have inspired me throughout my life, some for as long as I can remember," said Chelsea Clinton in an interview. "In fact, I can't remember a time I didn't know Harriet Tubman and Helen Keller as they were people my mom often spoke about."
To Meehan's delight, Clinton agreed to her pitch. "I was thrilled, grateful, and humbled!" exclaimed Clinton.
With TYA veteran Deborah Wicks La Puma (Elephant & Piggie's "We Are in A Play", Naked Mole Rat Gets Dressed) as composer and television writer and screenwriter Adam Tobin (Cash Cab, About a Girl) on book and lyrics, She Persisted was adapted into a powerhouse musical that is as determined and idealistic as the historical women it salutes.
"With She Persisted I not only got to create empowering songs that I deeply believe in, but I also got to learn more about these remarkable women," said La Puma. "It's no surprise that the more you know about them, the more inspiring they are. We could easily have written a full musical based upon the lives of each one of them!"
While adapting a new musical out of a bestselling book is certainly daunting, brand-new shows are nothing new for Meehan.
"Bay Area Children's Theatre specializes in creating new musicals, so we've learned a lot over the years," elaborated Meehan. "You have to give the show time to come to life. You have to make sure that the story is clear and focused at all times and that the music drives the action forward."
"I really enjoyed working with Deborah Wicks La Puma and the entire creative team headed by Nina Meehan while adapting She Persisted," said Clinton. "Every part was a joy."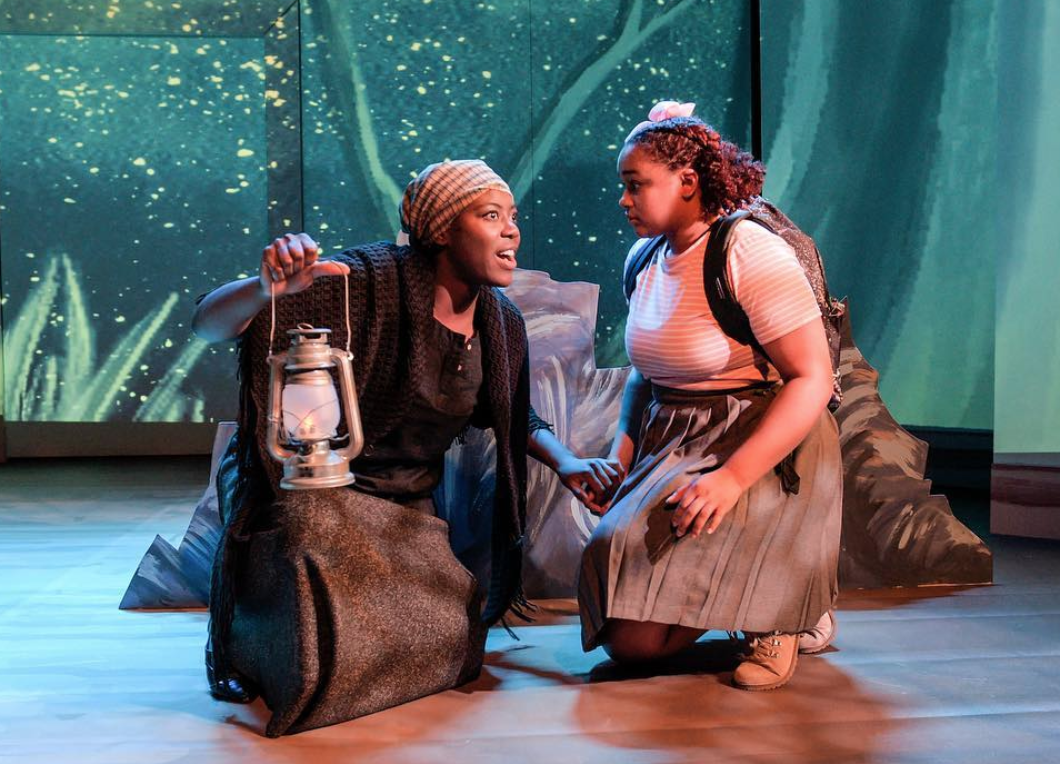 Loreigna Sinclair and Gabriella Momah in She Persisted at Bay Area Children's Theatre (Alessandra Mello)
It was clearly a joy for audiences, too. After opening on February 2, 2019, She Persisted had a sold-out run and was nominated for Outstanding World Premiere Musical at the Theatre Bay Area Awards.
"We had so many parents, teachers and kids telling us that the show was a huge inspiration to them," said Meehan.
"As a female composer in a male-dominated field, I am so aware and proud of those creative women who came before me, pushing the boundaries of what was expected and possible, so that I was able to make the choice to choose this as my career," reflected La Puma. "And I feel like young women growing up now - including my own three daughters - are realizing their power and responsibility in shaping the conversation of who they can be in the future."
Chelsea Clinton herself came to see the show on March 1, just in time for Women's History Month. So did Meehan's three-year-old daughter.
The production may have closed last April, but the show's mission is just getting started. Starting February 22, She Persisted begins a limited run Off-Broadway at the prestigious Atlantic Theater Company.
"I want every young audience member to be able to see themselves in these stories, particularly girls," stated Clinton. "And I want them to feel emboldened by the stories of women who persisted before them."
"I hope future audiences will be inspired by the stories of these amazing women!" declared Meehan.
"As I worked on the songs, singing the lyrics over and over again, I became imprinted with the messages of these women's lives: hope, curiosity, wonder and perseverance," said La Puma. "I hope the audience will enjoy the same experience of getting to know these remarkable leaders, and believe in their own potential to live out their dreams!"
Follow the fun @mtishows on Instagram, Facebook, and Twitter.