Hundreds of 'Small' Actors Play Big 'Part' in Building the Future of Theater at the 2009 JUNIOR THEATER FESTIVAL in Atlanta
Hundreds of 'Small' Actors Play Big 'Part' in Building the Future of Theater at the 2009 JUNIOR THEATER FESTIVAL in Atlanta
Celebrating On-Stage and Back-Stage Excellence in 34 Educational Theatre Groups From 14 States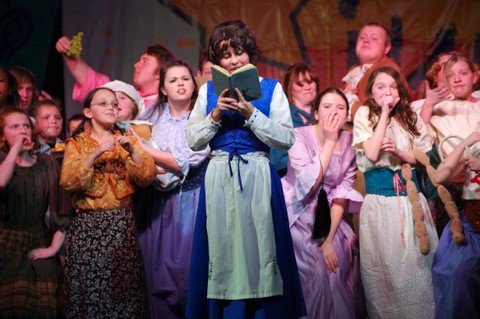 Children's Playhouse of Maryland performs Disney's Beauty and the Beast Jr. at the 2009 Junior Theater Festival.
NEW YORK, January 22, 2009 -
Hands were clapping, feet were dancing and excitement soared as hundreds of
student Annies, Aladdins, Willy Wonkas, Cat in the Hats, Dalmatians (of the "101" variety), Troy and Gabriellas and their company members hit a high note for music education during their performance of "Sing Your OwnSong" from
Dear Edwina
at the January 18th closing celebration of the Junior Theater Festival.  Produced by the family entertainment company iTheatrics and Theater of the Stars, in association with leading theatrical licensor Music Theatre International (MTI), the 2009 Junior Theater Festival drew 1,400 students and teachers representing 34 student musical theater groups from 14 states for a weekend celebration of imagination, teamwork and the arts.
Parents, educators, family and friends who weren't able to travel to Atlanta may witness the students' achievements by visiting
www.MTIShowSpace.com
and entering the group's name in the search bar.  MTI gave each group a FlipVideo camera so that the students could serve as "roving reporters" documenting their behind-the-scenes experiences at the Festival.  The videos and photos were uploaded to
www.MTIShowSpace.com
, a new, free online theatre community and social networking resource for educators, students, actors, directors, producers and anyone interested in theatre.  At the end of the festival, MTI donated the cameras to each group as a thank you to the students for their help in launching the new site.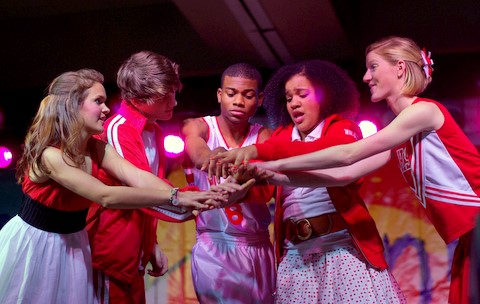 Disney's High School Musical JR at the 2009 Junior Theater Festival. Performed by Harris County Ensemble Theater.
On Sunday, January 18th, Thomas Schumacher, President of Disney Theatrical Group and producer of the Tony Award©-winning Broadway musical
The Lion King
and Henry Hodges who originated the role of Michael Banks in the Broadway production of
Mary Poppins
spoke with all the students about the world of theatre, using Disney stage productions such as
The Lion King
,
Beauty and the Beast
,
High School Musical
and
The Little Mermaid
as a backdrop.  Tom and Henry also signed copies of the second edition of Tom's book
How Does the Show Go On?
an introduction to theater for young people.
The festival offered an enthusiastic environment for students and teachers to interact with hundreds of others who share their passion for musical theatre.  In the spirit of celebration, not competition, theatre groups performed selections from their current productions of MTI Education shows like
Annie JR.
, Disney's
High School Musical One Act
, Roald Dahl's
Willy Wonka JR.
, Disney's
101 Dalmatians JR.
,
Schoolhouse Rock Live! JR.
and
Seussical JR.
for a panel of leaders in theater including Broadway actresses Jenifer Foote (
A Chorus Line
) Jenn Colella (
High Fidelity
), Disney Theatrical Productions Dramaturg Ken Cerniglia, Disney Theatrical Productions Outreach Director Peter Avery, music director Derek Bowley (Assistant Conductor, The Kennedy Center's
The Trumpet of the Swan
), and Broadway designer Theresa Squire (
High Fidelity
) . In addition both students and teachers participated in interactive workshops led by Broadway professionals, gained from professional development and enjoyed theatrical fellowship.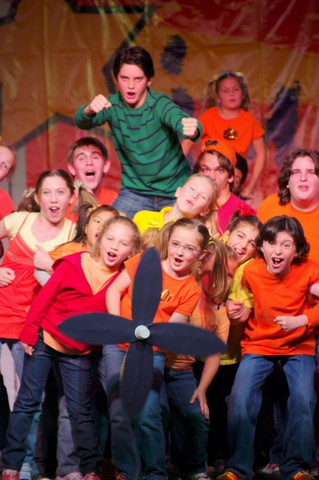 StarStruck Performing Arts Academy's production of Captain Louie Junior at the Junior Theater Festival in Atlanta
The most joyful and student-driven performances were celebrated with awards and a select few groups were invited to perform during the closing awards ceremony.  Stages Bloomington in Indiana received the Festival's top honor - The Broadway Junior Spirit award - which is given to the group which most embodies the spirit of educational musical theatre.  Students from Boothbay Region MCA Youth Chorus in Maine, Starstruck Performing Arts Center in Florida, Shreveport Little Theater and Academy in Louisiana, Hub Performing Arts Center in Texas, Academy of Children's Theater in Louisiana and Children's Playhouse of Maryland were all given Outstanding Production awards and invited to perform in the closing ceremony.
Other highlights of the Junior Theater Festival included:

New Works Showcase:
The Junior Theater Festival offered attendees a first-look at new musicals soon to be available:
Disney's Beauty and the Beast JR.
,
Disney's High School Musical JR.
,
Captain Louie JR.
and
The Phantom Tollbooth JR
.
Professional Educators' Workshops:
The Junior Theater Festival workshops were designed to empower teachers and professionals to present musicals in their community and to offer educators the knowledge, skills and tools necessary to grow their program in every possible way.  The workshops focused on different aspects of putting on a show, including the "how to's" of starting a drama club, choreographing musical numbers and creating great-looking sets and costumes on any budget.  These workshops also served as a professional exchange for teachers, giving them the opportunity to candidly address obstacles and their solutions within a supportive and creative environment.
Student Workshops:
Young artists also took part in workshops inspiring them to build skills that will have a positive impact on productions for years to come.  Topics included auditions, backstage technical theatre skills like stage management and props and making the most out of rehearsals.