Into the Woods: The Journey from Stage to Screen
Into the Woods: The Journey from Stage to Screen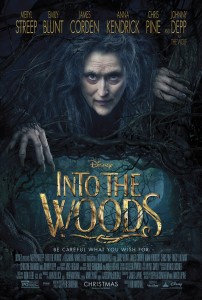 THE BEGINNING OF THE JOURNEY:
Twelve years ago, following the phenomenal success of the big screen adaptation of the Broadway musical "Chicago" (which won six Academy Awards®, including Best Picture), director Rob Marshall sat down with Stephen Sondheim and expressed an interest in directing a film version of one of the legendary composer's stage productions. At the top of Sondheim's list: "Into the Woods," one of his most acclaimed – and poignant – works, and one which he thought would be a perfect fit for Marshall.
Marshall and his producing partner, John DeLuca, had been fans of Sondheim and James Lapine's landmark musical since it opened on Broadway at the Martin Beck Theatre in 1987. In describing the piece Marshall says, "The story seamlessly intertwines Sondheim's emotional, funny and brilliant score with Lapine's intricate and masterful book, which is a modern twist on several beloved fairy tales, and is entertaining, while examining complex themes like the consequences of wishes, the parent/child relationship, greed, ambition, loss, and, perhaps most importantly, unconditional love and the power of the human spirit."
Then in 2011, on the 10th anniversary of the 9/11 attacks, Marshall heard President Obama addressing the families of the victims. In an effort to console them, Obama said, "You are not alone...
No one is alone.
" The phrase "No One is Alone," which is also one of the most moving and memorable songs from "Into the Woods," struck a chord with Marshall, and in that moment he knew that the time was finally right to bring the beloved musical to the screen.
"In many ways, I think 'Into the Woods' is a fairy tale for the 21st century post 9/11 generation," Marshall says.  "Sondheim and Lapine were way ahead of their time when they wrote it. The comforting knowledge that we are not alone in this unstable world gives us all that glimmer of hope."
For Sondheim, "'No One Is Alone'" was written as a community song. "I believe Arthur Wing Pinero said that in writing a play, you tell the audience what you're going to do, you do it and then you tell them that you've done it. If you tell them that you've done it, then it makes a package," he says.
"'No One Is Alone' tells them that we've done it," Sondheim explains. "This is what the show has been about. No one is alone: we are all connected in some way and we are all responsible for each other's actions. It's something I believe firmly and it's something that's worth writing about."
Marshall and DeLuca took their passion project to Disney, and immediately knew they had found the perfect company to bring the stage musical to life. "We were thrilled that the company embraced the project the way that they did," says Marshall. "They were truly interested in expanding the definition of what a 'modern fairy tale' film could be."
Producer Marc Platt, who joined the duo in making the film, says, "Disney is a company that historically tells the classic fairy tales, so moving forward it should also be the company that finds new, contemporary and unexpected ways to tell these stories."
So after 27 years, the long-awaited classic was set to begin its journey forward. "The Woods of our story is universal, and can mean so many things," Marshall says. "It is the place you go to find your dreams, confront your fears, lose yourself, find yourself, grow up and learn to move forward.  It's all part of life. So 'Into the Woods' we go, again and again..."
THE STORY:
Once upon a time in a far off Kingdom when the Baker (Tony Award® winner James Corden) was just a child, his Father (BAFTA Award winner Simon Russell Beale) was caught stealing magic beans from the vegetable garden of the Witch (three-time Oscar® winner Meryl Streep) next door. As punishment for losing the precious beans, the Witch was placed under a curse which made her hideous in appearance. The Witch, in turn, cast an evil spell on the Baker's household, cruelly insuring that the Baker and his Wife would forever be incapable of having a child.
Years later, when the Baker and his Wife (Golden Globe® winner Emily Blunt) learn of the curse, they venture into the Woods to seek out the ingredients which will both reverse the spell and restore the Witch's beauty. By the time the blue moon rises in three days' time, something which only occurs once every 100 years, they must return with four items: a cow as white as milk, hair as yellow as corn, a cape as red as blood and a slipper as pure as gold.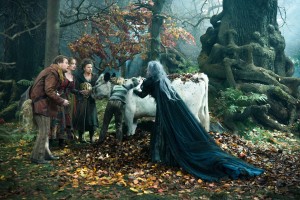 James Corden is the Baker, Emily Blunt is the Baker's Wife, Tracey Ullman is Jack's mother, Daniel Huddlestone is Jack and Meryl Streep is the Witch.
On their journey into the Woods, they encounter: Cinderella (Oscar® and Tony® nominee Anna Kendrick) fleeing the Palace in a pair of gold slippers; Little Red Riding Hood (Lilla Crawford) on her way to Granny's house while being pursued by the Wolf (three-time Oscar nominee Johnny Depp); the fair maiden Rapunzel (MacKenzie Mauzy), held captive by the Witch in a tower with no doors; and young Jack (Daniel Huttlestone) en route to the market to sell his cherished cow, Milky-White, to appease his exasperated Mother (seven-time Emmy® winner Tracey Ullman).  Each one on their own quest to fulfill a wish.
The third midnight approaches, and the Baker and his Wife, having produced the required ingredients through a combination of theft, bribery and deceit, deliver them to the Witch. Soon the Witch's curse is lifted, rendering her beautiful once more. The Baker and his Wife magically give birth to the child they so longed for. Cinderella breaks free from her evil Stepmother (Emmy® and two-time Tony Award® winner Christine Baranski) and stepsisters Florinda and Lucinda (Emmy winner Tammy Blanchard and Lucy Punch) and marries her Prince (Critics' Choice Award nominee Chris Pine). Rapunzel is freed from exile by her Prince (Tony nominee Billy Magnussen), and the giant beanstalk which sprouted from the magic beans Jack received in exchanged for his cow, has led to riches beyond his Mother's wildest dreams.
And they all live happily ever after...until a terrifying, vengeful Lady Giant (Tony® and Olivier Award winner Frances De La Tour) climbs down from the beanstalk, wreaking destruction on the Kingdom, the village and the enchanting forest. Forced to face the consequences of their desires, the group of characters who have befriended one another in the Woods, must come together and take responsibility for their actions before they can defeat the Giant. Only then, will they discover the significance of each of their individual journeys.
Directed by Oscar® nominee and DGA Award winner Rob Marshall and produced by Emmy® winner and Golden Globe® nominee John DeLuca, p.g.a., Rob Marshall, p.g.a., Marc Platt, p.g.a. and Callum McDougall, "Into the Woods" brings the Tony Award®-winning musical classic and such memorable songs as "Children Will Listen," "On the Steps of the Palace," "No One is Alone" and "Agony," to life on the big screen. The film is based on the musical stage production by eight-time Tony, Grammy® and Oscar-winning composer and lyricist Stephen Sondheim and Tony winner James Lapine, who also wrote the screenplay.
The film's outstanding team of creative talents includes: Academy Award® winner Dion Beebe, ACS, ASC as director of photography; Oscar® winner Dennis Gassner as production designer; three-time Oscar winner Colleen Atwood as costume designer; Emmy® nominee Wyatt Smith as editor; Oscar winner Peter Swords King as makeup and hair designer; Emmy® winner Mike Higham as music producer; Tony® and Emmy winner Paul Gemignani and Mike Higham as music supervisors; and Emmy winner Matt Johnson as visual effects supervisor.
THE LEGENDARY PARTNERSHIP OF STEPHEN SONDHEIM AND JAMES LAPINE:
"Into the Woods" opened on Broadway on November 5, 1987, at the Martin Beck Theatre.  The production, which ran for 764 performances, won Tony® Awards for Best Score (Stephen Sondheim), Best Book of a Musical (James Lapine) and Best Actress in a Musical (Joanna Gleason as the Baker's Wife).  Among other awards, the musical received five Drama Desk Awards, including Best Musical and a Grammy® Award for Best Original Cast Recording.
Since that time, "Into the Woods" has been produced around the world, including a 1988 U.S. national tour, a 1990 West End production and Broadway and London revivals, in addition to a PBS television production and a 10th anniversary concert.
Creating a complex stage production like "Into the Woods" proved to be an incredibly arduous endeavor. Sondheim explains, "You sit and talk about the show to whoever's writing the book for many weeks, and decide how the story's going to be told. The most important thing is that the two of you have to be writing the same show. Your attitudes toward the story and toward the characters need to be the same."
Lapine had always been interested in fairy tales and Jungian psychology, and the idea of doing a fairy tale as a musical was very appealing to both Sondheim and himself. "I set out to write an original fairy tale, but since fairy tales are by nature, short, I soon realized that expanding one into a full-length show was stretching it beyond what it was meant to be," he explains. "Then I hit upon the idea of taking several fairy tales and putting them together with an original tale, which became our story of the Baker and his Wife."
Lapine's frame of reference was the Grimm and Perrault stories, while Sondheim was mostly familiar with them through the animated movies, so Lapine wrote the first scene, which interweaves three of those stories, and told Sondheim it would be next to impossible to musicalize. "No one loves an impossible challenge more than Stephen Sondheim, which was a great way to get him to do it," Lapine says. "And he turned around and wrote that wonderful opening number, and we were off and running."
During the development process, Sondheim and Lapine had numerous discussions about what the show's central message should be, but soon came to realize there could be multiple messages. Sondheim says, "We didn't sit down and think that's what we're going to say, but if you tell me what happened to you on the bus today, I can make a moral out of it. Any story, anything that happens to you, has substance to it. A story doesn't have to prove a point, but it has to have a point."
For Sondheim, he feels the show is about community responsibility. At the beginning of the story the characters think only of themselves and it results in disaster, but as the story progresses, everyone realizes they must come together as a community to correct their errors, and to Sondheim, that message was universal. For Lapine, it's the fact that you can't always equate nice with good, and being careful about what you wish for.
"We don't think enough about what we want…I think we know we want X, Y and Z, but we don't think about why we want it and how our lives might change if we succeed in getting it," Lapine explains.  "The story is about the consequence of our actions, no matter how small they might be."
From there, the discussion turned to whether the story should be a musical or not. Some stories don't need music just for the sake of music, and for Sondheim, all the songs have to be necessary. And often times in musicals, it is through songs that the audience gets to know the characters.  Lapine explains, "It's very important for Stephen to make sure that his music and lyrics meld with the spoken word and the story that's being told. He has an extraordinary ability to get inside a character's head and to speak in their voice; to take dialogue and monologues and turn them into song."
According to Sondheim, whose celebrated works include such legendary musicals as "Company," "A Little Night Music," "Pacific Overtures" and "Sunday in the Park with George," a good musical has to be something where, if you were to take the songs out, there would be holes in the fabric.  "Quite often, you can't put into words why something should be a musical, but I do know that if the songs weren't in 'Into the Woods,' it wouldn't be a very good show," he says. "It has nothing to do with the quality of the songs, but the fact that these characters are singing people."
The winning combination of Sondheim's songs combined with Lapine's story is one of the reasons the musical has been so cherished and revered over the years, and when discussions about adapting the stage production for the screen first began, it was important to the filmmakers to continue that essential collaboration.
For that reason, Lapine was brought on to adapt his story for the big screen. Producer John DeLuca says, "The voice of Stephen Sondheim and James Lapine is so inextricably bound that we felt we needed him to bring it to life on film. And he came on board with the most open mind I've ever seen from a writer."
Says Marshall, "It was wonderful to work with James because I had admired his work for years and, of course, he was the author of the stage play. I felt it was important to work with the original creators of the piece in order to retain the integrity and substance of the work, while of course reimagining it as a film. I was so impressed with how open James was to trying new things, and how he instinctively understood that what works on stage would not necessarily translate to film."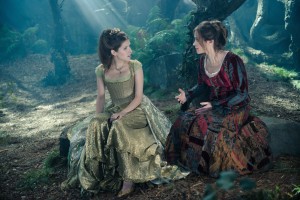 Anna Kendrick is Cinderella and Emily Blunt is the Baker's Wife.
Marshall continues, "For example, Cinderella's 'On the Steps of the Palace,' was originally written as a presentational song where the character speaks directly to the audience, explaining what has just happened to her.  Obviously, that can't be done on film, so we reconceived the song so that everything happens in the actual moment when Cinderella gets stuck in the tar on the steps. She has a split second to make a decision, so we froze the action so that it all takes place within that second and the song becomes an internal monologue.  And then Stephen Sondheim brilliantly adjusted the lyrics so that it all takes place in the present."
Equally as important, was lyricist and composer Sondheim's involvement. Marshall explains, "Actors love singing his material because in a way, he is an actor himself, in that he writes for and about the character (their wants, their needs, their fears, their vulnerability and their joys).  What's beautiful about a Stephen Sondheim song is that it's never just a song about something generic, it's something very specific, and things change during the song. The beginning of the song is not the same as the end of the song…it's a journey of sorts, and that's why the songs don't step outside of the scene, but live inside the piece so integrally, which is part of the genius of his work."
A long-time fan of Sondheim, Anna Kendrick, who was cast as Cinderella, explains what makes his work so awe-inspiring.  "Sondheim is a dream for actors because the performance is written into the music.  That is not to say you don't have freedom.  It is not about sacrificing honesty and performance for the beauty of a song," she says. "'On the Steps of the Palace' is a great example of the genius of Sondheim's work.  You see every thought that is in Cinderella's head and how she feels.  It is all written into the melody, the tempo and the lyrics."
Johnny Depp, agrees, and adds, "Stephen's work is just magnificent…he's a living legend. His compositions and his ability to translate into song what the characters are feeling, is just miraculous. His material is very complicated to read and very complex to sing. If you're not a trained singer you have to really dig in deep to find those things that help you feel and understand the meaning of each lyric. But there's something very exciting about challenging yourself to see if you can get to that place."
According to Sondheim, one of the things that's always hardest in a musical is to answer the question, "Who are these people?" for the audience. The opening number is the most important part of any musical because it lays out the ground rules for the audience. "You have to introduce the major characters; you have to give the audience a feel for the kind of show they're in for," he explains.
For this reason, the film's opening number was particularly complicated to write because it necessitated telling three stories and introducing each story to the audience. He explains, "It would be extremely boring if you started with a scene with the Baker and his Wife and they sang a song. Then you have a scene in Jack's house and they sing a song. And then you have a scene in Cinderella's house and they sing a song, by which time you've forgotten who the Baker was. You've got to tell the audience that these are the people you're going to be watching all evening, all of them, and they are of equal importance. Each has a separate story entirely."
He continues, "Music can fill in gaps quickly because you can make a transition from this subject to that subject in two bars, whereas otherwise it would require five lines of dialogue. So 'Into the Woods' is a compression: by the time that number's over, you've met all the main characters. At the same time, you want the audience to know that it's going to be fun and funny. They're at the edge of the diving board and ready to go."
Producer Marc Platt adds, "When you take Stephen Sondheim's incredible, sophisticated, intelligent and moving lyrics and James Lapine's very witty and moving book and you dress them up in the telling of fairy tales with music and comedy and joy, you get a wonderful, satisfying and provocative, theatrical experience."
He continues, "And because it's a world created in the Woods, we were always confident that we could develop a cinematic grammar which would deliver the essence of the material as it appeared on stage, and yet introduce a cinematic experience that would be unique in its own right, and still very true to the integrity and the meaning and the power of the source material."
"Stephen Sondheim's work is going to live on for a very long time because it is always revealing itself in interesting and complicated ways, and he speaks not only with great wisdom and intellect, but also with a very big heart," says Lapine. "There's a sense of humor in what he does but also a sense of passion that touches people."
He continues, "Music reaches people in a way that is ineffable.  You can't describe in words the effect music has on us, and Stephen brings that element of emotion and joy and pain and mystery to every score."
Visit the Official Film Website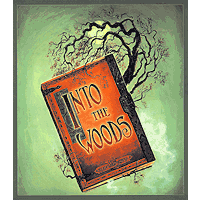 License
Into The Woods
and
Into The Woods JR.